If you had a way to make $100 in a day, would that help with bills?
What about building an emergency, retirement, or college fund?
Stay positive and open to different opportunities and you'll find that it's not hard to make extra money.
You have the power to earn more money than you think.
And you have inherent skills to get you there.
You have try different things to figure that out and know that you can do it.
It's not impossible. It is possible!
Once you earn that first $100, the next $100 won't be that hard, will it?
You'll be shocked at how much these ordinary side jobs can earn real money. Here are 20 legitimate ways to make $100 in a day.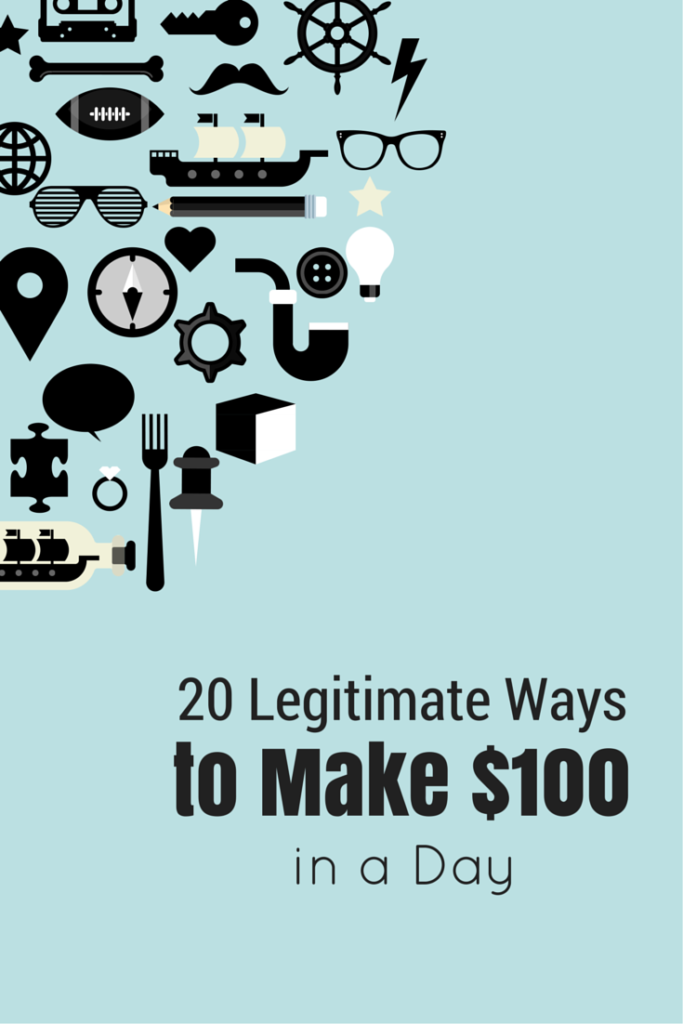 SERVICES
1. Babysitting
Most people don't think of babysitting as a viable way to earn money. Change the way you think about it and you can earn over $100 in a day.
In the San Francisco Bay Area, babysitters earn anywhere from $10 – $30 an hour. Two of my friends who work in childcare full-time, have babysat after hours or on weekends for the kids they take care of during the day at school or daycare. They have earned $30 an hour because the parents trust them over other babysitters, since their kids know them well.
If you decorate your house or apartment to look like a daycare, with lots of toys and child-friendly decor, and people know you are good with kids, you can charge $15-$20/hour. Babysit 2 kids for 3.5 hours and you will make over $100.
There is a real need for childcare. Even busy stay-at-home-moms need extra help.
Start with offering your services to friends on Facebook.
2. Pet Sitting
Pet owners treat their pets as their own kids. They need to find people they trust to take care of their pets when they are out of town.
If you love animals, this is for you. Check out sittercity.com.
3. House Cleaning
Believe it or not, cleaning houses can earn $100 a day. It's not glamorous but it's a service that people are willing to pay for.
When I was moving out of my apartment, I paid $250 for 2 people to clean our 2 bedrooms, 2 bathrooms, kitchen, and living room.
They cleaned the blinds and windows too. And it took them 4 hours.
I gladly paid this because I didn't have time to clean as I was still moving stuff out. If I did this myself, it would have taken me over 8 hours!
It's a lot of hard work but anyone can do this – you included! All you need is cleaning products, rags, broom, and a vaccuum cleaner.
4. Photography
Photography is a popular hobby nowadays. If you already own the equipment and can shoot professional photos, you can earn extra income.
Do one portrait session for 2 hours and you will earn $100.
5. Painting Rooms
Know how to paint rooms? There is a need for this service, especially for landlords who are changing tenants and new homeowners.
Earn $100 – $200 per room and charge for the cost of the paint.
6. Gardening or Yard Work
Gardening and yard work are much needed services. Do 2 to 3 jobs in a day and you'll earn your $100.
7. Graphic Design
Businesses need logos, brochures, flyers, and other materials designed. You can charge by the hour or a flat rate. See here for tips on how to price your work.
8. Website Design/Set up
Many small businesses need help with setting up a simple website. If you are a WordPress pro, then this could be an option for you.
9. Driver
Have you heard of Lyft and Uber? As a part-time driver, you can earn up to $35/hr. Within 3-4 hours, you will earn $100.
Check to see if it's available in your area.
10. Hair and Makeup Services
Are you talented with creating hairstyles and applying makeup? In our area, hair and makeup services for weddings cost $125 – $500.
11. Return Past Purchases
A quick way to get $100 is to return something you recently purchased. As long as you have the receipt, the products still have tags and are new, and you're within the return period, you're golden! Return the items and use the money for your bills.
12. Bartending
Bartenders for weddings and special events earn $100 per gig. If you are good at making drinks and love parties, this is for you.
13. Home Repairs
If you can do home repairs, you can easily earn $100 in a few hours.
14. Garbage Removal
Do you have a truck? Earn money by hauling junk to the dumpster.
15. Tutoring
Professional tutors make anywhere from $30 – $50 an hour. In a few hours, with a few clients, you can make $100.
16. Rent Out a Room
If you live in popular cities like San Francisco or New York and live near top tourist attractions, it won't be hard to rent out a spare room or house to tourists. Check for restrictions from your landlord (if you're a renter).
Airbnb has made this very popular. Check out potential guests carefully as some have used these spaces for seedy purposes.
SELL STUFF
17. Garage Sale
Holding a garage sale is a quick way to not only earn extra cash but get rid of clutter.
18. Sell Old Cell Phones
Sell your old cell phones for cash at gazelle.com. They even take broken iPhones!
19. Resell Unused Gift Cards
Do you have gift cards that you know you'll never use? Check to see how much they're worth at cardpool.com.
Earn up to 92% of the value without having to mail the cards. It's done electronically.
20. Sell Stuff on craigslist or eBay
Don't forget the old tried and true way of selling things. Items that are rare and in demand will sell quicker and for more money.
Finally, use these as ideas and think about your skill set. What have you done to earn extra cash?
Photo Credit: 401k Calculator