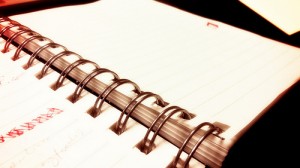 When you are considering entering into a debt management plan it's important to go into the process with an idea of what to expect as well an a game plan for you budget from that point forward. This second part is especially important since the best way to ensure a debt management plan works is to fashion it so that you are able to work within it while not depriving yourself so much that you end up splurging like a dieter after weeks of living on lettuce and carrots who finds themselves crumbling in the face of temptation.
The first step is something of a repeat of what you did in order to prepare for the debt management process. Sit down and draw up a list of money coming in as well as expenses. This should not only include your new restructured payments but also your day to day expenses such as travel costs, fast food lunches and any other purchases you make on a regular basis.
Keep a notebook with you for a few weeks and record every penny that leaves your pocket, even if it's only for a pack of gum. It may seem silly at first, but this will help you get a true and accurate picture of how you are currently spending your money.
Once you've had a chance to look at your new, revised budget as well as how you're spending your money, begin looking for expenses that can be cut out or reduced. If you schedule regular hair or salon appointments, call local beauty and cosmetology schools to ask if they offer salon days where students perform the work as part of their courses. These services are typically a fraction of the cost of other salons.
If you have a soft spot for DVD rentals check out your local library. Most libraries now offer a wide array of new release movies as well as music available to take out for free. If you happen to be a movie or music junky, this could quickly add up to significant savings.
Take advantage of your newfound determination to clear debt and apply it o clearing your house. Clean out closets and check under the beds – you might be surprised to find many things that you no longer use but which can be sold online. Some websites charge a fee for selling online – either as a flat up-front fee or a percentage of the final amount your item goes for.
Other websites, particularly those which focus on your local city, do not charge a fee for listing and can be used completely free. Depending on the items you have to sell, consider each site in turn. Local sites are better for large items such as sporting equipment, furniture and other large items you wouldn't want to ship. For other items, consider larger sites which offer a worldwide audience.
Check shipping costs on the USPS website so that your profits don't wind up being consume by shipping. This process can result in a substantial amount of money as well as less clutter in your home. Money generated this way should be put aside and earmarked for further debt payment or emergency use.
And those emergencies will definitely arise. Whether it comes in the form of a flat tire, unexpected doctor visit or other emergency it's always a good idea to try and have at least a bit of money tucked away as a cushion for moments like that. Planning for an emergency before it happens an make the situation less stressful overall and can often even lead to a quicker resolution.
Finally, it is important to do everything in your power to keep up on your repayment schedule. Since you have gone through the trouble of constructing a debt management plan or working with a specialist, now is the time to treat the opportunity as a true fresh start.
If you find yourself facing a situation which threatens your ability to keep up with your payment, contact your debt management company or creditors immediately. If you can address the problem quickly and early enough most companies have procedures in place to help customer going through a temporary rough patch.
Budgeting after you've begun a debt management program is as important as the plan itself. By watching your budget and keeping an eye out for ways to save money you are not only increasing your chances of sticking to your debt management plan but also building a foundation of a sound and responsible financial lifestyle.
This guest post was written by Kelly McCloskey, who is a freelance writer on various topics and is currently working with a company specializing in debt management plans for financially stressed individuals. In her free time she is a voracious reader and enjoys hiking.
Photo Credit: SCHW4G3R