This is a Sponsored post written by me on behalf of Avocados from Mexico. All opinions are 100% mine.
For the past year, I've been eating an avocado for breakfast every morning along with scrambled eggs.
Because I was on a low carb diet and I had to avoid wheat. I replaced my carbs with a delicious, filling avocado.
It's a whole food that contains healthy fats. Plus, avocados add savoriness to any dish and they're very versatile.
Add them to a dish as is or bake with them in place of butter or oil.
If you're a vegetarian or on a low carb diet, try adding avocados for more satisfying meals.
One of my favorite recipes featuring avocados is Buttery Avocado Garlic Toast. It's sophisticated, satisfying, and makes a perfect party appetizer.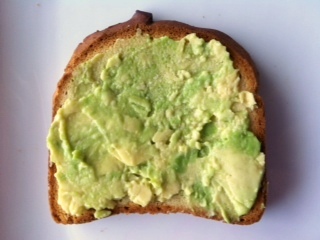 Avocado Garlic Toast Recipe
Makes 4 servings
4 slices of toasted bread
1 clove of garlic,. cut in half
2 tbsp of butter
1 avocado, peeled and sliced
Salt
Preparation
1. Butter each piece of toast on one side.
2. Use the cut side of the garlic and rub into the buttered toast until it has a layer of garlic smear.
3. Add slices of avocado and spread evenly into the toast.
4. Salt to taste.
Right now, Avocados from Mexico is running a Better Baking with Avocados from Mexico Sweepstakes. Like the Avocados from Mexico Facebook page avocados to enter to win one of over 500 prizes.
Enter to win:
1 Grand Prize – $2,500 iCard Gift Card
10 Second Prizes – $100 iCard Gift Card
$500 Third Prizes – $25 iCard Gift Card
I've already entered and it's easy! Just fill out the short form and share on Facebook.
See more avocado recipes and enter the sweepstakes from now until 12/31/12 at Avocados from Mexico's Better Baking Sweepstakes.