Get My eBook – Eating Organic on a Budget
Over 14,000 copies downloaded!
Ranked #3 on Amazon's Best Sellers List for Organic Cooking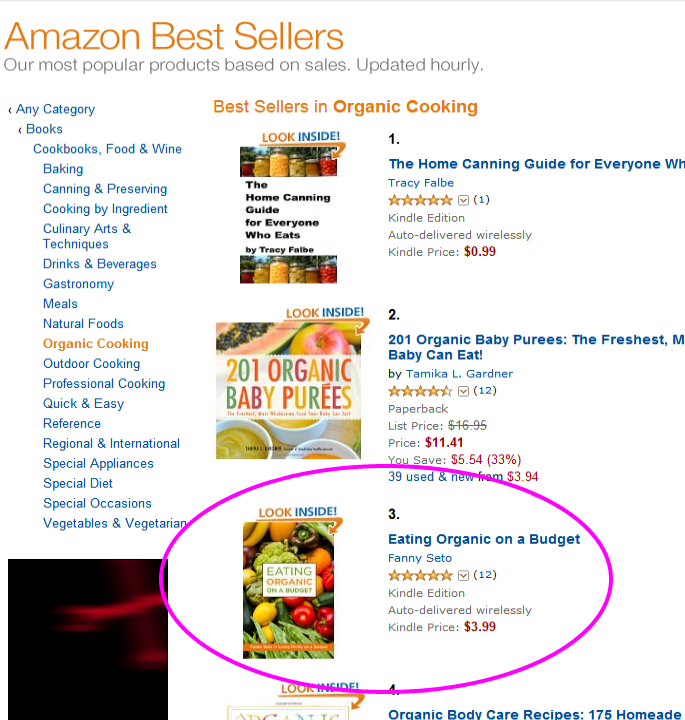 Featured on over 50 Frugal Living Blogs
Do you want to try organic but wonder if it's worth it?
Do you have trouble deciding whether to buy organic or nonorganic?
In this ebook, you'll learn the difference between organic and nonorganic, how to decide what to buy organic and nonorganic, how to figure out which foods have low pesticide residue (while you're grocery shopping), and how to save on organic groceries.
It is possible to cut costs while still eating healthy!
Do you feel like coupons for organic foods don't exist?
Do you search the Sunday paper every week for organic and natural food coupons with no luck or only find one occasionally? There are coupons for organic and natural food available but you just have to know where to look.
There are multiple organic coupon databases, magazines, coupon books, and a site where you can "earn" exclusive coupons for organic and natural foods.
Are organic foods out of your budget?
Find out when organic produce goes on sale. Yes, it's true! Produce does go on sale.
You can find them at up to 50% off regular price and cheaper than nonorganic produce. You just have to know when to buy and when they go on sale.
In Eating Organic on a Budget, there's a list of when groceries go on sale for each month. Knowing this, you can plan out your purchases and coupons to stock up on major deals.
Also, find out where to search for FREE organic produce. I know it sounds too good to be true but there are resources available to find free food. And anything free will help with your grocery budget.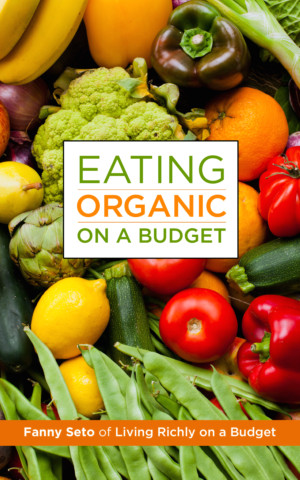 With Eating Organic on a Budget, you'll learn:
Where to find organic coupons and deals so you don't have to pay full price

How to save up to 50% off organic produce

Where to get deals on organic meat

What fruits and vegetables you can buy conventional, with peace of mind

How to figure out if you're getting the best deal

How to lower your grocery budget

Where are the best places to buy organic foods
Plus, buy the eBook now and get 2 bonus guides for FREE (a $9.99 value)!
√ Shopper's Guide to Grocery Sales – Learn when things go on sale so you can stock up and not pay full price.
√ Free Organic Produce Guide – Find out 5 ways to get free organic produce.
Amazon Reviews
"I had been looking for a quick and easy book for easy reference on what all those labels in the grocery store mean and what to buy organic and what doesn't need to be organic. This is a great, easy to ready and carry reference guide that is practical and useful.
I especially liked the tips about how to be more psychologically mindful of how you spend in the grocery store. There is a list of items that should always be purchased in organic form, as well as the fruits and vegetables that have thicker skin where conventional produce is fine to eat. This is a must read for anyone who wants to eat in a healthy way and doesn't want to spend a fortune." 
- Jenn C.
"I was really surprised how intimate and encouraging this title was. Very easy to read, light, entertaining even. Yes, you can eat organic no matter you budget. The best part of this book was the time and money saving tips that can be applied just about anywhere. Fannie is the Dave Ramsey of Organics – there, I said it. Get this book and be blessed."
- B. Walker
"I'm a fan of frugality. I love me some Dave Ramsey and believe now more than ever in saving money and spending with cash as much as possible.
That is why Fanny Seto's guide to "Eating Organic on a Budget" is a great resource for my family. She distills otherwise complex terminology into easy-to-understand chunks. She provides plenty of linked resources that will take you to websites, blogs and resources. She shares her personal story of loss and transformation that truly get to the heart of why eating healthy and organically matter most.
I was most surprised by a short section on Buying PART of a Cow. Yes, you read that right. I had to do a double take as well. Who knew that this option even existed!!!??? I do now.
The ideas in this book are quick and digestable. Nevertheless, though it may take a lifetime to put into practice, it will be time well spent investing in the author's advice."
- Pira T.
"This little book is packed full of tips and resources for shopping organically on a budget. There's no excuse to pay full price any more! Fanny tells you how to shop, where to shop, where to find the best deals and even lists websites to find coupons for organic products. She offers techniques from food budget planning, to information on what produce to buy organic by season, to supermarket return policies. It has everything you need to know to buy organically without spending too much as well as make educated decisions when grocery shopping for yourself or your family. You'll refer to this book again and again."
- Beatrice D.
"A quick e-book that is to the point – how to shop well for less. Useful for those just finding their way to cleaner food and also for those who are experienced. Especially helpful is the seasonal guide and also her advice on learning pricing – I do this in my head or by snapshots on my phone but a book would be easier/more reliable. The hyperlinks are a nice touch as well, making it easy to connect with the sources she cites."
- Sarah K.
"I never realized there we so many places to obtain organic food, including places that give organic food away for free! The sheer list of sources is enough to justify the price of admission."
- Jeff
"This book is a quick and easy read with lots of helpful ideas for cutting your food budget without sacrificing the quality of your food. I would definately recommend this to anyone who is struggling with the cost of feeding their family healthy organic foods. If you use the ideas and resources in this guide, YOU WILL SAVE MONEY!"
- Helen

You can download the free Kindle app for your PC, Mac, iPhone, iPad, Blackberry, Android, and more.