So the Free 2012 Hello Kitty Calendar is back this year!
Thank you, Sanrio!
This is the best thing they give away every year.
It's cute and printable. Print as many times as you want!
This year, every month features Hello Kitty, not her friends, finally!
Just click here to get the Hello Kitty calendar as a pdf to print.
All you have to do is go to Sanrio Email Signup.
Enter your birthday first.
They have to verify that you're 13 years old or older. If you mess up this step, the site will lock you out.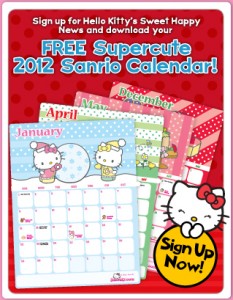 I forgot to enter the year for my birthday and got locked out! If this happens to you, don't worry. Just try another browser window like Internet Explorer, Firefox, or Chrome.
Once it verifies your birthday, you enter the rest of the info.
If you have already signed up for their email signup, then the system will let you know and provide a link to the pdf for the calendar.
I just pinned this to my fridge. I will use it to track what foods my daughter has eaten.
I love month to month calendars too. You can see what's coming up ahead instead of being surprised.
Enjoy! Love this! It's also great for sharing with friends, kids, co-workers, or any big Hello Kitty fan.
Don't need to buy a calendar when you can print it yourself with a color printer!
* If you love this calendar, please share by pinning it on Pinterest or liking it on Facebook through the links above. Thanks!
Get your Free 2012 Hello Kitty calendar here!

Print This