My ebook Eating Organic on a Budget is being featured on the Money Saving Mom blog!
She liked my book. =)
It's truly an honor to be featured on her amazing blog, for the first time.
I'm super excited about this since I'm a big fan of hers.
Today and tomorrow only, Eating Organic on a Budget will be available for 50% off with a coupon code found on Money Saving Mom, making it only $2.50!
$2.50 is less than a cost of a tall Starbucks mocha these days! For less than the price of a cup a coffee, you will get tips on: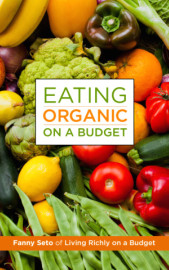 Where to find organic coupons and deals so you don't have to pay full price
How to save up to 50% off organic produce
Where to get deals on organic meat
What fruits and vegetables you can buy conventional, with peace of mind
How to figure out if you're getting the best deal
How to lower your grocery budget
Where are the best places to buy organic foods
Get this awesome deal on my ebook now before it ends tomorrow!

Print This