Have you been thinking about getting a stand mixer, which is great for mixing heavy duty things hands-free?
I've been considering it and this price is so low!
Regular price is $299.99.
I'd really like a pink one though but it's $349.99. No thanks!
With rebates and Kohl's cash, you can get a KitchenAid White Stand Mixer for as low as $133!
From $299 down to $133? That's more than 50% off.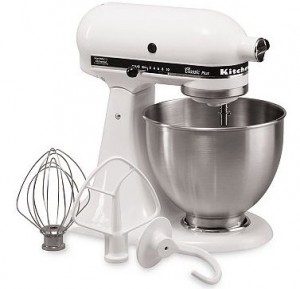 Here's how:
Add the KitchenAid Stand Mixer priced at $229.99 into your cart
Add a filler item of $5.50 or more (so you can get to $200 to earn $40 Kohl's Cash)
Use coupon code SMS6609 to get 15% off
Submit for a $30 rebate
Earn $40 in Kohl's Cash
There is a shipping surcharge of $3.25 because of the weight.
This would make an awesome Mother's Day gift – I know it's months away…
Thanks, Money Saving Mom!
This post contains affiliate links.