As a work at home mom, I don't get out much to do fun things.
So it was quite a treat, this past Wednesday night, to meet ukulele virtuoso, Jake Shimabukuro, for the second time!
I met him 2 years ago after his performance at a local jazz club.
I told Jake that I wished I had brought my ukulele and he said to bring it next time. Who knew if there would be a next time?
If you don't know who Jake Shimabukuro is, check out this YouTube video of his version of "As My Guitar Gently Weeps". It's what made him famous.
His impromptu performance in New York's Central Park was uploaded when YouTube just started and has been viewed over 9 million times!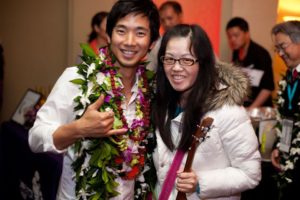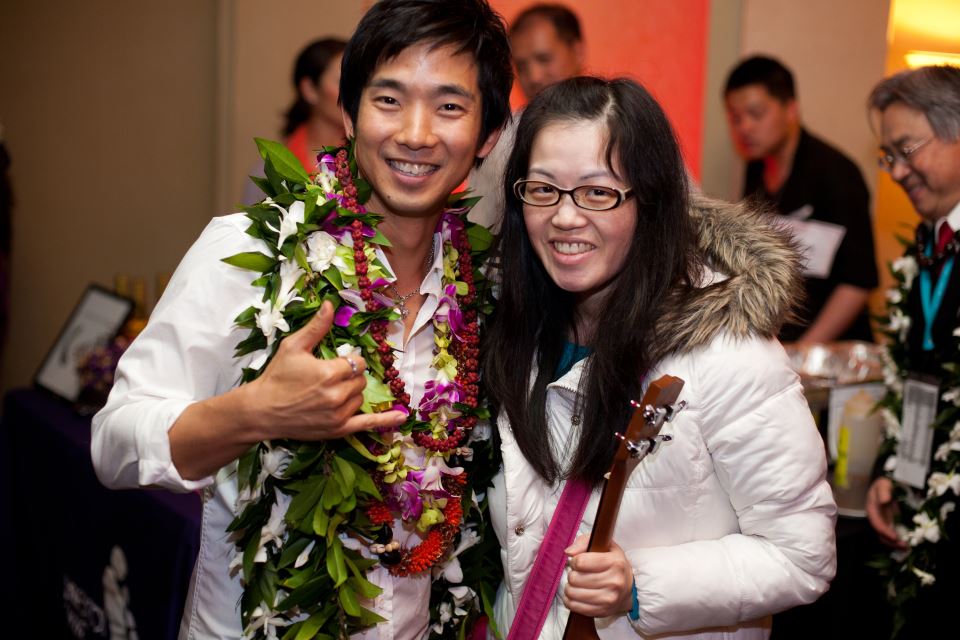 Watch it and tell me if it doesn't bring a smile to your face.
When you think of the ukulele, you probably don't have high expectations. After all, people usually equate it with Hawaiian music.
But Jake is different. He plays the ukulele as if it was a guitar – a jazz guitar, flamenco guitar, etc.
He even has a rendition of "Bohemian Rhapsody" and "Thriller". And he writes his own music too, of course.
He's super talented and awe-inspiring, giving new life to the ukulele, as a stand alone instrument.
So Wednesday night was the debut of a documentary of his life at the Asian American Film Festival in San Francisco. I'm so thankful that I got to attend this and find a babysitter.
Jake began playing the ukulele at the age of 4 and kept turning to the ukulele whenever life got tough. He was raised by a single mom who had to work nights to make ends meet. So he took care of his younger brother a lot.
He told his mom that one day he was going to be so good that she wouldn't have to work anymore. Check out the trailer for Jake's documentary below.
I had no idea if I was going to meet him or not. Once I arrived at the theater, I saw a long line of people waiting outside, in the rain. I almost got in that line but as fate would have it, I ended up meeting him instead!
Within minutes, I was face to face with someone I absolutely admired. I met him once, but to meet him again? Beyond amazing!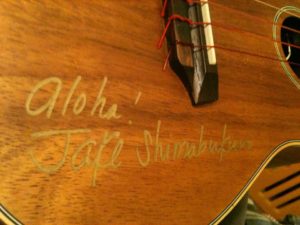 This time I brought my ukulele and he signed it! After 2 years, my dream came to fruition.
Is there someone that you admire and would like to meet? I'm telling you, anything is possible.
Jake is a really nice guy. He genuinely shows interest in his fans and is very humble. He always shakes your hand twice, when he meets you and when he says goodbye.
What I love about Jake is that he has found his purpose in life and is fulfilling his destiny – to make people smile, through playing the ukulele.
What is your purpose in life? What are you meant to do?