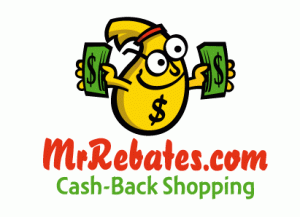 Mr. Rebates is an online shopping rebate program, where you earn cash back every time you shop from their list of online merchants.
I signed up for Mr. Rebates last year, made some purchases, and totally forgot about it. When I logged in and checked my account, I had almost $10 in rebates. If I used Mr. Rebates more when I made other online purchases, I would have made more.
What I like about Mr. Rebates is that it's really easy to earn cash back. They don't make you jump through hoops like other sites. Just sign up and right away you earn $5 as a sign up bonus.
What I also like is that they provide current coupon codes for each online retailer. You don't have to search to save money! They do recommend their coupon code vs. others since it may negate your rebate.
Here's how Mr. Rebates works:
Log into your Mr. Rebates account.
Then click through to the online shop of your choice.
When you make a purchase through that online store, you will be automatically credited for a rebate. Within a day or two, Mr. Rebates will send you an email confirming the pending rebate.
After 90 days, your pending rebate will become available.
When you reach $10 in available rebates, you can cash it in as a check or have the amount deposited into your Paypal account.
Mr. Rebates is associated with so many popular online stores. Here are some sample rebates.
eBags = 10% rebate
Dell Home = 3% rebate
Get Organized = 7% rebate
Holiday Inn = 5% rebate
Old Navy = 3% rebate
Petco = 8% rebate
What I like about Mr. Rebates:
Easy to use
Coupon codes provided
Can earn a huge rebate with big purchases like with computers or electronics
Popular stores that I normally shop at are associated with them
Wide variety of online stores – clothing, music, electronics, pets, food and wine, kitchen, travel, etc.
Earn more with Mr. Rebate's referral program:
Mr. Rebates has a referral program too. Whenever someone signs up to join Mr. Rebates, you get 20% of their rebate, every time they make a purchase. It doesn't decrease their rebate either.
So if you sign up for Mr. Rebates here, you'll get a $5 bonus rebate for signing up. When you refer others, you'll earn 20% of their rebates too! Check it out, there's really nothing to lose.