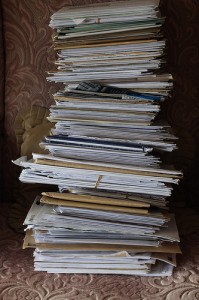 If you suffered unemployment for several months, there's a chance your credit slipped during the time you were between jobs. Even with an emergency fund, severance package, or unemployment benefits, some consumers simply don't have enough money to pay for everything and often have to let go of some expenses. Don't get down on yourself for having bad credit and instead divert that energy to getting your credit back on track!
Make a list of everything that's behind.
Put your past due bills into two categories – one category will include debts that already charged-off or with a collection agency and the other category should include debts that are less than 180 days past due, but not with a collection agency. The goal is to salvage the accounts that aren't charged-off or with a collection agency. Give these accounts priority over those that have already been sent to a collection agency.
If you can't remember everyone you owe or want to confirm you have all your debts, get a copy of your credit report from all three credit bureaus. You can get a free copy of your reports from AnnualCreditReport.com. Or, if you've already ordered your annual credit reports for this year, you can purchase your reports from any of the three credit bureaus – Equifax, Experian, or TransUnion.
Figure out what you can afford to pay to get caught up.
You'll want to contact your creditors for a payment arrangement, but you need to know what you can afford to pay each month. If you don't already have one, create a budget for your income. The money you have leftover after all your expenses are paid is what you can use to get caught up on your debts.
Contact your creditors to work out a deal.
Starting with the account that's closest to being charged-off, contact your creditors to work out a payment arrangement. Let them know what you can afford to pay and see if they will agree with it. You know your finances better than the customer service representative on the phone, so don't get pushed into a payment agreement you can't afford. When you make an arrangement to get current on your payments again, ask the creditor if they'd be willing to re-age the account. This would update your credit report to eliminate the past due payments.
Make pay for delete offers.
Paying an account that's charged-off or with a collection agency won't remove the delinquency from your credit report. Instead, you have to negotiate to get these things removed from your credit report. A pay for delete offer is exactly what it sounds like – you offer to pay the creditor or collector in exchange for removing the delinquency from your credit report. They don't have to comply – and you'll still owe the debt if they don't agree – but some are willing to work with you.
Add positive information.
Once you're employed again, make all your payments on time, even on accounts that don't normally appear on your credit report. Maintain a few open credit accounts, even if they're secured accounts. The more positive information you add to your credit report, the more your credit score will improve.
Ed O'Brien is an expert writer in personal finance, specializing in credit repair. You can find more of his articles located at CreditRepair.org.
Photo Credit: Keith Williamson
Featured in the Totally Money Blog Carnival #13 hosted by Thousandaire.