I've been really busy lately, working on my first book!
I've always wanted to write a book and now, I'm finally making it happen.
It seems like when I'm at my busiest, I'm more motivated to complete a goal.
Or maybe it's my daughter, who inspires me to do more with less.
Being a stay-at-home-mom, wife, and blogger is challenging on its own, on top of cooking all of my meals from scratch because of my strict diet, for the past 6 months.
Finding time to work on this has been tough, but I'm very thankful for my husband letting me have alone time to write.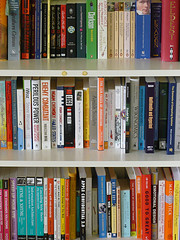 The topic, which I'll reveal soon, has been a passion of mine for quite awhile. And I hope it will help you save money!
It will be an ebook which will be available for instant download. I've read so many ebooks lately and I think it's a great format.
Last week, a friend, who has a radio show, interviewed me on video. It has some great info and content.
I will share it with you soon.
Stay tuned, there's more to come!
Photo Credit: Abdulla Al Muhairi