This post was sponsored by Ling Ling and all opinions expressed in my post are my own.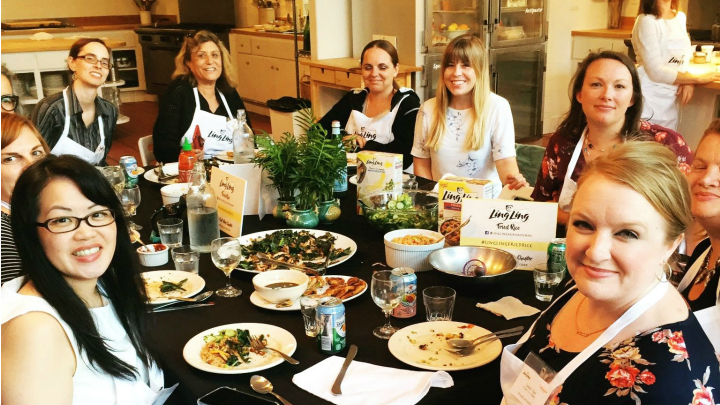 On Monday, I got to attend a fun dinner with other bloggers, learning how to cook Asian side dishes that pair with Ling Ling's new fried rice line.
The event was held at Parties That Cook in San Francisco, a space with a beautiful demo kitchen and cooking demos led by professional chefs.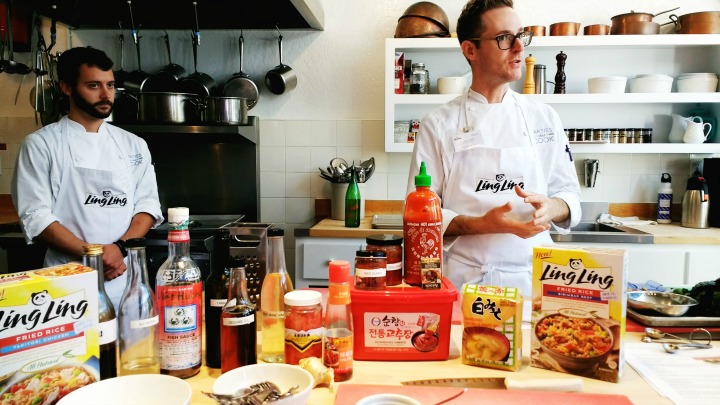 Chef Michael Chapter gave us a breakdown of common Asian ingredients and cooking techniques, like how to juice ginger quickly and how to roll scallion pancakes. Those were my favorite takeaways.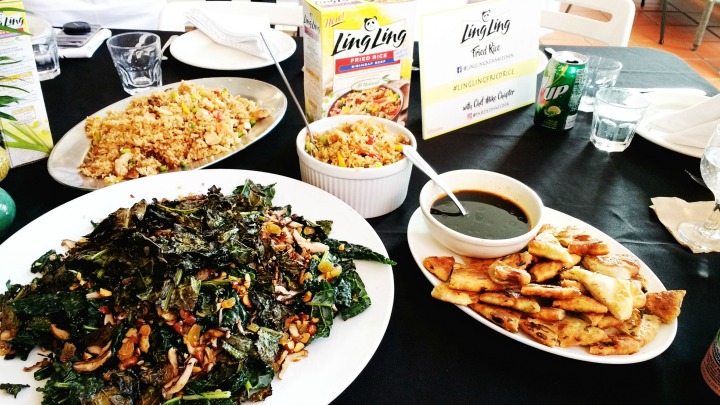 On the menu were:
Yakitori Chicken Fried Rice, paired with Crispy Kale Salad
Chinese Vegetable Fried Rice, paired with Scallion Pancakes
Bibimbap Beef Fried Rice, paired with Asian Cucumber Salad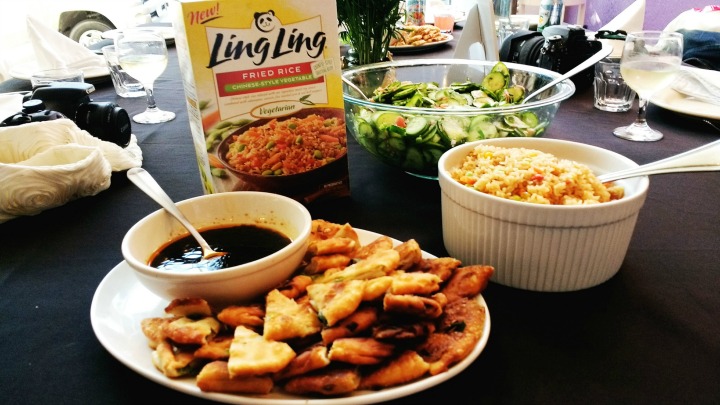 We were shown cooking techniques, then set free to cook our own dinner! I helped make the Asian cucumber salad. And I got to try out slicing cucumbers with a mandolin. It was easy!
Everything looked and tasted delicious! Our group made these menu items from scratch – Scallion Pancakes, Asian Cucumber Salad, and Crispy Kale Salad. And the fried rice is from Ling Ling's new line.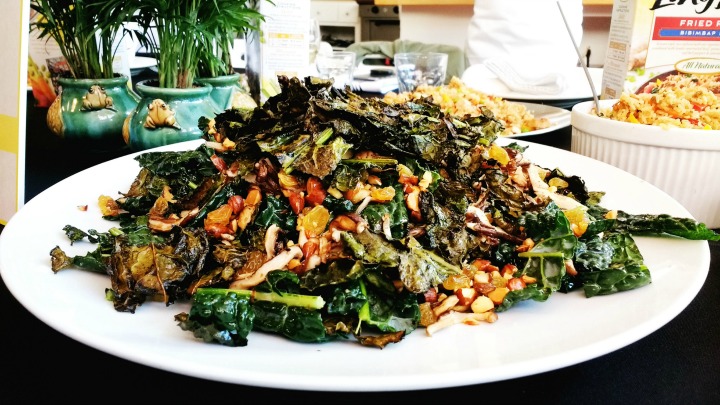 My favorite side dishes to go with the fried rice were the Crispy Kale Salad and the Scallion Pancakes.
As you know, Ling Ling is known for their delicious potstickers. Now they have a new line of fried rice inspired by Asian countries – Korea, Japan, China, and Thailand.
Yakitori Chicken (Japanese inspired)
Yakiniku Beef (Japanese inspired)
Thai-Style Chicken
Chinese-Style Vegetable
Bibimbap Beef (Korean inspired)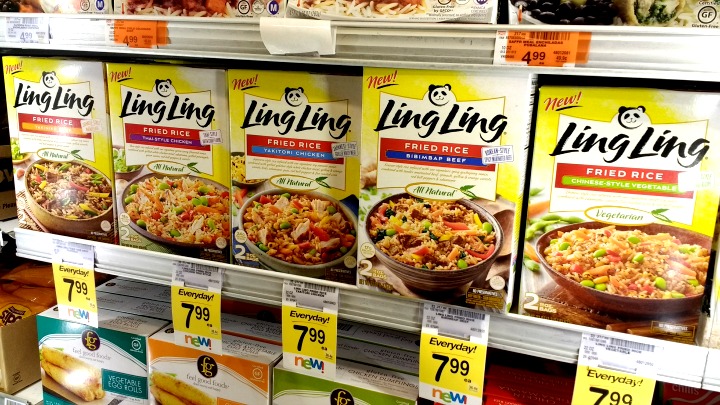 Ling Ling's fried rice can be found in the frozen aisle of Safeway and Lucky, in the San Francisco Bay Area. All you have to do is microwave it or pan fry it in a skillet for 7 minutes.
I chose to pan fry in a skillet and cover it. The fried rice does not come out dry at all and I didn't have to add any water.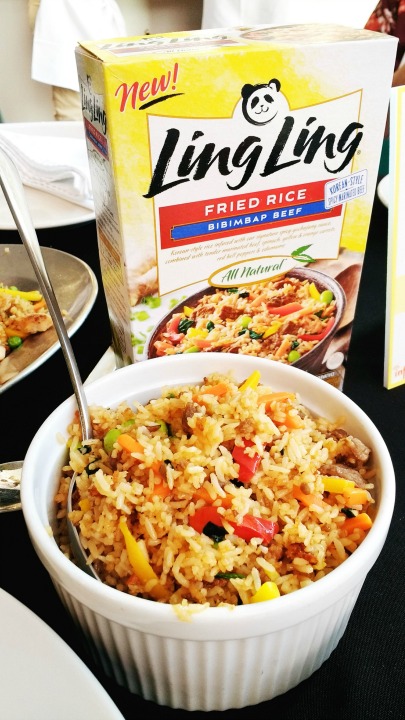 My favorite is the Bibimbap Beef Fried Rice. It is inspired by Korean food and has a hint of spice from a traditional Korean gojuchang paste.
I also like the Yakitori Chicken Fried Rice which isn't spicy at all and child friendly. And both my kids ate it up! I will definitely keep this one in my freezer.
I cook fried rice from scratch at home but Ling Ling's fried rice has way more flavor. Every single bite is full of flavor from their special infusion method. I don't know how they do it!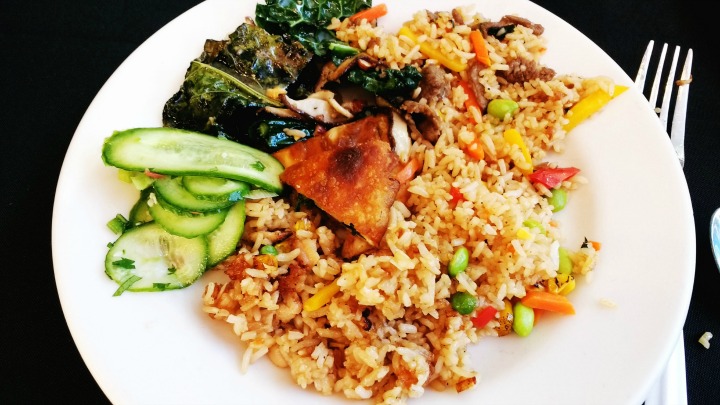 This fried rice is handy to keep in the freezer for those nights you don't feel like cooking but need to get dinner on the table for the family, quickly. And it's faster than doing take out.
What I really love about the Ling Ling Fried Rice is that the ingredients are all natural. This helps me feel better about feeding it to my 1 year old baby boy.
If you would like to try Ling Ling's new fried rice, grab this $2 off coupon: http://goic.io/LoK2YV
For more info including where to buy Ling Ling fried rice, check out: http://goic.io/fHPz7J