How the heck did I write and complete my ebook Eating Gluten-Free on a Budget while staying at home with a very active 2 year old?
Is my daughter magically behaved that she can entertain herself for hours? Um, no!
Most of my days are spent cooking for her, cleaning up after, and tending to her needs.
I do have a few free moments but if I start writing, I am multi-tasking, going back and forth between my task and taking care of her.
Yes, she naps for 1 and half hours but I have to be there to help her fall asleep. Sometimes that takes over an hour to get her to sleep. By then I'm so tired I need that nap too!
At night, after she goes to sleep, those few hours of energy I have left are devoted to working on this blog. It was really challenging to keep up with both the blog and ebook and then keeping up with household chores.
I wish I could have her watch TV or a video for a period of time but that doesn't keep her attention and I'd feel guilty about it. Last year, when I wrote my first ebook, Eating Organic on a Budget, my husband was able to watch her a few weekends, giving me enough time to write.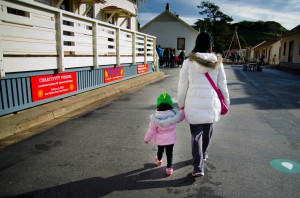 But this year, he was busy almost every weekend. And our parents are really busy and don't live close enough for me to drop her off at for a few hours. I knew I had to figure something else out if I wanted to finish this ebook in a timely manner.
My solution was to hire a babysitter. A mother's helper is slightly lower in cost than a full-fledged babysitter since they are younger and watch your child while you are home.
It was the beginning of summer and I was able to find someone out of school, who was young enough to play with her but old enough to be responsible. My daughter has never had a babysitter but I had to finally trust someone.
Our babysitter came two mornings a week. And there were some weeks that she was busy so we had to work around her schedule. But I was able to finish my book at a faster rate.
Behind the scenes, there were things that didn't happen because I was focusing on finishing my book. Laundry went unfolded, dishes weren't washed, the house was a mess, and dinner was cooked late.
I found it hard to keep up with everything. I realized that I can't do everything and be everything at the same time.
The saying "You can have it all" is a lie. You can't have it all at the SAME time!
When you're successful in your career, you might not be successful in your home life (or have health issues). And when you have young children, you might not be successful in your career. It doesn't always happen perfectly all at once.
Now looking at how I do things, I may need a babysitter on a regular basis and a schedule to get things done. Even though I'm home full-time, I can't get everything done!
I don't have all the answers but I'm figuring things out.