Don't worry – you can still get Meal Planning Made Easy!
Tired of winging it every night?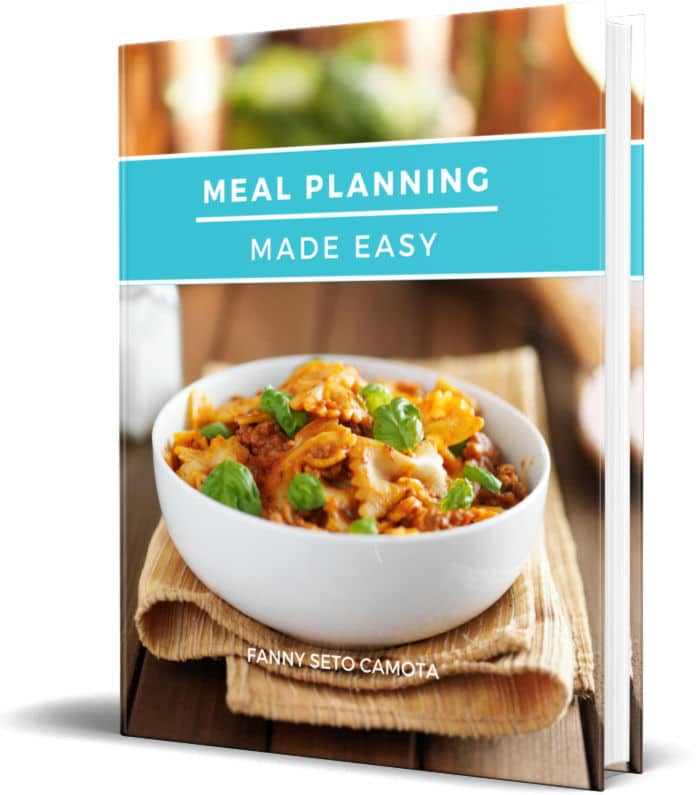 You want to save money on food – you really do! So when you go to the supermarket, you grab what looks good or is on sale. 
Then when you get home, you end up NOT eating half of the food because you forgot about it during the week! And it ends up in the trash. And getting take out is just easier. But ya, it ends up costing way TOO much!
You want a change. You want a plan. But the same thing happens the next week and the week after that. Sound familiar?
Note: This is a digital product. You won't receive anything in the mail.
"
MEAL PLANNING MADE EASY
comes with everything I could have imagined I'd need to be able to do just that - easy meal planning! Your step-by-step instructions ensure nothing crucial will be forgotten. I love the printables - for keeping track of what's on hand and what is needed from the store each week. And last but not least - your sample meal plans! You have given us five fantastic meals to start with! They're actually what I want to do the first week so we can try a few new things and potentially add them to our repertoire - eating the same meals all the time gets old. I think you opened our eyes and our minds, and have done so in a way that ensures we can't mess it up. THANK YOU!."
MEAL PLANNING MADE EASY is a 24-page ebook that includes:
1. STEP-BY-STEP GUIDE
to help you quickly get started. 
2. 10 COLORFUL PRINTABLES and a PRINTABLES GUIDE
to help you get organized.
3. A SAMPLE MEAL PLAN WITH A GROCERY LIST AND 5 RECIPES
so you can get ideas.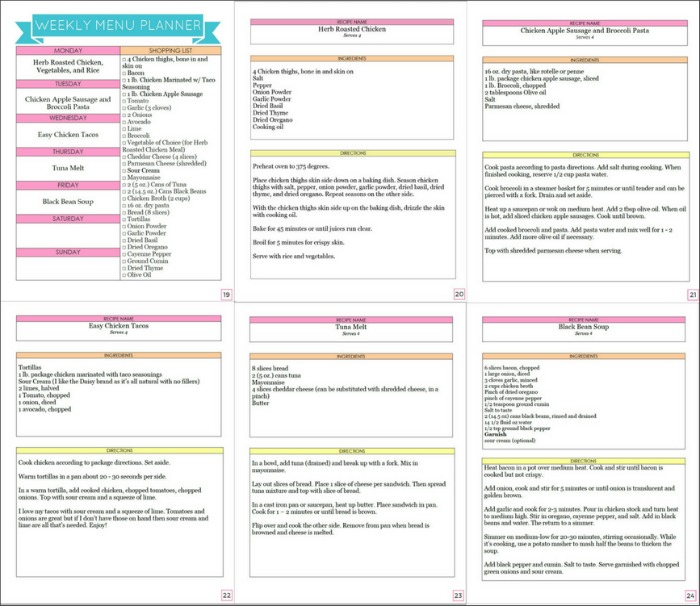 Note: This is a digital product. You won't receive anything in the mail.
"One of the printables I loved was the Pantry Inventory printable. Many times people fail to save money in meal prepping because they go to the store, armed and dangerous, with their list, their meal plan and ideas, the coupons, the set amount of money, and the enthusiasm. However, when they return home, most of the ingredients were right there. So, they lost time, money, and defeated the purpose."
All Out Of
Save time with this prefilled out checklist. Never forget an item by organizing your grocery list by store sections.
All Out Of (Fill in)
Fill in this list with your own items.

Blank Recipe Card
Keep track of favorite recipes for your recipe binder.
Freezer Inventory
Keep track of what's in your freezer. This is also great for tracking what's in the deep freezer in the garage.
Grocery Price List
Find the lowest price on an item using this list.
Meals I Can Cook
Quickly plan meals when you use this to list all of your family's favorite meals.
Multiple Store Shopping List
This is a handy list to keep track of your must-buys for those times when you hit more than one store.
Pantry Inventory
Keep track of what's in your pantry.
Shopping with Coupons
Organize your coupons and deals in one place to make store transactions easier.
Weekly Menu Planner
Plan your meals and grocery list all in one place.
Note: This is a digital product. You won't receive anything in the mail.
"I love the overall look and graphics of the guide! It has helped me to prepare before the start of the school week, my grocery list, and meal plan for the week. My favorite printables are the All Out Of and the Weekly Menu Planner. These are especially helpful for me to take inventory of what I have and I need before creating the menu plan and shopping list for the week. Also, I really like the Sample Menu Plan and the recipes. I am able to get a start on meal ideas and can substitute some of the ingredients with something I can eat.
WHAT AM I GETTING?
You get a 24 page ebook in the form of a PDF.
CAN I PAY BY CREDIT CARD OR PAYPAL?
Yes! You can pay securely with a credit card or PayPal through my payment processor, Gumroad.
WILL I GET SOMETHING IN THE MAIL?
No, these are digital files in the form of a PDF.
WHAT IS THE BEST WAY TO USE THESE?
You can print and fill out, then put them into a binder or laminate them and post onto the fridge so they can be used over and over again.