This is my 3rd order from Vitacost and I must say that they're growing on me.
I never used Vitacost before but when I saw that they were offering a free $10 credit to try them, I jumped right in.
What I really like is their prices and selection of gluten-free items.
Since developing multiple food allergies and going gluten-free, it has been a challenge to find foods that I can eat.
I just started baking again. Vitacost has a wide selection of gluten-free items like brownie mixes, chocolate chip cookie mixes, cereals, pizza crust mixes, etc. And their prices are competitive, if not cheaper than Whole Foods and Glutenfreely.com.
Although it may be more cost effective to buy raw ingredients like flours, baking soda, etc., I feel more comfortable buying a mix.
Here's why: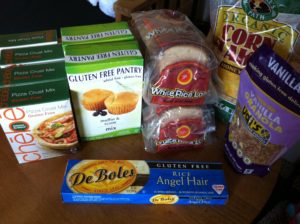 1. Life is complicated enough. I don't have to find 10 ingredients that are gluten-free. The mixes have it all.
2. It saves me a lot of time not having to mix these ingredients together or buy them separately.
3. The mixes have a longer shelf life since they're individually sealed.
4. I don't have to look up any gluten-free recipes. I just follow the instructions on the box.
5. The mixes don't cost that much, only $2 – $3 for great convenience.
As you can see, I've stocked up on certain items. It's almost like a mini-stockpile of gluten-free goods. Once I've found a favorite, I stock up.
Here are my favorite gluten-free items in the photo (from left to right):
1. Chebe Pizza Mix ($2.73) – This is the best g-free pizza mix ever! The beauty of it is that you can't even tell it's g-free. And it's the only mix that doesn't have brown rice in it which I'm sensitive to. It's made with manioc/tapioca flour. Mix the crust with some shredded sharp cheese, as recommended on the box, and it will produce a tastier pizza crust. I had an OMG moment when I tasted it. And my daughter only wanted to eat the crust!
My Whole Foods doesn't carry this mix that's why I get it from Vitacost. And it's only $2.73 for this super yummy, g-free pizza mix. Makes one pizza.
2. Gluten Free Pantry Muffin and Scone Mix ($3.28) – This is a base muffin mix that you can add other ingredients like fresh blueberries or other things to make what you want. When I made this, the muffins was gone in less than 2 days!
3. Ener-G White Rice Loaf ($3.73) – I'm not going to say that this is the best gluten-free bread, but it's the only one that doesn't have brown rice. I buy it because it has a shelf life of a year, great for "prepping". It tastes good enough. With some garlic, butter, and avocado, no one will know the difference.
4. Nature's Path Organic Corn Flakes ($7.55) – Finding a g-free cereal is a challenge. These corn flakes are pretty good and Vitacost has a large pack 26.5 oz for only $7.55. A 10.6 oz box found at Whole Foods is $3.99.
5. Gluten Free Pantry Chocolate Truffle Brownie Mix ($3.28) not pictured – This item was not in this Vitacost shipment but I wanted to mention it because it is soooo good! I made this for a family bbq and my 8 year old nephew commented on how good it was. And he didn't know that it was gluten free. Children don't lie. It tastes so rich and chocolatey that you will forget it's gluten-free.
The other 2 items I haven't tried yet but I hope they're good.
As you can see, $10 gets you a lot. Shipping is $4.95 if you spend under $50. Get free shipping for orders of $50 or more. I get my shipment within a week.
Want to try these gluten-free items too? Get this FREE $10 credit for first time customers. (Get another $10 credit when you refer a friend.)
This post contains affiliate links.