Sometimes things don't go the way you want them to. Life throws you a curve ball and you have to adjust.
Whether you have a hard time finding a job, are overwhelmed with debt, have to live with your parents or in-laws (with your kids), struggle with your marriage or being a single parent… please know that everyone is struggling with something!
Without struggles in life, we wouldn't appreciate what we have. We wouldn't be who we are today.
Since the beginning of summer, my blog traffic started dropping and my Facebook follows were at a stand still. Blame it on the busyness of summer or whatever else. I knew something had to change.
It's hard to keep going when you feel like you're failing. I let myself feel down for a second but then I had to keep going, for my family. I started making small changes to my blog and head towards a new direction – to help people create more income and save money, rather than just posting deals and freebies, which everyone else is doing.
There is a greater need in helping people build income, whether it's as an entrepreneur or finding a job. At the same time, I'm trying to finish my second ebook. It's taking a lot longer than I had planned but I want to make sure that it is complete before I release it.
It's all a little overwhelming right now. But I wanted to let you know my blog got some publicity through an online round table discussion I did at the DailyLounge and an article I was quoted in on DailyWorth, which helped boost my ebook sales. Yay!
Things are looking up and they will look up for you too if you head towards a new direction. Check out these inspirational quotes to help you stay motivated.
1. "People often say that motivation doesn't last. Well, neither does bathing – that's why we recommend it daily." – Zig Ziglar
2. "Whether you think you can or you can't, you're right."  – Henry Ford
3. "We are really competing against ourselves, we have no control over how other people perform." –Pete Cashmore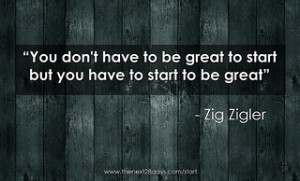 4. "A leader is one who knows the way, goes the way, and shows the way." – John C. Maxwell
5. "The way to get started is to quit talking and begin doing." – Walt Disney
6. "Formal education will make you a living; self-education will make you a fortune." – Jim Rohn
7. "One of the huge mistakes people make is that they try to force an interest on themselves. You don't choose your passions; your passions choose you." – Jeff Bezos
8. "Success is not the key to happiness. Happiness is the key to success. If you love what you are doing, you will be successful." – Albert Schweitzer
9. "I don't know the key to success, but the key to failure is trying to please everybody." – Bill Cosby
10. "Success is not what you have, but who you are." – Bo Bennett
What's your favorite quote?