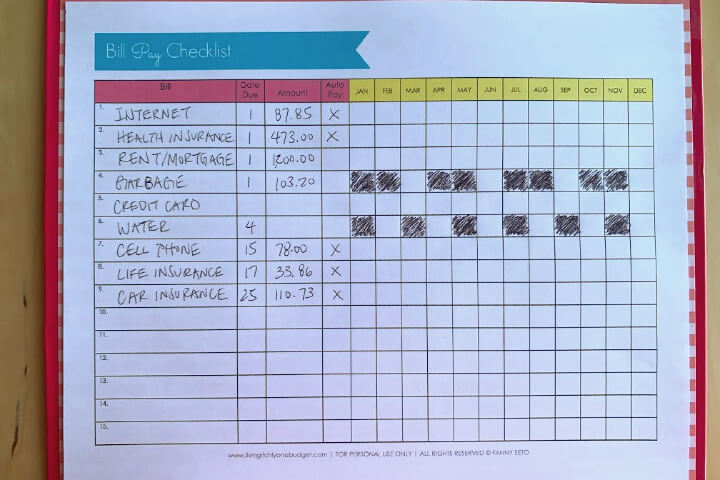 Do bills have a habit of sneaking up on you, even though the same ones come every month? Do you run out of money and don't have enough to pay the bills, even though you know you make enough???
That's where a printable Bill Payment Checklist comes in.
What's a Bill Pay Checklist?
A Bill Pay Checklist or Bill Payment Checklist is a sheet where you track all of your bills. The point is to have everything listed all in one place so that you can see whether or not a bill has been paid.
Even if you have autopay, sometimes a bill won't get paid, due to an error like an expired credit card. So if you're not tracking your bills, you won't know that a bill hasn't been paid until it's too late, like when you're charged a late fee!
Printable vs. Digital
Whether you do this on Excel, a sheet of paper, or using my Printable Bill Pay Checklist (pictured below) from my budgeting binder, Budgeting Made Easy. It doesn't matter what you use, as long as you do it.
But I prefer to use a printable bill pay checklist as part of my budget binder, because once I go on my phone or computer, I get distracted easily. With a bill pay checklist on paper in front of me, I tend to stay focused on the task at hand.
How to Use a Bill Pay Checklist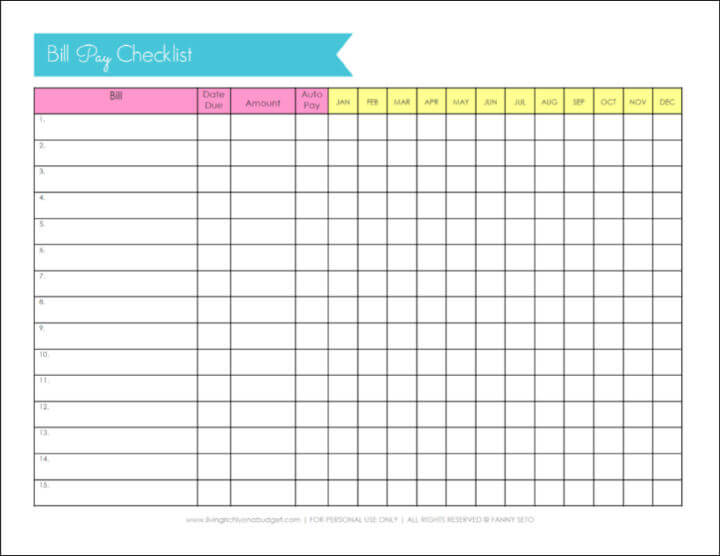 1. List all of your bills.
Look at your credit card statements and checking account for bills that you pay on a regular basis. It's helpful to look at an entire year's worth of bills so you can get a complete picture.
2. Organize bills by due date.
Starting from the 1st of the month, organize each bill by the due date so that you can track them easier. 
3. Create columns for each month and check off when you've paid each bill.
You're simply creating a checklist so that you can track which bills you've paid. Don't forget to check bills that are on auto-pay because sometimes auto-pays can fail and the payment doesn't go through.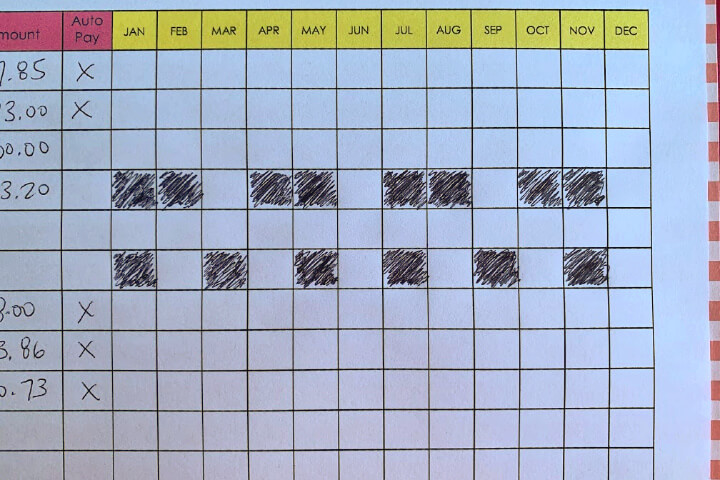 4. For bills due a few times a year, block off the months when they aren't due.
Our water bill is due every other month and our garbage bill is due every quarter. Rather than track them on a separate sheet, I have started blocking off the months where these bills are not due.
Then leave the month where the bill is due, open for checking off. If you look in the picture above, I blocked off Jan and Feb, then you see that the next payment is due in March. Check off March when the bill is paid.
I hope this makes sense as now you can quickly see which months this bill is due.
5. Place this bill pay checklist where you can see it every day.
It's important to display the bill pay checklist where you can see it regularly so you can stay on top of bill paying and avoid late fees!
6. Mark which bills are on autopay.
Even with autopay, you still have to track and make sure the payment was completed.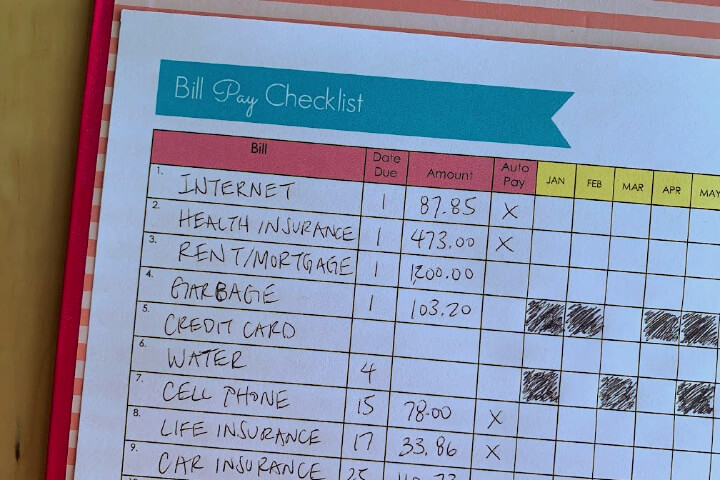 7. When payday arrives, refer to the bill tracker to see which bills will come before the next pay period.
Allot enough money to pay those bills. Put this money into a separate bill payment account, if you want to make it even easier.
8. Put these bills into your monthly calendar and repeat them every month.
Use either your phone, calendar app, or planner to track monthly bills.
9. Communicate with your significant other (or anyone you're splitting the bills with) about the upcoming bills.
When it comes to bills and money, communication is everything! If you can't communicate about money, it's hard to move towards one direction to meet financial goals.
If this is a difficult topic to discuss, work on it and be neutral when your partner talks about finances. Don't get angry but be calm and listen. If it's still difficult, then consider couple's therapy.