Are you struggling with your finances and living paycheck to paycheck in 2023? Want to stop spending money you don't have! Then it's time to take back control of your money.
When I can see the whole picture of my current money situation, I can make better, smarter choices. That's where a budget binder comes in!
I created my budget binder system, Budgeting Made Easy, to feel more in control of money.
What is a Budget Binder?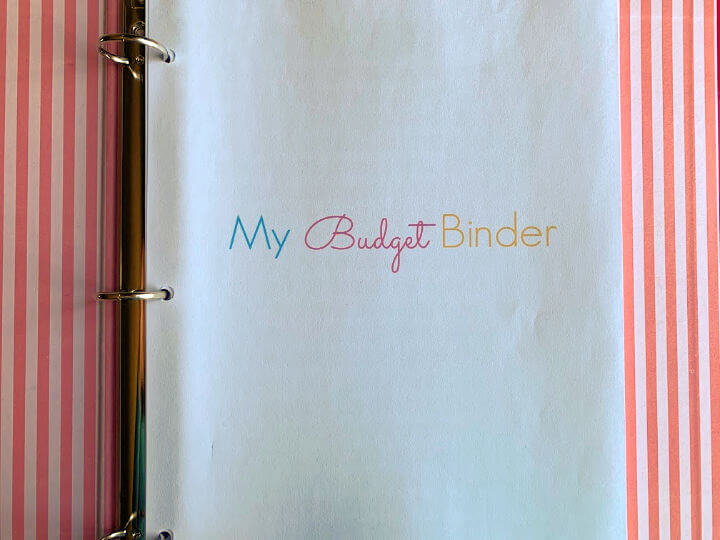 A budget binder is a system to organize your finances. It's not just a budget but my Budget Binder, Budgeting Made Easy, will help you track expenses, organize bills, set financial goals, pay off debt, and plan for the future.
If you've ever felt overwhelmed with not having enough money for each bill, paying off debt, and knowing whether you have extra to spend on fun stuff, then you may enjoy the peace of mind that using a budget binder provides.
How does a budget binder work?
A budget binder keeps your finances all in one place. It helps you plan for upcoming bills so you won't be surprised.
A budget binder also helps you figure out how much money you really have. When you can see how much you make and how much money you need to set aside for bills, then you can make decision based on a budget and real numbers, not on emotions.
What should be included in a budget binder?
A budget binder should include:
Monthly Budget
Expense Tracker
Bill Tracker
Financial Goal Setting
Debt Tracker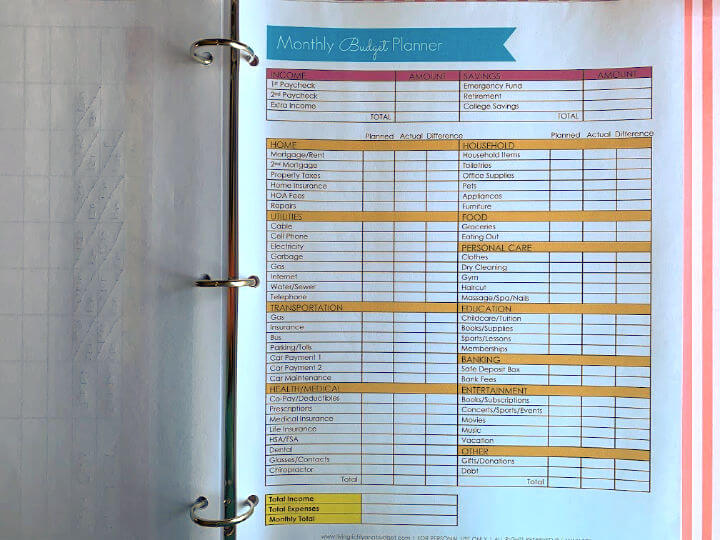 Budgeting Made Easy is my ebook that guides you through creating a budget and has printable worksheets to help you create your own budget binder!
Here's a quick guide on creating a budget.
How Do I Organize Monthly Expenses?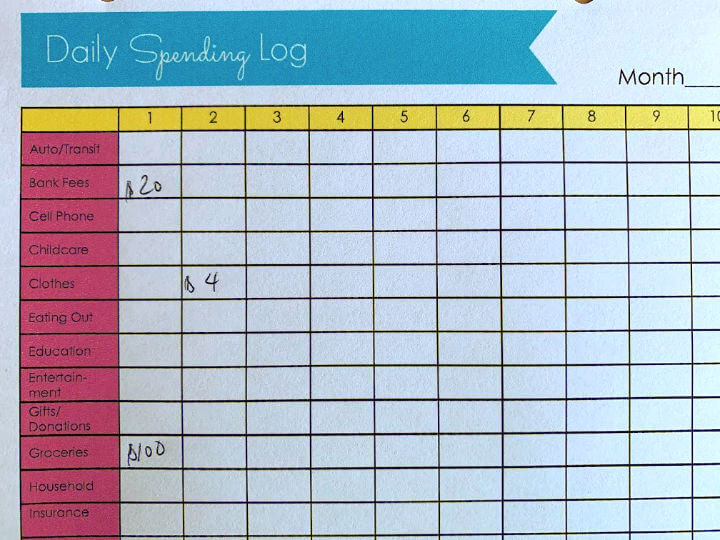 In Budgeting Made Easy, I have a Daily Spending Log that has categories and days of the month filled in. All you have to do is write in the amount spent.
Popular expenses to track are groceries, eating out, entertainment, and gas.
How Do I Use a Budget Binder to Track Expenses?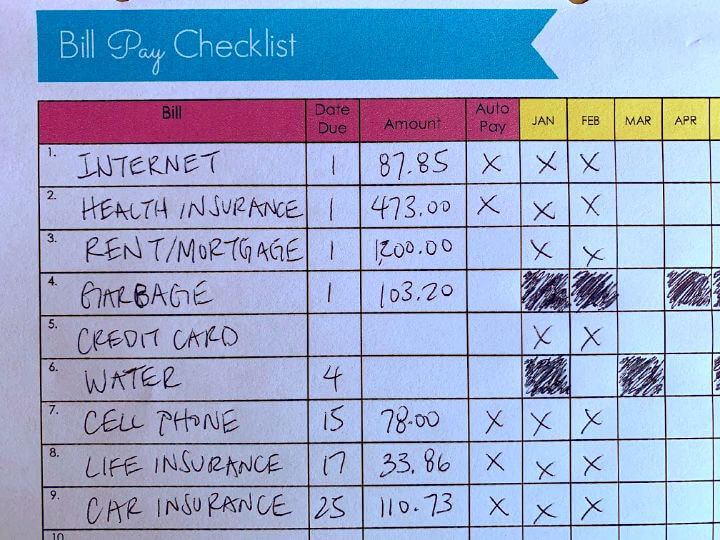 This is the most important worksheet for me! I use a Bill Pay Checklist to keep track of upcoming bills.
I put bills in order by due date and when each bill is paid, I check them off. For bills due a few times a year, I block off the months so that I can see which month they are due.
How Do I Use a Budget Binder to Pay Off Debt?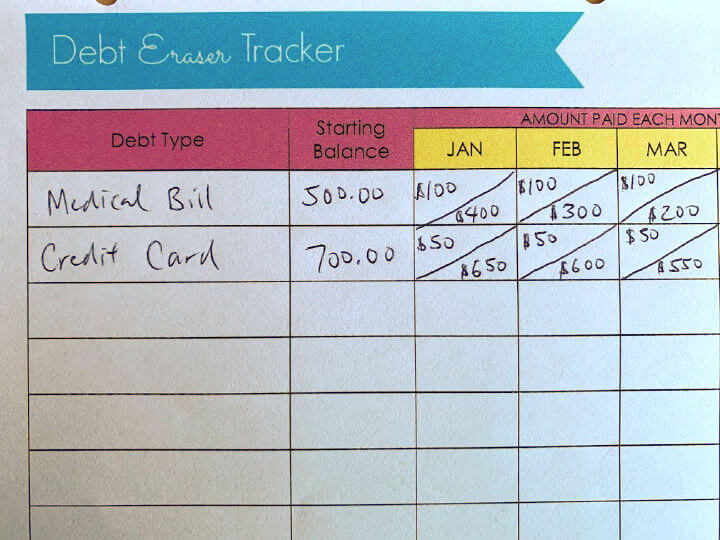 My Debt Eraser Tracker (pictured above) is a good place to track debt and your debt payoff progress.
I divide the boxes into 2. The top half shows the amount I've paid and the bottom half is the remaining balance.
In the video above, I explain further about how to use the Dave Ramsey Debt Snowball method to pay off debt.
What Supplies Do I Need for a Budget Binder?
paper and ink for printing
colored pens (optional)
How to Create Your Budget Binder
Go through Budgeting Made Easy and choose pages you want to use. I have blank options for certain pages so that you can fill in your own categories.
Print the worksheets you want in your binder, then hole punch them, and put them in your preferred order.
I like to keep the Checkbook Register and Bill Pay Checklist towards the front of my budget binder, since I use these the most!
How to Use Budgeting Made Easy, Budget Binder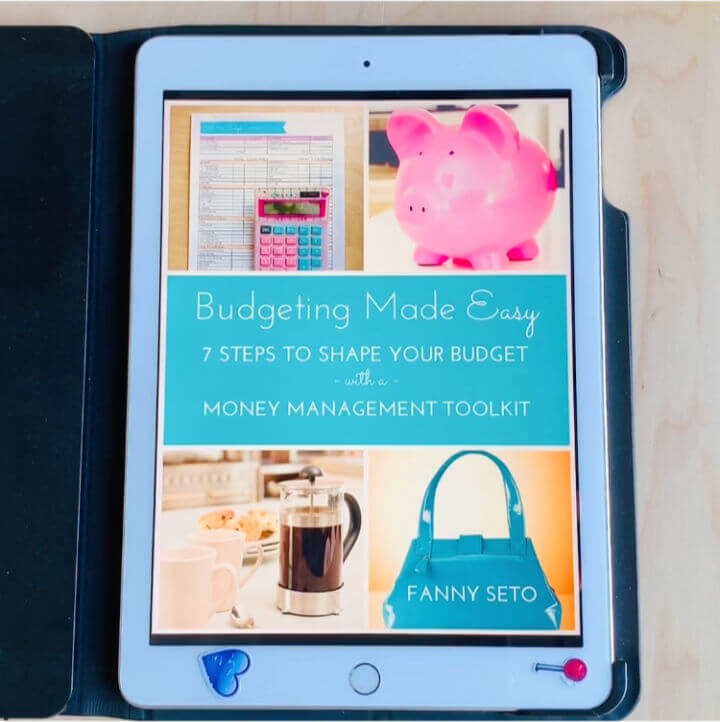 Read through Budgeting Made Easy. After each chapter, I have a challenge for you to complete with corresponding worksheet(s).
I also explain how to use each worksheet in Budgeting Made Easy.
Watch the video above for a visual explanation on how to use some of the worksheets – like the Bill Pay Checklist, Debt Eraser Tracker, Checkbook Register, Financial Goal Setting, and Income Brainstorming Worksheet.
1. COVER PAGE
Place this on your binder cover.
2. MONTHLY BUDGET PLANNER
There are 3 different versions so you can customize your budget.
3. DAILY SPENDING LOG
Use this to track expenses, easily. There are 2 versions, 1 that's filled in with categories that correspond to the Monthly Budget Planner, and a blank template for you to customize your categories.
4. BILL PAY CHECKLIST
Use this to track monthly bills, how much is due and when.
5. NON-MONTHLY BILLS CHECKLIST
Track bills that come a few times a year.
6. DEBT ERASER TRACKER
Keep tabs on your debt payments and formulate a plan to pay off debt. Watch the video, at the top, to see how I use this Debt Eraser Tracker to pay off debt.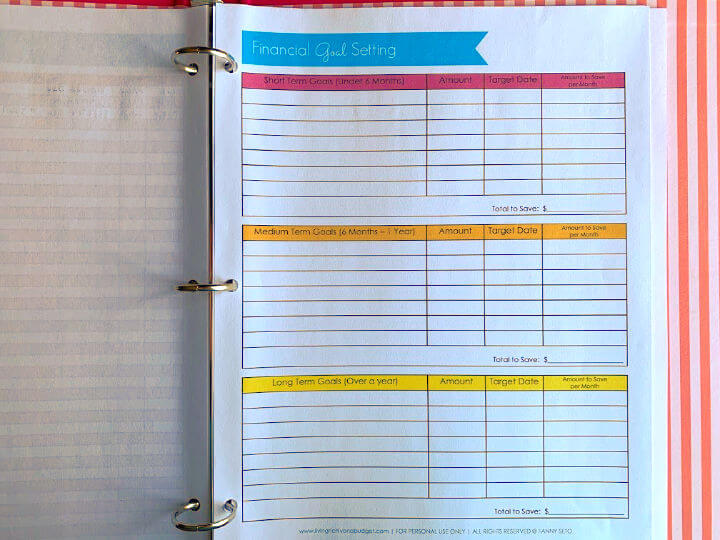 7. FINANCIAL GOAL SETTING
Set financial goals and plan for the future.
8. ACHIEVING GOALS WORKSHEET
Plan out how you'll achieve your financial goals.
9. INCOME BRAINSTORMING WORKSHEET
Brainstorm what expenses you can cut and ways to earn extra money.
10. CREDIT CARD TRACKER
Store your username and passwords all in one place. This is handy if you have multiple cards.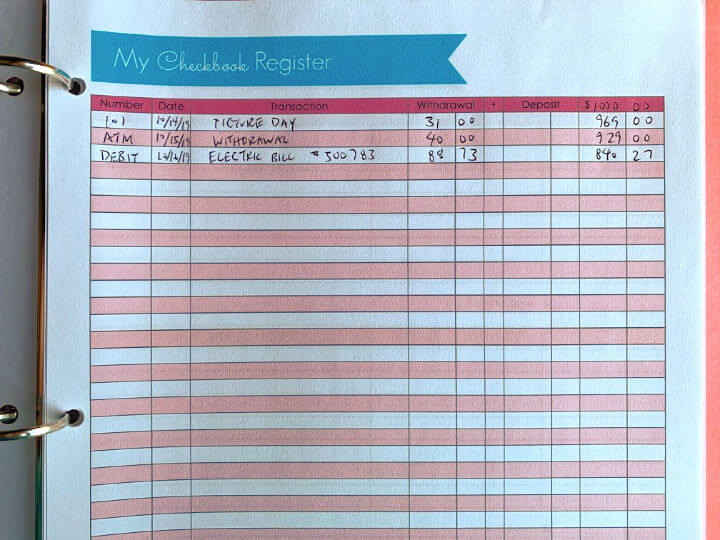 11. CHECKBOOK REGISTER
This is a cuter way to track your checkbook activity.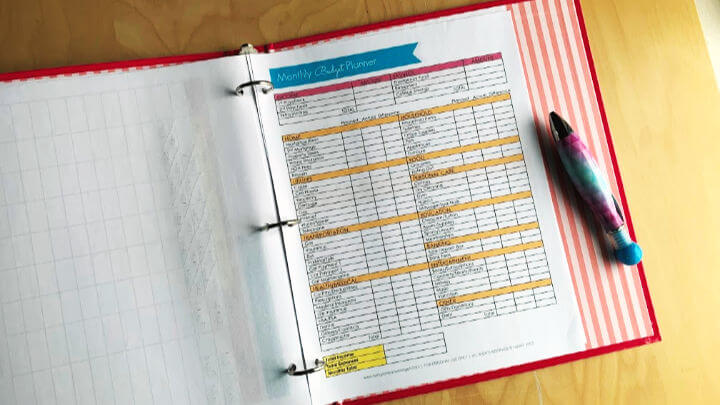 Where Can I Get Budgeting Made Easy?
Go to Budgeting Made Easy to buy my ebook and printable worksheets to help you create your own budget binder.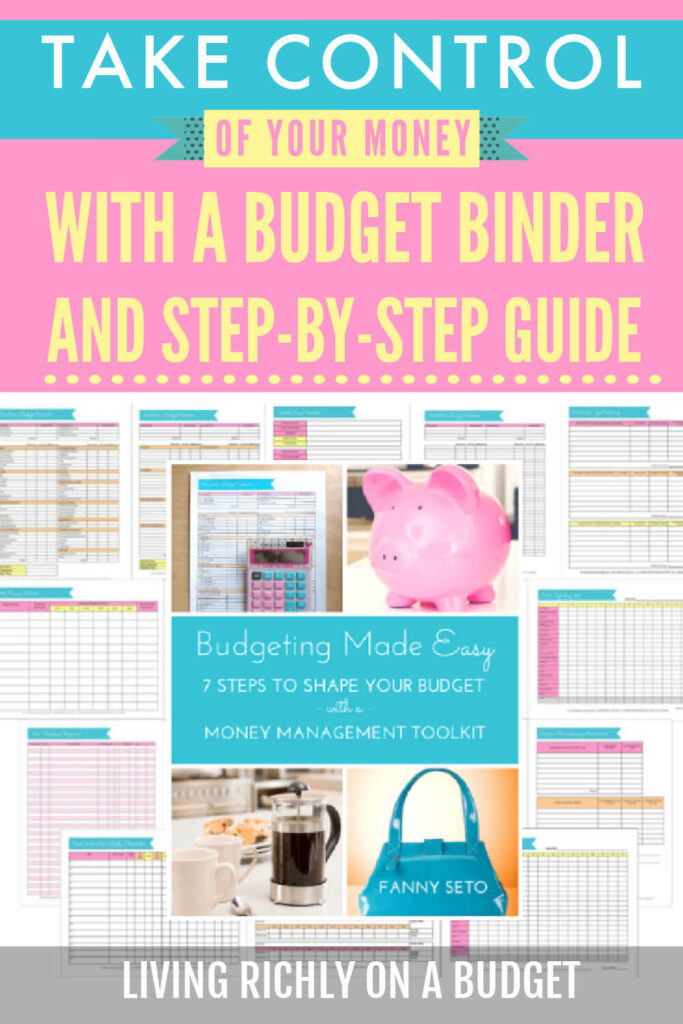 ---