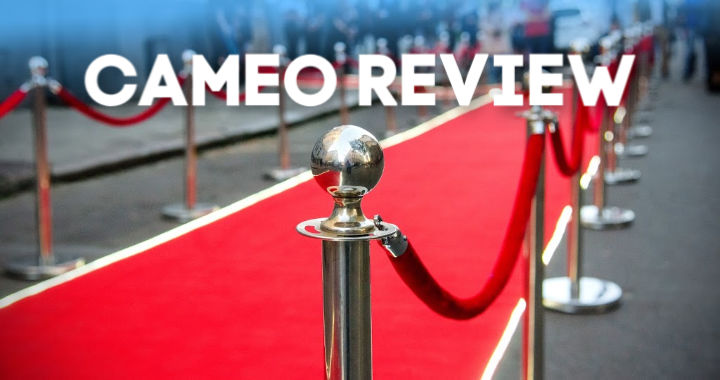 Birthdays and celebrations during quarantine time have been SO different. We can no longer have parties and it's hard to go out to eat too,
So what can you do to surprise someone? Get them a Celebrity Video Message on Cameo!
Yes, you can now hire a celebrity to do a personalized video message for your friend, co-worker, other half, family member, or even your employees or school.
Talk about getting someone a gift that is epic and will make their day or even their year! These video messages can make people laugh or cry.
This is how you get a celebrity to wish someone a happy birthday!
Cameo.com is a site where you can hire celebrities to say a personalized video message to a friend or family member.
My Cameo Review
Hire a celebrity to do a personalized video message for someone and it will blow them away! Talk about a gift that they won't forget!
My husband's birthday was coming up and I wanted to surprise him. He's usually the one who surprises me.
But for this birthday, I wanted to really surprise him. I wanted it to be an epic surprise he wouldn't forget. And I raised my usual budget a little higher to do it.
So I got a personalized video message on Cameo, from his favorite bass player, Victor Wooten. FYI: my husband is a musician and most of his close friends are musicians as well!
When I presented the video message to him, OMG, he loved it!!! He was so shocked and surprised and said that it was the best birthday gift ever!
Then he shared it on Facebook and friends asked how I was able to get his favorite bass player to do that message!
For me, it was surreal to see a celebrity say our names… wow! And the way this bass player did the message was, he would say the message and then play a song just for us!
Cameo Examples:
Sample Cameo by Mike Tyson
Sample Cameo by Mike the Situation from Jersey Shore
You can use it to wish someone a Happy Birthday, Anniversary, Graduation, Father's Day, Retirement, or even a Pep Talk. I saw that someone hired the singer, NEO to do a high school graduation message.
Things to Know About Cameo
There are lots of celebrities, like actors, musicians, athletes, reality TV stars, and even impersonators
In each celebrity listing, there are sample video messages they have done. Watch those to get a feel for how they might do your video.
Messages can range between 30 seconds long to 3 minutes, depending on the celebrity. But watch their sample videos to see how long their average message length is.
Do your booking on Cameo.com, the website as the prices are lower than their Cameo app. I don't know why!
When you hire a musician, they can sing or play part of a song with their message.
Some celebrities are better at doing the messages than others, in my opinion. Some are more genuine in how they do their message. Again, watch the sample videos to get an idea of how they do it.
Price range can range from $5 – $300 and more. The ones who charge $5 aren't anyone I know. The more known celebrities charge $100 or more.
You can't use Cameo to promote a product, such as have a celebrity endorse a product.
Celebrity Cameos to Consider
I spent a few hours, pouring over all the celebrities on Cameo.com. Here are my favorites and their current prices. Prices are subject to change.
Flavor Flav ($350) – His messages are long and very heartfelt. He just brings the energy to his messages. If I had $250 in my budget, I would hire him!
Jon Heder of Napoleon Dynamite ($249) – He can do his messages as "Napoleon Dynamite."
Oscar Nunez of The Office ($150) – He tends to do longer messages that are 3 – 4 minutes long and he's funny.
Bret Hitman Hart ($150) – This former WWE wrestler brings a lot of energy to his messages. And this was the first Cameo that I saw on Facebook, that someone did for a friend for their wedding. They were floored by this message and SO surprised.
Victor Wooten ($130) – Victor is who I hired to surprise my husband. I loved how he did our message with a warm greeting and played a unique song.
Wanyá Morris of Boyz II Men ($100) – OMG, he just lowered his price to $100! He charged much more before. Anyway, his messages are insane because he'll belt out a Boyz II Men tune for you! And yes, this man can still sing!
Lisa Loeb ($100) – One of my favorite singers! She does a nice greeting, then plays and sings a song.
Tiffany ($100) – If you're GenX, you know who this is. She does an energetic greeting and will sing part of a song for you.
Mama Mai of Hello Hunnay ($100) – Wow, Mama Mai is Jeannie Mai's well known mom on Hello Hunnay. She's such a big personality on Hello Hunnay that she's no different in her cameos. She truly, genuinely gives her best in each Cameo.
Grey Delisle-Griffin ($75) – Voice of Daphne in Scooby Doo and Princess Azula of The Last Airbender. She does messages as her characters, if you ask.
Lyoto Machida, MMA fighter ($50) – If you have a UFC or MMA fan, Lyoto would be great at surprising them. He does a short message.
Randy Couture, former MMA fighter ($50) – This tough guy does positive messages. He might be great for doing a Father's Day greeting.
Elsa – Christina The Snow Queen ($50) – She is an impersonator and dresses up as Elsa or Anna from Frozen and will do her message as that character. Great for little ones!
Larry Wilcox of the CHPs TV Show ($30) – I know everyone remembers Erik Estrada from CHPs and his partner was Larry Wilcox. We booked a Cameo for my sis-in-law and she LOVED it! Larry said the message we wanted and got the gist of what we wanted him to do. And I also DM'd him after to let him know it was perfect and he responded!
How to Do Cameo
Once you have chosen a celebrity to do a message, click through my link to create an account to get $5 off.
Search for the celebrity and click on Book Now.
Fill out the form. You have 250 characters to give instructions to the celebrity on how to do the message. You can tell them what to say or give them background info to talk about in the message.
The celebrity has 5 days to do the message. If for some reason, they can't do the message, the temporary hold on your card will be released.
When your message is ready, you'll get an email with a link to the video message. FYI: if you download the Cameo app, it lets you download your video message from there so you can share it on social media. Believe me, you will want to share the video!
When you click the link above, you'll get $5 off your first Cameo and I'll get a $5 credit. The link will direct you to sign up for an account to get the $5 off. But you can browse the site without creating an account.