Are you trying to eat healthier but feel like organic is out of your budget?
Do you feel like organic and budget don't belong in the same sentence?
I have spent 6 months eating exclusively organic, due to a health condition, and my grocery bill was obscenely high.
Eating organic is very important to me as I want to feed my family the best quality food possible. Plus, I can taste the pesticides in nonorganic food sometimes. I don't want to feed that to my 3 year old daughter.
Often the difference between organic and conventional produce and meat is just a $.50 – $1.00/lb. difference, depending on where you shop. So that makes the choice of organic much easier.
Here are various strategies I developed to lower my grocery budget while still eating organic and healthy.
1. Shop Costco or your local warehouse store.
One of my favorite places to buy organic is Costco. They don't carry everything organic but they do have a good selection of organic products and produce.
Costco carries in season organic meats produce in bulk, at unbeatable prices. Recently, our local Costco started offering organic chicken wings! Do you know how excited I was? Organic chicken wings are so hard to find!
Their prices on organic almond butter, eggs, and salad mix, which are available year round, are the lowest I've seen. Be sure to get items that your family will finish before it spoils.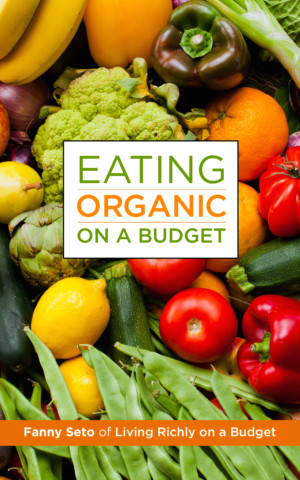 2. Look for bargains at farmers markets.
You can find great deals at farmers markets, but it depends on which ones you go to. Some are a bargain compared to others. So it pays to go to a few in your area and do a comparison.
From my experience, farmers markets in well traveled areas with high rent, like San Francisco downtown, have higher prices. And farmers markets off the beaten path, have more bargain prices.
At our local farmers market, I can find organic kale for $1.49/bunch compared to $1.99/bunch at Whole Foods.
A few vendors offer a bundle deal for organic produce like 3 for $5 that you can mix and match.
3. Buy in season.
Prices on organic produce are slashed when they're in season. Follow grocery sales and you'll find incredible deals on organic produce that is in season.
Right now, kale is in season. Last week, I got organic kale for $.88! The regular price is $1.99 – $2.99. Wow!
You can find the list of grocery sales year round here.
4. Know what to buy nonorganic.
One strategy to lower your grocery bill is to only buy certain produce organic, the ones that have been found with a high amount of pesticide residue. The fruits and vegetables with less pesticide residue can be bought nonorganic in order to save money.
You have probably come across the Environmental Working Group's list of the Dirty Dozen and Clean Fifteen. In my book, I also have a tip on an iPhone app that goes beyond this list to detail the amount of pesticide residue on popular fruits and vegetables.
5. Shop at Trader Joe's.
I buy organic meat, dairy, and health food items at Trader Joe's. I love that they offer a wonderful selection of health foods like almond flour, almond butter, coconut flour, raw honey, gluten-free flours, dairy-free ice cream at competitive prices.
Want more tips? Check out my book Eating Organic on a Budget, available on Amazon.