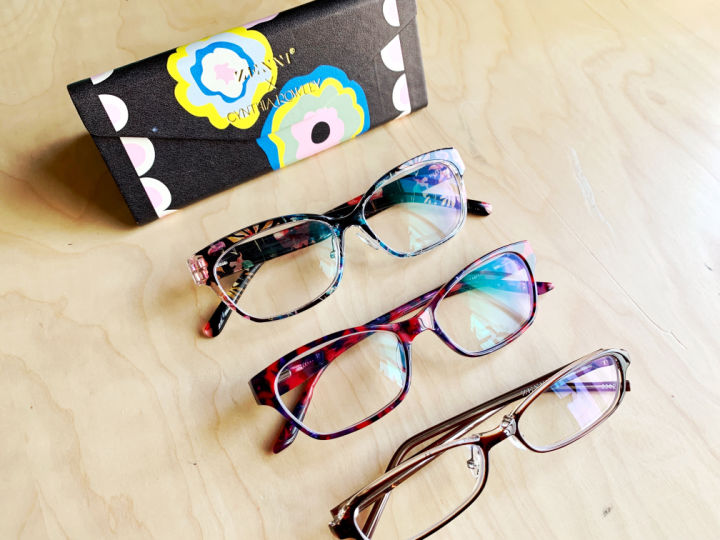 The new trend in glasses is blue light blocking lenses, which block out the harmful effects of computer screens. I tried Zenni Blokz, blue light blocking glasses, to give you an honest review.
Since we are on our computers more, especially during the quarantine, for Zoom calls and such, I wanted to KNOW – do they really work or are they just a novelty?
What are blue light blocking lenses?
Blue light blocking glasses are glasses that filter out harmful blue light from the computer screen and sunlight. Exposure to blue light may damage retina cells and make your eyes more tired,.
Have your eyes felt tired from staring at a computer screen all day? The purpose of the blue light blocking lenses is to protect your eyes from potentially damaging blue light and to help your eyes feel less tired.
With the quarantine being extended, people are working from home and kids are distance learning. Everyone is on their computers more now than ever before!
My glasses story
I have worn glasses exclusively for more than 30 years. So I don't have contacts.
And I have only had 1 pair of glasses at a time and maybe prescription sunglasses, if it was in my budget.
Right before the summer, I needed new glasses, like NEEDED them! My glasses were so scratched up, despite me being extra careful with them.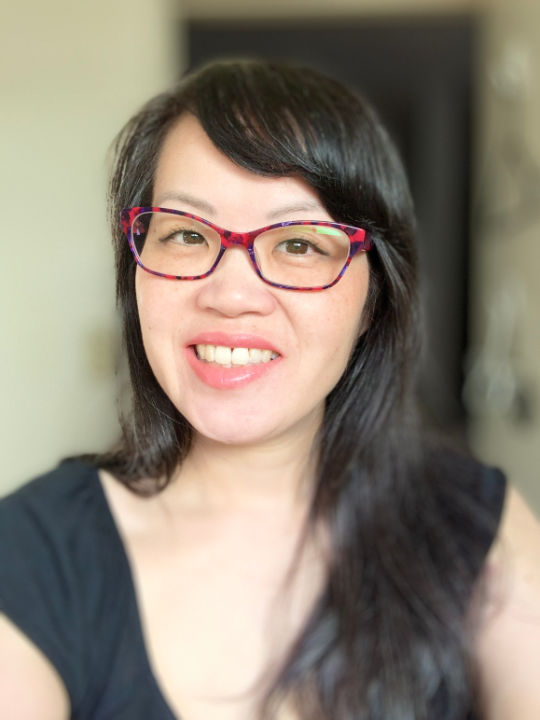 Get these cute rectangle glasses here.
It was during quarantine and my optometrist was closed so I was dying for them to reopen so I could get a new prescription. In the meantime, my eyes were SO tired and dry that I had to use eye drops.
When my optometrist finally reopened, I got my new prescription and also asked him to check my pupillary distance. My optometrist is located inside Costco, so he doesn't sell glasses.
That means it wasn't a big deal for him to help measure my pupillary distance. But for optometrists who sell glasses as part of their business, they might be against you getting online glasses and may refuse to give you the measurements for your pupillary distance. In that case, you will have to measure your own.
You need the pupillary distance to order online glasses. You also need this number when you are shopping for online glasses because it will help you find the right fit for your glasses.
I have been mulling over whether to order glasses online because I asked an optometrist friend what they thought of online glasses. And she didn't recommend it.
Why I decided to buy glasses online
Fast forward a few years later, and I was TIRED of spending $$$ on glasses! 2 years ago, I brought in my Lisa Loeb frames and got the lenses done and then bought sunglasses (frame and lenses) from this eye repair shop.
No vision insurance
I spent $400 and that was just for lenses and sunglass frames and lenses! If I had to pay for my eyeglass frames that would have been more than $500.
I want to preface this to say that I don't have vision insurance so everything is out of pocket for me. $500 is a lot for a pair of prescription glasses and sunglasses every 2 years!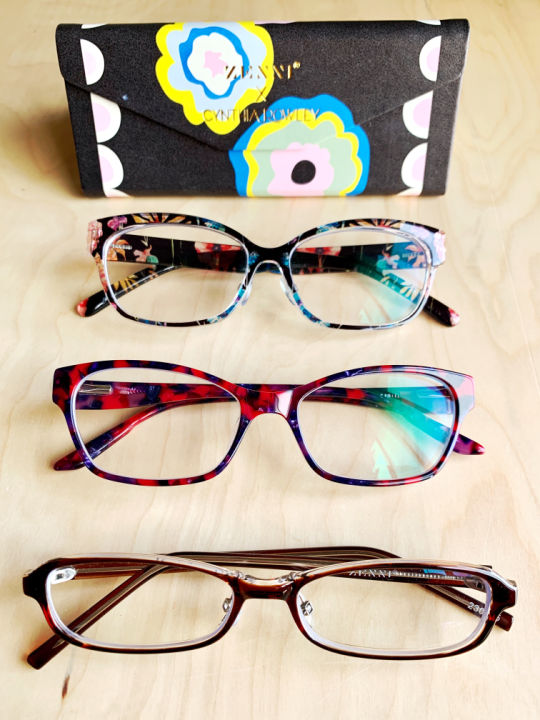 And I was SO unhappy that I paid that much for my glasses at this shop and the lenses scratched so easily even though they were supposedly higher quality lenses.
So I got to the point where I was ready to try something different and take a chance on getting glasses online.
Didn't like my first pair of Zenni's
I have been checking out Zenni glasses and loved that they have a virtual try on feature. I don't know of any other online glasses places that does that.
I must have spent days looking at different glasses. But it was fun! It's like online shopping.
First, I bought 2 pairs of glasses – one that was Blokz – blue light blocking glasses and the other pair was sunglasses. I LOVED the sunglasses and will talk about it more in a future post.
But for my first Zenni glasses, I didn't like the frames, even though I did the virtual try on, where you take an 180 degree picture of yourself to "try on" the glasses. So the glasses ended up looking slightly different on me when I tried them on in person.
I emailed customer service and they let me return it for store credit. For first time returns, I was able to get a refund for 100% cost of the glasses, as store credit, minus the shipping fee.
So I decided to try again. I realize that I love thicker framed glasses. And I loved the frames of my sunglasses.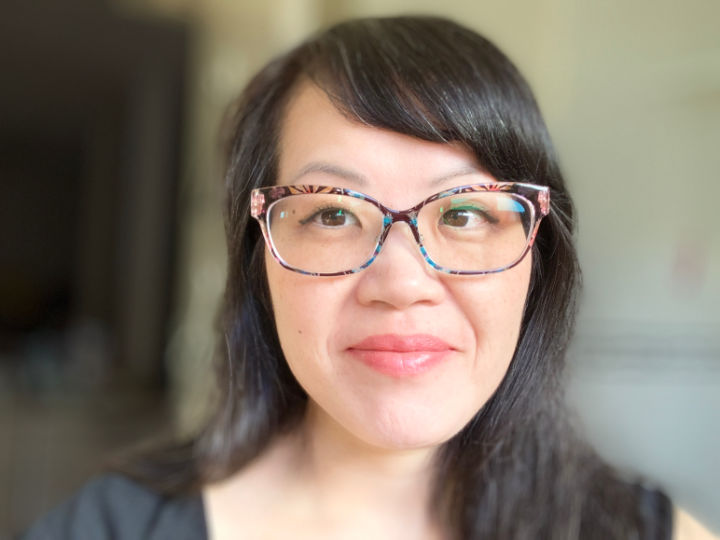 Get my favorite Cat Eye Glasses here.
Zenni Blokz Review
Zenni's Blokz are blue light blocking lenses. Blokz lenses screen out the blue light from your computer, phone, and other devices.
Before blue light blocking glasses, my eyes were tired and dry a lot. I had to use eye drops for the first time in a long time.
I ended up ordering these floral frames (pictured above) with blue light blocking lenses. When they arrived, it took me some time to adjust to the look of bigger frames because I have had smaller frames for the past 20 years.
But I LOVE them now! From the moment I put them on, they feel so good! Everything looked so clear and my eyes haven't felt dried or tired!!! So yes, blue light blocking glasses work for me!
I love them SO much that I got 2 other pairs of Blokz glasses. I have never owned more than 1 pair of glasses at a time! Now I have 5 pairs, including prescription sunglasses!
Are blue light glasses just for computer use?
No, you can wear them all the time! Blue light is in sunlight as well. I have no problems wearing them all day and at night.
Are Zenni Blokz Blue Light lenses clear?
Yes, they are clear lenses with a very pale yellow tint. You can't see the yellowish tint unless you really look at them or put them against a white piece of paper.
And when I look through them, I don't see the yellow tint at all.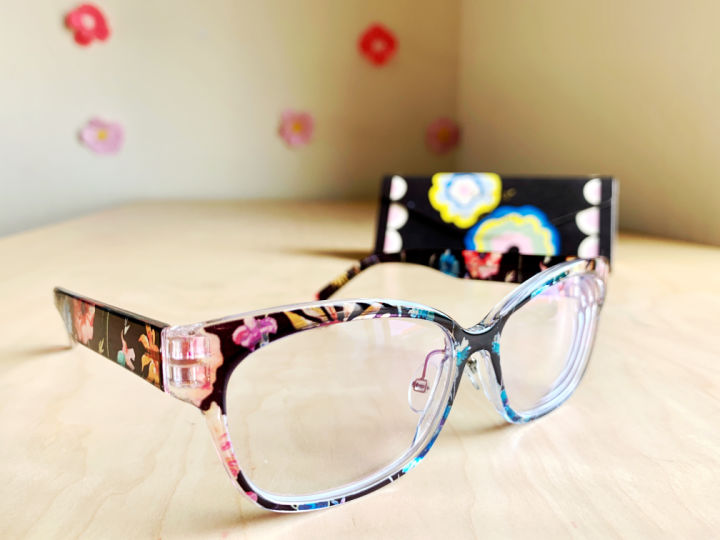 How do I know that my Zenni glasses have the Blokz blue light coating on them?
So if you ordered Blokz lenses and want to be sure that they are the blue light blocking lenses and not regular lenses, you can check them with the blue laser they give you with your first order of Blokz lenses.
When you point the laser through the blue light blocking glasses, the blue laser get blocked out of the Blockz lenses. Compare the laser with regular lenses.
Also, you can see a barely noticeable, slight yellow tint on Blokz lenses.
How much are Zenni Blokz lenses?
When you order Zenni glasses, Blokz lenses are an add on to the cost of the frames. The lenses start at $16.95 for standard index and go up to $49.95 for high index.
I spent between $29.90 – $48.95 on Zenni Blokz glasses (frames and lenses). I ended up realizing I didn't need high index lenses due to my low prescription so I saved more when I got standard index lenses.
Still, under $50 for prescription glasses, and with blue light blocking lenses on top of that, is unheard of!
Zenni Pros
Low Prices, like cheaper than Costco!
Virtual Try On
Website is easy to use
Wide variety of stylish frames
Good Customer Service (they will do a 100% refund in store credit for first return).
They have an A+ rating on BBB and work to correct and respond to the complaints!
Wide range of lenses – blue light blocking, tints, photochromatic, standard index, high index, Trivex
Every pair of glasses includes an anti-scratch coating and UV protection already in the price of the frames
Anti-reflective coating can be added on at low price
Zenni Cons
Must wait at least 2 weeks to receive glasses because their lab is in Danyang, China
Can't try on glasses before you buy so you might be disappointed
It's up to you to enter your prescription and address correctly
If a mistake happens with your glasses, it's up to you to figure it out or get an optometrist to check your glasses, then contact Zenni to fix it
Have to educate yourself on the type of lenses you need for your prescription, Zenni will recommend standard or high index based on your prescription but it's good to learn the pros and cons of each one.
Have to know measurements of frames to get an idea of how they will fit your face
Zenni Try On doesn't work at times
Have to adjust glasses yourself or find an optician to help
No brand names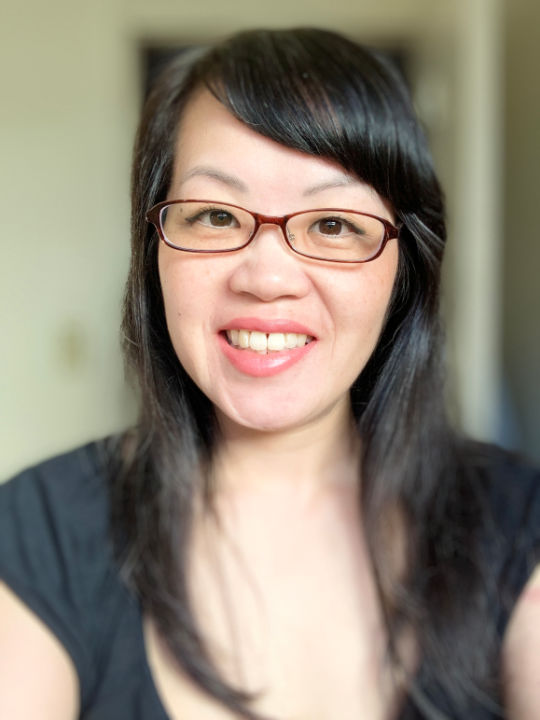 Who is Zenni for?
Those who are detailed oriented
Don't care about name brands
Willing to DIY and learn about lenses
Open to adjusting your expectations that the glasses may look different in person (For example, the frames above are my least favorite even though they were similar in size and shape to my last pair of glasses. I kept them anyway as a backup.)
Things That Are Helpful to Have for Ordering Online Glasses
Pupillary Distance (distance between your pupils)
Current Prescription
Measurements for your favorite glasses, like lens width, bridge width, lens height, and temple length (see here how to find the numbers on your glasses).
The first time I ordered glasses online, I had no idea what to look for. However, after I saw how the glasses fit on my face, it gave me a much better idea of what to look for on future pairs. I would use the measurements on those first glasses for reference.
How to Find the Best Frames for You
1. Shop by face shape.
Zenni's Try On helps you figure out your face shape! OMG, I never knew what my face shape was until now!
My face shape is oval, by the way. And almost all the frame styles flatter oval faces. I had no idea!
So let the Zenni Try On help you find your face shape and recommend glasses that will flatter your face shape!
2. Narrow down the frame features.
Zenni has a lot of features to narrow down what you're looking for. The important ones to look at.
FRAME SIZE
Are you an extra small, small, medium, or large? For frames, Zenni has a guide for sizes.
FRAME FIT
Universal Fit – This is sometimes called Asian fit. It means that it's for people with low bridges, like me. The bridge is more narrow and the nose piece is raised.
It also has an adjusted frame tilt so it stays off cheekbones. And the temples are more form fitting.
I really like Universal Fit because when I put on the glasses, they fit almost perfectly right away! The temple arms fit great.
But for me, the bridge is still too low and I get nose pads added from an eyeglass repair shop.
Petite Fit – This is for smaller faces.
Extended Fit – This is for those that need a frame width of more than 140mm.
3. Shop by lens needs.
Single Vision or Bifocals – If you need bifocals, you have to look at frames with a longer length to accommodate this. If you look at the description of each frame, you can see whether the frame can handle bifocals.
Pupillary Distance – Certain frames work better with your PD. Under the frame description, you'll see the PD that this particular frame works best with. If I see a PD that is larger than mine, then it usually means the frames are too large for my face.
How do I do a virtual try on for Zenni glasses?
Zenni has 2 options to try on glasses. The Try On and the Zenni Frame Fit.
Try On – You take a 180 picture of your head. When you try on glasses, you will see how they look on your when you turn your head right or left. With the Try On, the sizing and proportions can be a little off. For instance, the glasses can look smaller on your face than it does in person.
Zenni Frame Fit – You take a picture of yourself, enter your Pupillary Distance, then drag the dots over your pupils. I feel like this one is more accurate in terms of what the glasses will look like in person. The image below is the Zenni Frame Fit.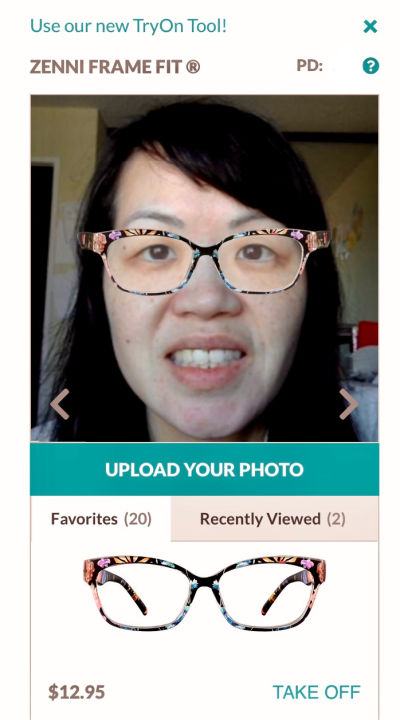 If you look at the Image of the Zenni Frame Fit above compared to the image of me wearing the frames below, they are pretty much the same fit!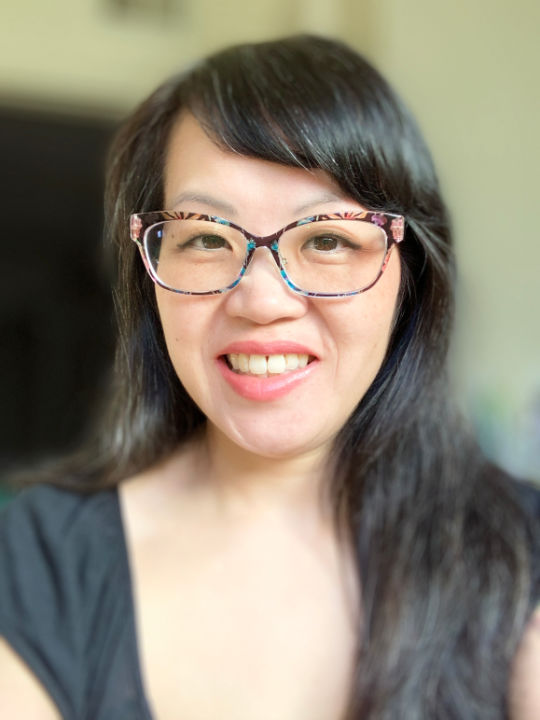 Get these Cat Eye Glasses here.
What was important to me was the ratio between the eyes and the frames. With the Zenni frame fit, I was able to decide whether the glasses fit the look that I wanted.
Shop Zenni Glasses under $20
You might also like:
What are your thoughts?
Have you tried ordering glasses online before?
This post contains affiliate links. If you make a qualifying purchase, I will receive a small commission, which helps support this blog. Thank you for your support!
Pin this for later: