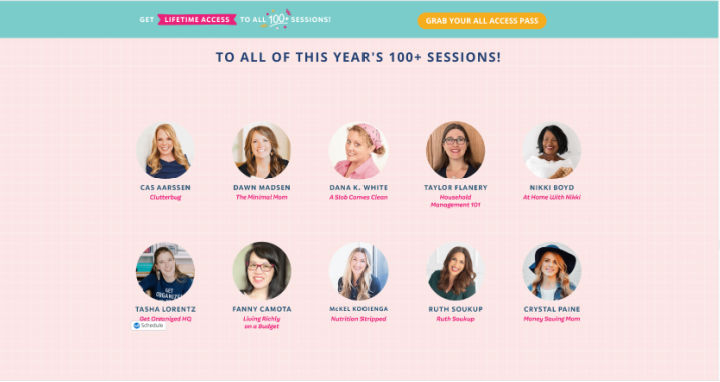 Get Organized HQ is an online conference all about getting organized, time management, meal planning, budgeting, cleaning tips, faith, and basically all the things we need to streamline so that we can be less stressed. It's live September 12-16!
You can watch with a free ticket or All Access Pass.
I am super excited to be speaking at this conference, as this is the first time I have been a part of a conference! My session on Organize and Track Your Bills is on Thursday, September 15 at 5pm.
Here is a look at Thursday's sessions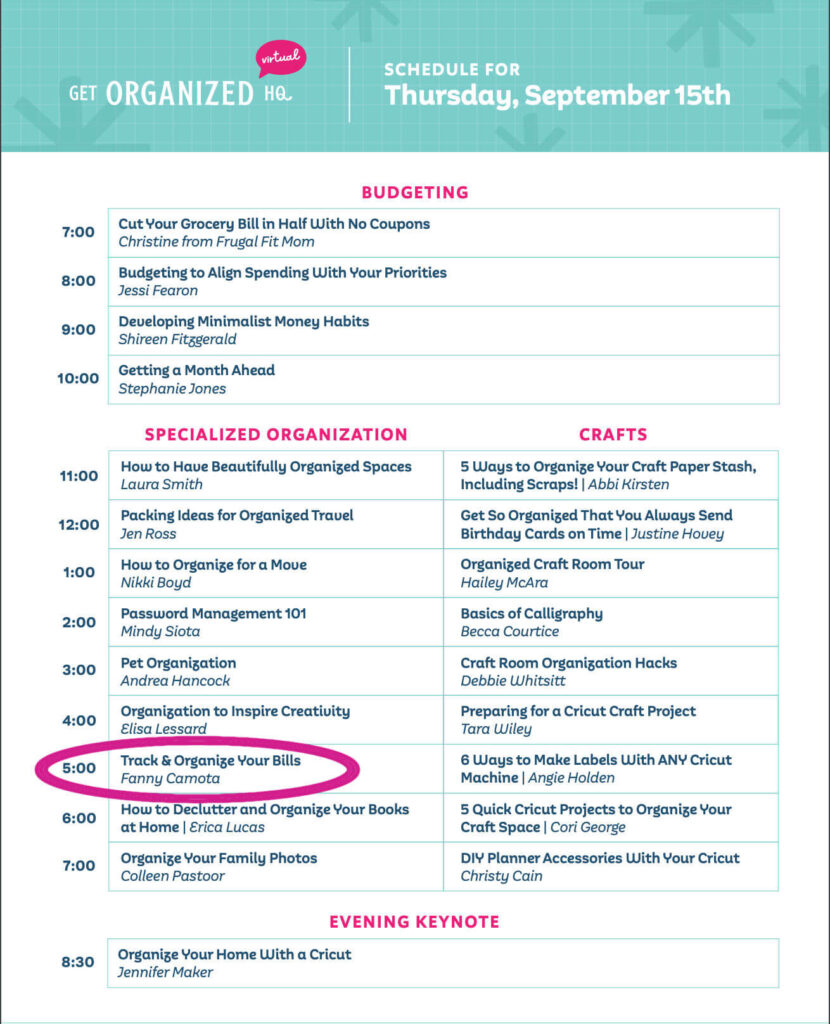 Free Ticket – How It Works
Grab your free ticket now! It's best to grab your free ticket now as the sessions start on Monday, so you can watch the entire week's sessions. How it works is that for every day, you can watch the sessions free for 24 hours. After that, you would have to buy an All Access Pass to watch.
---
All Access Pass – How It Works
If you're considering an All Access pass, it's $39 until end of Sunday (11:59pm ET). Then it will go up to $49 the week of the conference.
An All Access Pass allows you to watch the sessions NOW or anytime you want! There are some sessions that are live during the conference though. You also get transcripts, handwritten notes, audio versions, and bonuses, only offered to All Access Pass members.
I have an All Access Pass and have already previewed the sessions. I got some good tips on cleaning, time management, decluttering, and more.
If you're unsure whether or not the All Access Pass is worth it, they offer a 30 day money back guarantee. But it's worth it.
As a speaker, I get a portion of the sales of the All Access Pass, if you purchase through my link. Thank you!
If you choose to buy the All Access Pass and it's in your budget, I'd like to offer you a bonus for your purchase through my link. If you buy an All Access Pass through my link, I will send you a FREE copy of my new ebook workbook – How to Declutter Your Home Workbook ($17 value)!
How to claim your bonus: email me at fanny[at]livingrichlyonabudget.com with your All Access Pass receipt, and I will send you my How to Declutter Your Home Workbook ebook. (Anyone who has bought the All Access Pass through my link can get this bonus, even if you bought the pass a few weeks ago.)