I came across this post that I wrote 2 years ago, almost to the exact day – 10/11/11! I think you'll find this info helpful if you use Paypal to make and receive payments.
I've been using PayPal for both business and personal transactions for years. And I've been bitten by the transaction fees. Those fees may be little but they add up over time.
I don't mind as much if it's a business transaction because you can write the PayPal fees off as a business expense.
But for personal transactions, I'd rather not pay a fee. Currently, the PayPal fee for personal transactions is 2.9% + $0.30 USD.
Although PayPal does make it convenient to do things like split a restaurant bill, pay your share of the rent, pay someone back for money you owe, or chipping in on a gift. There's no excuse for someone not to pay you back because they didn't see you in person. That's what makes PayPal great.
Recently, I learned that you can avoid the transaction fee for personal transactions. Usually, the person who receives payment incurs a PayPal fee. I did a little trial and error to figure out how it works.
How to Avoid Fees for Personal Transactions:
When you go to send money select the Personal Tab.
Then click Other in the Personal Tab. I don't know if it really matters if you select other or another option, as long as it's in the Personal Tab. I selected Payment Owed and it still work. But some people swear by the Other option.
When you select your payment option, use a checking account, PayPal balance, or a combination of both. This is the key to avoiding fees!
DO NOT use a credit card or even a PayPal credit card! If you do so, the person receiving the payment will incur the PayPal fee!
International transfers will also incur a fee no matter what.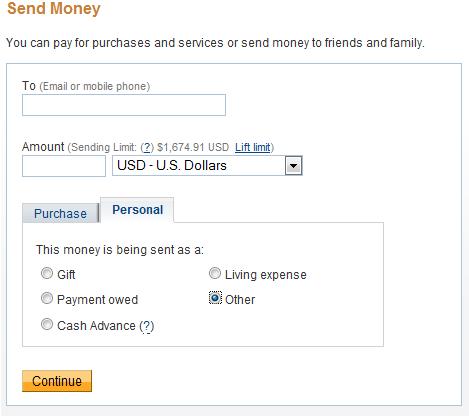 Note: This only applies if both the sender and receiver are in the same country and you don't have to do a currency conversion. See this PayPal fee structure for more info.
I also learned how to set up a recurring payment without the monthly $20 fee. I called PayPal to ask for alternatives to the fee and the customer service person gave me this good tip. You will have to set up a PayPal business account which is free.
How to Set Up a Recurring Payment for Free:
Go to Merchant Services.
Under Create Buttons, select Subscribe.
Enter an item name.
Enter billing amount.
Select billing cycle by day, week, month, or year.
Click on Create Button.
Copy and paste HTML code to your website.
Note: The transaction fee may still apply when you receive payments.