On Tuesday, I had the pleasure of attending a fun blogger event sponsored by Safeway.
17 frugal living and coupon bloggers in Northern California attended to learn the ins and outs of Safeway's re-launch of their Just for U program.
Thanks to Lazy Man and Money for getting me invited!
I've been using the Just for U program for almost a year and I have to admit, I really do save more money. We live a block from a Safeway so it's really a no brainer.
Plus, Safeway has awesome deals on organic produce and the best deal on our brand of baby formula.
Safeway is also known as Vons, Dominick's, Genuardi's, Randalls, Tom Thumb, Pavilions, Carrs, and Pak n' Save in other areas.
Here's a photo of the Northern California frugal living bloggers at a Safeway in San Francisco. I'm the one with the hot pink bag on the far left.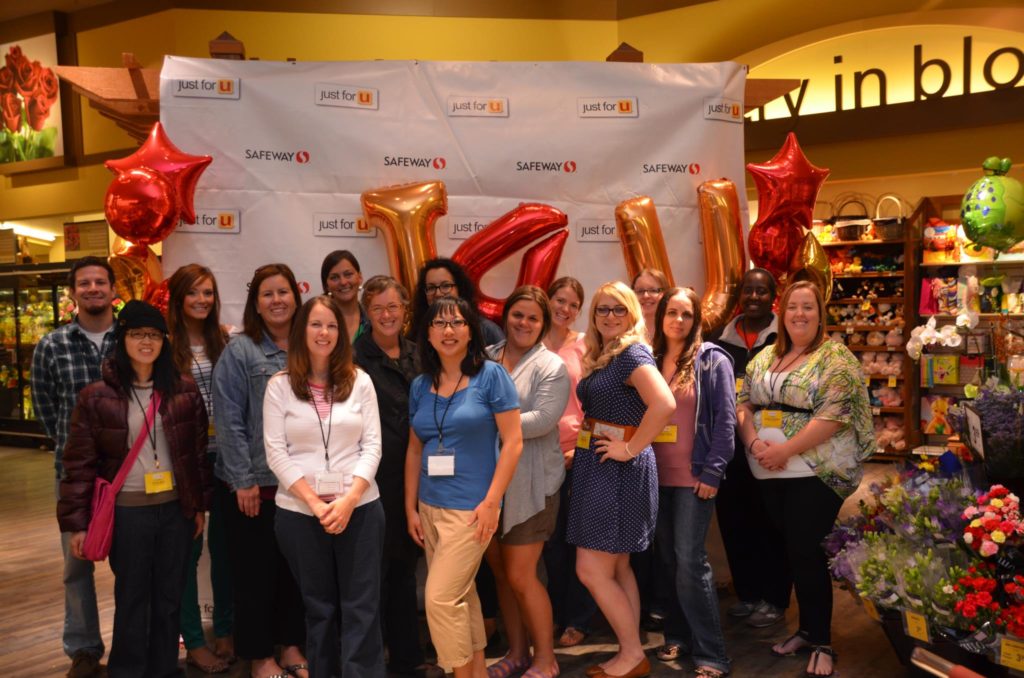 So you're probably wondering what the Just for U program is. It's a savings program tied to your Safeway club card. They're promoting that you can save 10-20% more on the program.
On our group shopping trip to a local Safeway, all of us bloggers saved a minimum of 25% on our purchases.
Features of the Just for U Program:
Coupon Center
Add digital manufacturer coupons straight to your club card, no more clipping coupons. These coupons come from several sources so you get the best of what's available.
Sometimes you'll find a digital coupon that's the same as a paper coupon. Safeway will only let you use one manufacturer coupon per item, digital or paper.
In this case, if you have 2 coupons with the same amount off, a paper one and a digital one, then the system will take the digital coupon first. And the cashier will give you back the paper coupon. You can't use both a digital and a paper coupon on the same item, at the same time.
If you try to use a digital and paper coupon on the same item and the coupon amounts are different, they will take the coupon that will give you the best deal. Confused? Don't use a paper coupon and a digital coupon on the same item because you cannot stack them!
Also, if your store doubles coupons, the system will automatically double it.
Personalized Deals
Get special deals on 35-40 products, just for you, based on your purchase history over the past 6 months. These deals are individualized so not everyone gets the same deals.
Personalized Deals feature items you have bought in the past and items you might like based on what you have bought in the past 6 months.
Personalized Deals also include at least 1 FREE item every week! Awesome! Make sure to add the deals that you want onto your club card or you won't get the deals.
You'll see 5 – 7 new deals every week. These deals are lower than the store prices and last from 1 – 4 weeks.
When you remove an item from your list, it only gets removed from your shopping list, not your card.
If your deals don't seem personalized, like if you don't have a cat and you see cat food in your personalized deals, then chances are, someone else is using your club card too! And their purchase history is mixed in with yours.
If you have this problem, call Safeway's call center at 1-877-258-2799 to update your phone number so that your purchase history gets transferred to you.
Note: If you have a problem getting a personalized deal in the store, always talk to the store manager first.
And if you move, make sure to call the call center to update your address so that your personalized deals get updated within 3 weeks instead of 3 months.
Your Club Specials
These are special deals available at your Safeway store. You'll see them as yellow tags in the store.
When you're online in your Safeway account, you can add coupons, personalized deals, club specials to build your shopping list. You can even add other items to your shopping list.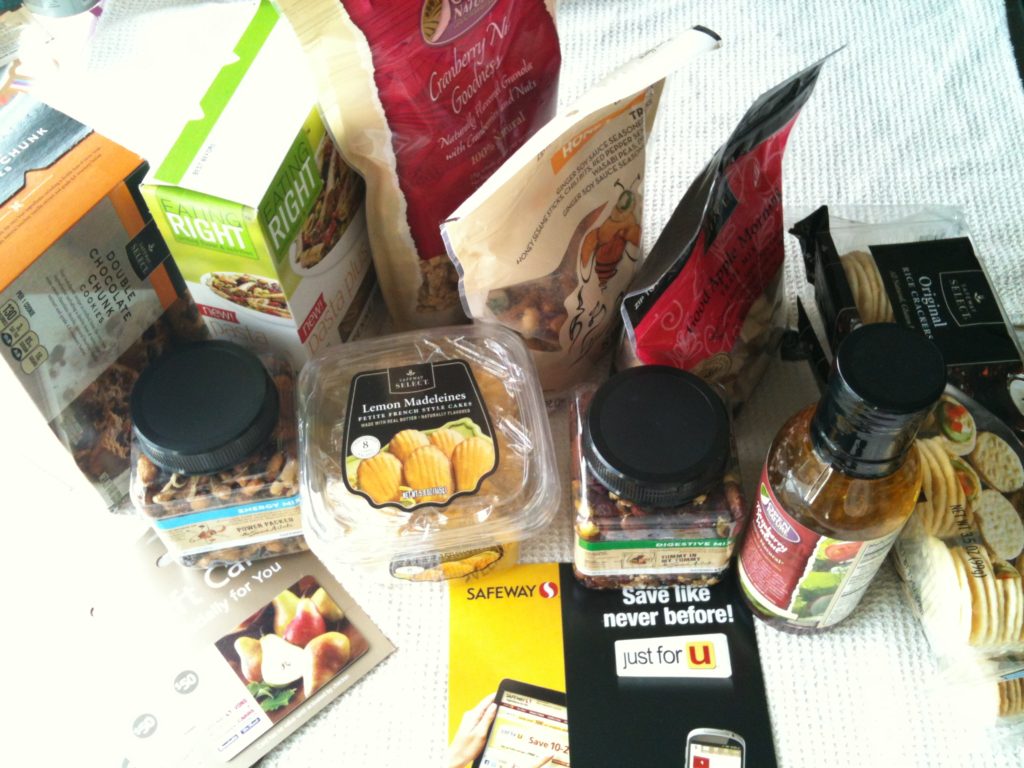 Swag bag with Safeway healthy and natural products
The Mobile App
Safeway has a free mobile app for busy people on-the-go. It includes the Coupon Center and Personalized Deals. This makes it easy to add coupons, personalized deals, and build your shopping list while you're waiting at the doctor's office, for public transit, or wherever you are. The only thing not available on the mobile app is your club specials.
Gas Rewards
I didn't know that I lived near a Safeway with a gas station until the President of the Northern California division of Safeway told me. He has a photographic memory of each store!
With the gas rewards, you can earn a discount off on the price per gallon at the Safeway gas station.
How are Reward Points earned?
It's easy to earn Reward Points* just by shopping at Safeway with your Club Card:
• Every $1 spent on groceries* = 1 point
• Every $1 spent on qualifying gift cards* = 4 points
• Every prescription filled** = 50 points
How do Reward Points* save money on gas?
Every 100 points gets you 10c off per gallon for a single fill-up at a Safeway gas station. You can use your points in increments of 100, and for a limited time use up to 2000 points for a single fill-up:
• 100 points = 10¢ per gallon reward
• 200 points = 20¢ per gallon reward
• 500 points = 50¢ per gallon reward
• 1000 points = $1 per gallon reward
• 2000 points = $2 off per gallon
To Sign Up for Just for You:
Register at Safeway.com using your club card number or phone number associated with your club card.
Full Disclosure: I received gift cards and product for this post.