Thank you to everyone who entered the Eating Organic on a Budget Giveaway!
You are awesome fans and readers!
I enjoyed hearing your tips about how you save money on groceries – organic and conventional.
Food is one category where it's easy to overspend in.
Some of you save by buying from farmer's market, Costco, and local natural food stores.
Shopping with a list was another tip.
Thanks for your feedback.
So without further adieu…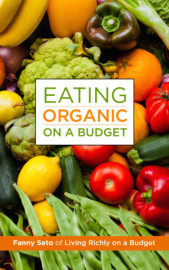 The winners of the Eating Organic on a Budget eBook are:
Lynda
Kim Chow
Lauren
Anna Maloy
Erica Roberts
Congrats to you!
For everyone else, I have a special 50% off coupon for you!
Use coupon code ORGANIC to save 50% off Eating Organic on a Budget, making it only $2.50! Expires 7/19/12.