Since 2009, I've been searching for the secret to living richly on a budget.
Hence, the blog name "Living Richly on a Budget."
And just like the search for the fountain of youth, it eluded me.
I knew there were times when I was happy, truly happy even on a budget, but I simply couldn't pinpoint what it was.
After writing my third book Budget Made Easy, I'm happy to report that I've finally figured it out. And no, I won't be cruel and make you buy the book (which is coming out next week) to find out.
At first, I thought it was being happy with yourself and being thankful for what you have, no matter how little (or a lot). That is part of it.
But the second part, the secret, is… focusing your budget to reflect your personal values. By personal values, I mean, what makes you truly happy.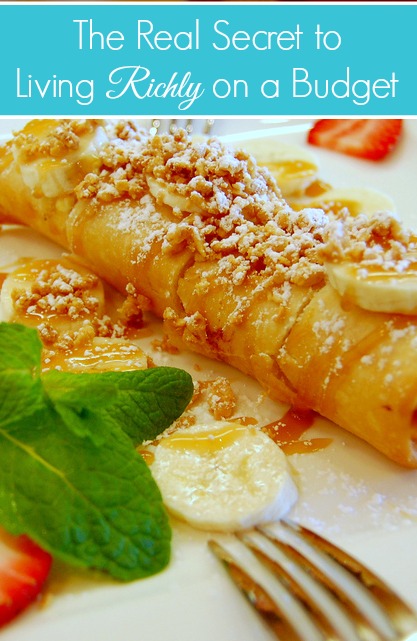 So think about it. What truly makes you happy?
Is it visiting new places and traveling to Europe or Asia? Is it watching the newest episode of Game of Thrones? Is it something as simple as enjoying your favorite mocha from Starbucks every day?
What I'm saying is, it's OK to indulge in what you truly enjoy, as long as you focus your budget that way. That means you'll cut in other areas to put more money into the things you truly enjoy.
For me, I don't care as much about cable TV or my iPhone. OK, I do miss my iPhone a teeny bit. =(
We lowered our cable bill to basic cable in order to watch live sports. We also switched cell phone carriers and gave up our iPhones for Androids.
What my husband and I truly enjoy is eating really good food. And that means splurging on food truck food once a month or every other month.
Alright, the cat's out of the bag now. I'm one of the few personal finance bloggers who will openly admit that I enjoy eating out. There, I said it.
I cook a lot at home to save money but I love eating out!. It inspires my creativity and fills that part of my soul.
In The Rock's (aka Dwayne Johnson) autobiography (yes I read his book!) he and his then wife were on a super tight budget when they were newlyweds. But they splurged on going to the movies every Friday night.
It's OK to splurge on what you really like as long as it fits in your budget. So do what you can to cut expenses you don't care as much about in order to fit the splurge into your budget. That's what will keep you happy, sane, and feeling "rich" while on a budget.
Want more budgeting tips? Check out my new book Budgeting Made Easy.