Dollar Tree is a fun place to shop. You can get a lot for not much money.
If you go at the right time, you can score awesome deals. For instance, late January and early February is a good time to get those kid's Valentine's Day cards.
Go a few days before Valentine's Day and they'll be sold out. And August is the prime time to stock up on back-to-school supplies and calendars.
For seasonal items, the key is to go weeks before the new season or before a holiday to find the best selection. The only thing that I don't buy here is food but that's my personal preference.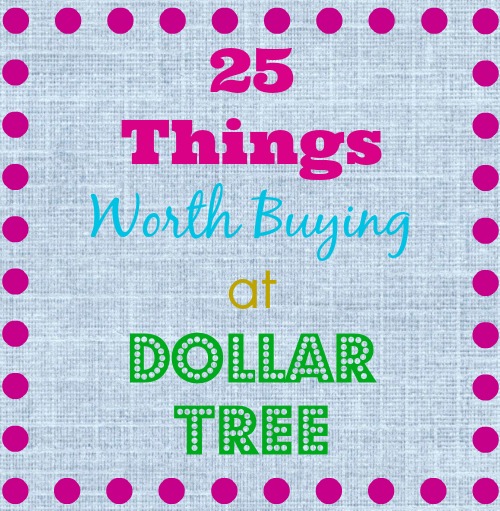 25 Things Worth Buying at Dollar Tree
1. Cards
At Dollar Tree, cards are 2 for $1. You can beat that price anywhere! These cards are the same brands and quality that you'd find in a card store or drugstore.
2. Balloons
Mylar balloons, the ones that last for weeks, are totally worth buying here. Any other place will charge $2 or more for a balloon.
3. Gift Bags
We always go to Dollar Tree for their wide assortment of gift bags. They cost $5 – $10 elsewhere so we don't even think about going anywhere else.
4. Calendars (available in August)
When I found calendars at Dollar Tree, I felt like I scored big time! I used to spend $10 – $20 on a calendar. Now I just pay a $1!
Plus, they have the month-to-month planning calendars that usually cost $4 or more at the office supply store.
5. Children's Toothbrushes
My daughter chews through her toothbrushes pretty quickly, like every month. I love that I can get her toothbrushes 2 for $1.
6. Hair Accessories
Hair clips and hair ties tend to get lost around the house. The hair ties are the same quality as the ones at the drugstore. The hair clips might not be the same quality, but they still work for us.
7. Back to School Supplies
120 page, 3 subject notebooks and composition books are a great buy in August. Although Walmart may have a lower price during their back-to-school sale, they are 1 subject notebooks.
Notebooks at Dollar Tree are still cheaper than the drugstore.
8. Cleaning Supplies
Where else can you find brooms, buckets, bleach for $1?
9. Storage Containers
Dollar Tree always has different kinds of storage containers in various colors.
10. Holiday Decorations
I love, love Dollar Tree for holiday decorations. I have found the cutest things for Christmas and Halloween.
11. Seasonal Items
In May, my daughter and I got sand toys, a bubble set, and kid's sunglasses. They also had hoola hoops, flip flips, and pool noodles. I try to go early in the season to grab the best selection as they tend to sell out quickly.
12. Party Decorations
Dollar Tree has a huge party decoration aisle. You can find different themed napkins, paper plates, and invitations here.
13. Coloring Books
I always browse the selection of coloring books on my visits to Dollar Tree. Last time, they had Hello Kitty.
14. Teacher Supplies
I'm sure teachers know about Dollar Tree. But I had no idea that there were so many teaching items available. The alphabet and numbers set are great for teaching my daughter.
15. Overstock Books
On every visit, I make sure to check the books. One time I found the perfect hardcover book for my in-laws.
16. Mugs
There's no reason to spend more than $1 on a mug.
17. Mailing supplies
Manila envelopes, padded envelopes, and mailing envelopes are worth buying at Dollar Tree.
18. Straws
My daughter goes through drinking straws pretty fast. And 180-ct for $1 is a good deal.
19. Stickers
This is the only place I go for stickers. I love the selection of characters as well.
20. Foam Boards
For art projects, you can find good sized foam core at Dollar Tree.
21. Kid's Cold Packs
They have the cutest shaped cold compresses for kids.
22. Pregnancy Tests
These basic pregnancy tests work just as well as the more expensive electronic ones.
23. Gift Wrap
Dollar Tree has a great selection of gift wrap.
24. Microfiber Cleaning Cloths
These cleaning cloths work well for cleaning glasses or dusting monitors.
25. Stocking Stuffers
Lastly, Dollar Tree is THE place to go for stocking stuffers and small gift baskets.
What are your Dollar Tree favorites?