So I've been reading Woman's Day Magazine since high school…
Although high school students are probably not their target audience, what can I say?
I loved the money saving tips, even back then.
Never in my wildest dreams did I think that I would ever be in it.
I'm excited to share that I was mentioned as a source in the April 2013 issue of Woman's Day!!!
It's super cool to see my name in print in a national magazine and it feels weird at the same time.
I was told me it was going to be in the March issue, but I guess they changed it to April.
In each issue, they feature a calendar of saving tips, with a different theme every month.
In April's issue, it's about how to save money on groceries.
I was interviewed back in December, which shows how far in advance they prepare for each issue.
The April issue is out on newsstands, so check out page 15 – April Deals and Freebies, in the lower right hand corner, under Sources.
Woman's Day is packed full of solutions for organizing, losing weight, easy recipes, crafts, and money saving tips.
I feel very blessed and thankful to be mentioned alongside these other amazing money saving blogs!
Thank you so much for reading my blog and sharing the deals and articles that you like through Facebook, Twitter, and Pinterest!!!

Each and every share helps others find my blog and I really, truly, appreciate it. You rock!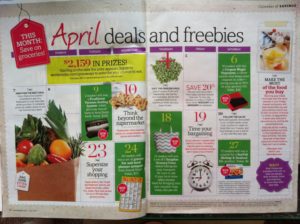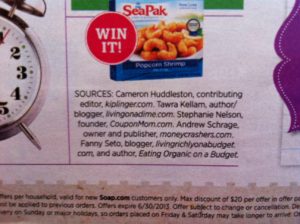 I'm the last one listed in teeny tiny print.