If you're curious about what's in The Honest Company's free diapers and wipes and baby care products bundle that I posted last week, here it is.
For the diapers and wipes, I received 7 diapers with 5 cute designs, a 10 pack of baby wipes.
For the baby care products, I got sample sizes of laundry detergent, hand wash, hand and body lotion, diaper balm, and hair and body wash.
It was a little confusing to me that they don't really explain what you'll get in this sampler, which they call the Discovery Kit.
But it's enough for you to try to see if you like their products.
Once you receive the Discovery Kit, you have 7 days to cancel.
Otherwise, you'll be enrolled in the monthly shipments.
If you're interest in this free bundle, you can choose the diapers and wipes or baby care products or both.
Just pay $5.95 shipping for both or $2.95 for one.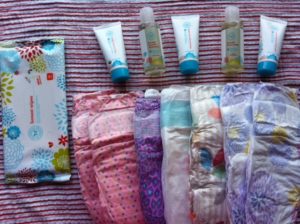 This post contains affiliate links.