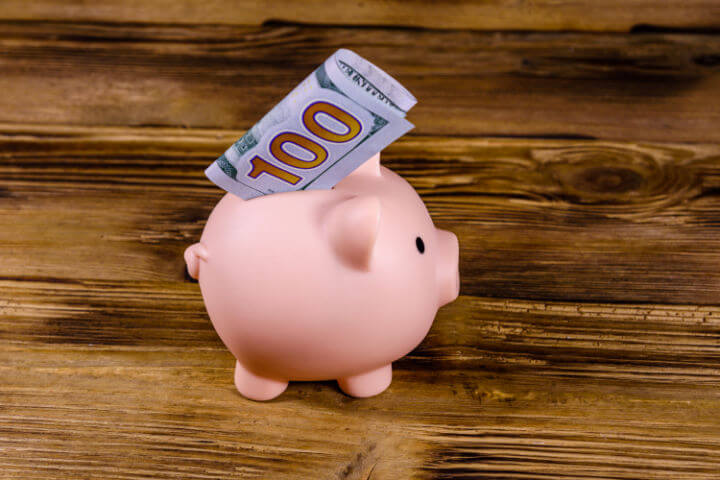 Last year, money was really tight. It was a scary time but it motivated me to makes some real cuts to our budget. I ended up saving $143 a month, which is $1716 a year!
If you can lower your monthly bills, by $100 a month, the savings will add up to $1200 in a year. Imagine what you could do with an extra $1200 a year? Go on a vacation? Pay off debt? Use it towards buying a used car?
Monthly bills are bills that are on a monthly subscription. They renew every month and you pay for them automatically without even thinking about it. Once you make the change you will keep saving every month without even trying. This is even better than clipping coupons and selling stuff on eBay. It's almost like you are earning that money every month.
1. Changed Cell Phone Carrier (saved $30/month).
We were with one cell phone carrier for years. We were happy with the cell phone coverage but the bill was $125 a month. The family plan covered my husband and I, a texting plan, and a data plan. Since most of the people we were calling were on another carrier, we switched and dropped the data plan too. This saved us $30 a month.
My husband now uses an iTouch, which is essentially an iPhone without the phone and the expensive monthly fee. I know some of you secretly want an iPhone! Admit it. With the iTouch, you can go online using wifi and download the apps. If you want the iPhone but can't afford it, the iTouch is a great alternative.
2. Dropped Dental Insurance (saved $39/month).
Dental insurance does not cover much. Over a year, the premiums amounted to $468. But it would only cover up to $1200 per year for dental procedures. Plus, there was a waiting period for some procedures and a lot of exclusions.
Paying $468 a year for only $1200 of coverage was not worth my money. Besides the twice a year regular cleanings, I don't need dental work every year. It is better for me to pay out of pocket if I need to get dental work done.
Tip: Check out one of my favorite sites, eHealthInsurance, to compare plans for Health Insurance – Choose and compare leading insurance plans and companies. Compare and apply online.
3. Canceled Credit Monitoring Service (saved $13/month).
Why did I even have this in the first place? When I called the credit monitoring service to cancel, customer service offered 2 free months and even lowered the price. Sometimes when you threaten to cancel, they will lower the price. I ended up canceling the service.
4. Switched Gym Membership (saved $20/month).
I belonged to a corporate gym that I really enjoyed going to. Yes, I am one of those people who really uses their gym membership. The gym was clean and well maintained. It offered towel service, a sauna and steam room inside the locker room, an espresso machine, great yoga classes, and low cost lunches.
When the company was bought out, I had to find a new gym. I have another gym membership at 24 Hour Fitness, which I prepaid for 3 years when I first joined. I pay a small fee every year to keep the membership. I found out that 24 Hour Fitness has another level of membership called Super Sport. If you have a prepaid membership and pay an extra $20 a month, you can go to any Super Sport gym that offers spa amenities like towel service and a sauna and steam room inside the locker room. Some have whirlpools and swimming pools. Most important of all, these gyms are less crowded than the other gyms. $20 a month is half of what I used to pay for the corporate gym but I still get almost the same amenities.
5. Changed Massage Places (saved $41/month).
I used to go to a nice spa for a monthly massage for years. A regular massage helps you relax, de-stress, get rid of toxins, sleep better, and stay healthy. My husband belonged to Massage Envy, a nationwide massage chain where you pay a monthly fee and get a one hour massage each month. I was able to add myself to his membership to become a family add-on for a reduced rate. It costs me only $49 a month for an hour massage, which is quite a deal. Massages at other places start at $75. They also have locations nationwide so we were able to get a massage when we were in Las Vegas.
For all my efforts to switch companies and drop services, I now save $143 a month which comes out to $1716 a year! And I will keep saving $143 a month without doing anything else. What can you do to save money on monthly costs?