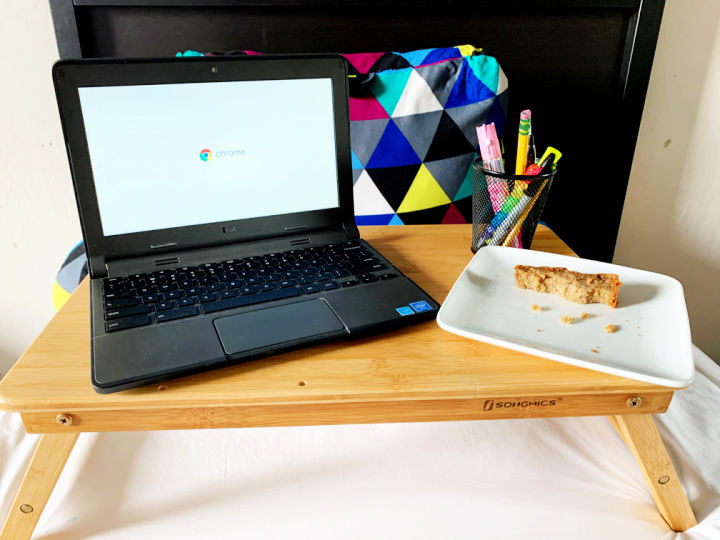 With Back to School being non-traditional this year, how do you prepare your kids for distance learning? Here are some great things to have, ranging from lap desks to stress relief toys.
I brainstormed with my 9 year old daughter for her feedback and put this list together. She's the one who suggested the stress and anti-anxiety tools, which are totally necessary, right?
LAP DESKS
A lap desk makes it easier to do Zoom calls from bed! It will hold a Google Chromebook, can be a desk area for writing, and has storage space inside!
I don't recommend using this all day for working but for short periods of time, when doing Zoom calls, reading, or writing.
This is my wooden laptop desk, pictured in the first photo. I LOVE it and the desk tilts up to hold tablets at and angle for watching movies.
---
COMPUTER KEYBOARD AND MOUSE
You probably have a laptop or Chromebook from school. But your kid NEEDS a wireless keyboard and mouse!
Why? Because it's more ergonomic for them. Kids will be on their laptops for 3 – 4 hours a day or more?
A laptop is convenient in that it has a keyboard and mousepad built in, but it's also puts your body in an unnatural position, if you're on the computer for long periods of time. There's a greater chance of injury if you don't have a good desk set up.
You can place the keyboard and mouse on a keyboard tray, which makes it easier on the shoulders. And having a keyboard without a number pad makes it shorter and easier to reach the mouse.
---
PRINTER
---
ART SUPPLIES
Now that kids won't have access to school art supplies, it's a good idea to have some at home.
---
CLOCKS
The ONE thing I wished we got sooner was a large wall clock. I mean during the last school semester when my daughter was distance learning, we never knew what time it was!
Yes, there's a time on the computer but when it's on the wall, it's easier to see and schedule things!
---
STRESS RELIEF
My 9 year old daughter was super stressed out at times, transitioning to distance learning. She had to quickly learn how to type and use new computer programs.
So she suggested these stress relief toys, as something to keep her hands active when she's having a stressful moment. Fidgeting and keeping your hands busy is actually a good thing to help release stress.
---
WRITING TOOLS
These pencil grips are great for younger kids, like my 4 year old son, to learn how to hold a pencil correctly. I had him try a pencil grip, but this one seems easier to use.
---
SHELVES
With school being at home now, we need to get more organized! I find that having bins to sort things in helps a lot.
---
DESKS
Last is a desk! I want to talk about my desk set up more in detail in a future post. But this desk is similar to my IKEA Malm desk.
I love it because it has a flat table top with space for doing projects. But I also attached a keyboard tray to the bottom to make it an ergonomic computer desk.
This desk is also similar in price to my IKEA desk and has quicker delivery than IKEA.
I hope this helps you prepare your kids for this new distance learning thing. What's your favorite item and what else should I add to this list?
This post contains affiliate links. If you make a qualifying purchase, I will receive a small commission, which helps support this blog. Thank you for your support!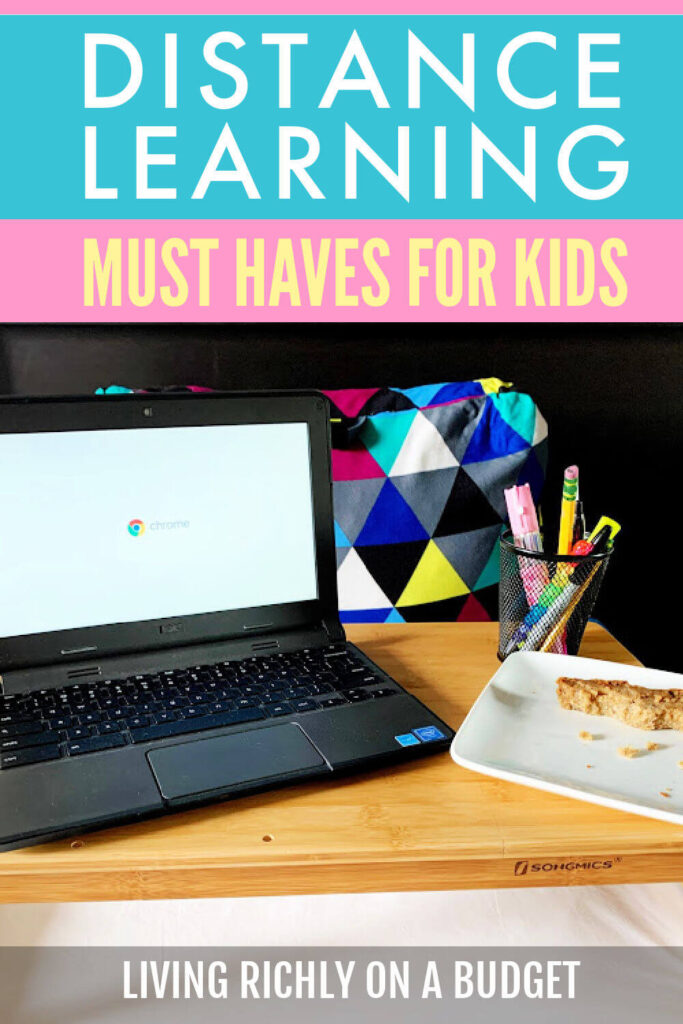 More:
Zenni Blue Light Blokz Glasses Review – Do They Work?
Where to Buy Cheap Cloth Face Masks for $2
How to Grocery Shop Online During the Coronavirus Pandemic
New Rules for Costco Shopping During the Pandemic
101 Fun Activities for Kids at Home That Will Keep Them Busy