If you've been couponing as I have been, you will start to notice that not all sales are really a good deal. And sometimes buying an item in a bulk pack is not necessarily cheaper.
It gets confusing at first since every store has a different sale and you don't know which one has the best deal. Sometimes it gets overwhelming when I'm looking through the Sunday coupons and inserts.
The key is to be organized about couponing. Our grocery bill is the next largest bill after rent. So it was definitely worth my time to figure out how to do this. And I want to stay a stay at home mom.
As I read a lot of  frugal living and stay at home mom blogs, I'm learning about the grocery price book. A grocery price book is a record of your past purchases on items you buy the most so you can determine which store had the lowest price on a particular item.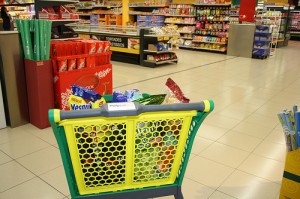 What's in a grocery price book:
Date
Store name
Item/brand
Size
Unit price
Notes: Was it regular price, sale, or with coupon?
You can even go a step further and have one page per category like for baby items, frozen foods, paper goods, etc. Do what works best for you.
There are 3 ways to track your grocery purchases:
Past receipts
Sales inserts
In the store
Yesterday, as I was waiting for my tires to be changed at Costco, I had 2 hours to kill. I decided that it was the perfect time to go through the whole store and record all of the items I usually buy. Since my daughter wasn't with me, it made it easier.
I walked down every aisle and recorded the item, size, and price into my iPhone. Anyone can do this but you just have to invest your time.
I have already saved money on baby formula, an item we need every week. Instead of waiting until we run out of formula, I buy it a few cans when it's on sale. If you wait until you need it, then you'll be desperate and will pay full price on an item.
Date
Store
Product
Size
Unit Price
Price
Notes
 7/03
 Walgreens
 Baby Formula
 25.7oz
 $1.01
 25.99
 Regular Price
 7/10
 CVS
 Baby Formula
 23.2oz
 $1.08
 24.99
 Regular Price
 7/15
 Walgreens
 Baby Formula
 23.2oz
 $.95
 21.99
 In Store Coupon

 7/21

 CVS

 

Baby Formula

 

25.7oz

 $.77

 

19.99

 

In Store Coupon

 8/6
 Target
 Baby Formula
 23.2oz
 $.84
 19.49
 Sale
 8/10
 Safeway
 Baby Formula
 23.2oz
 $.90
 20.99
 Buy 2 Sale
 8/12
 CVS.com
 Baby Formula
 23.2oz
 $.78
 17.99
 25% coupon code
The formula can comes in 2 different sizes – 25.7 oz and 23.2 oz. Sometimes the bigger can isn't available. But the sales and coupons apply to both sizes. As I look at my grocery price book, I notice that what I thought was the cheapest price, $17.99 for a can from CVS.com, wasn't the lowest after all! Because of the different sizes, it's confusing and deceiving.
Now I know that if I buy the 25.7 oz sized formula at $19.99, I'm getting the best deal. If I can't find that size, then the next best thing is to buy the 23.2 oz during the Target sale or CVS.com with a 25% coupon code.
I save at least $5/can for formula per week when I wait for a sale. That's $20/month! If I combine the sale with a formula check, I save even more.
What I do know is that I'm never paying full price for formula again. That's where the grocery price book comes in handy and why you need to start one!
You can create your own grocery price book with a simple notebook, binder, or Excel spreadsheet. Anyone can do it.
Coupons procured by Savings.com
Beginning Couponing Articles:
Photo Credit: Polycart