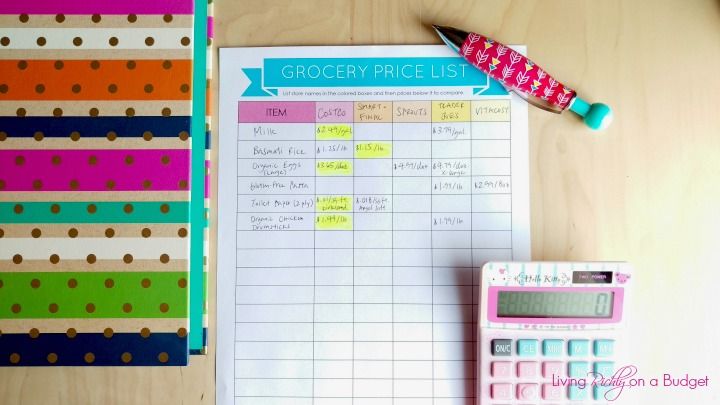 In an effort to get the lowest prices possible, it's easy to compare your grocery budget to others. Don't!
Everyone has a different situation and it's not like comparing apples to apples. That's where a Grocery Price Book or List comes in.
Use it to compare prices on things that you buy the most and that you use! There's no point in buying things that will collect dust on the shelf just because they are on sale.
We are constantly bombarded by sales, deals, and coupons. This is a way to sort them all out so that you KNOW for sure if something is a good deal or not.
Our grocery bill is the next largest bill after rent. So it was definitely worth my time to figure out how to do this.
What is a Grocery Price Book or Grocery Price List?
A grocery price book or a grocery price list are essentially the same thing. It is a list of items you buy the most so you can determine which store has the lowest price on a particular item.
What's in a Grocery Price Book:
Item/Brand
Store Name
Unit price
I simplify mine so that the item and brand name are in the same column. I don't stick with specific brands for diapers, milk, or eggs. But for certain things like vitamins, the brand matters.
Which stores should you compare?
Focus on stores that you frequent the most and enjoy shopping at! Be realistic about where you like to shop at and what's convenient for you.
It doesn't matter if Winco has the best deal if you never go there! Or if you like to have groceries delivered to you, then compare stores that deliver like Amazon Prime, InstaCart, Walmart, etc.
I like to shop at Costco and Trader Joe's for the majority of my groceries and paper products because they are only 5 minutes away and are literally right next to each other!
I also use Amazon Prime for vitamins. Then I go to Safeway or Target for diaper deals.
What items should you compare?
Go for things that will give you the most bang for you buck. With produce purchases, something with a minor price difference won't make a big impact in your budget.
Figure out what you spend the most money on. For us, it's diapers, wipes, toilet paper, paper towels, milk, and meats. So I compare these in my grocery price book.
I would suggest comparing meats and grains rather than seasonal things like vegetables and fruit. The prices of fruit and vegetables change according to season. And you can use a Grocery Sales Cycle to find when the best deals happen for produce.
Ways to track your grocery purchases:
Past receipts
Sales inserts
In the store
Store receipts are handy in figuring out prices. But also some stores like Walmart list their grocery prices online.
Once when I was at Costco, I walked down every aisle and recorded the item, size, and price into my phone. Anyone can do this but you just have to invest a little time.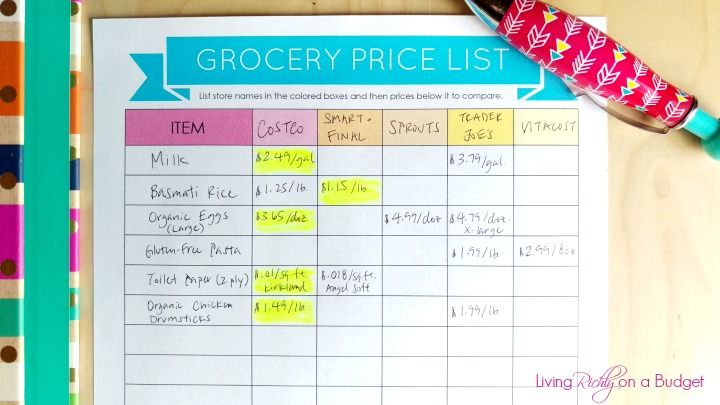 How to Make a Grocery Price Book
1. Track the prices of 5 – 10 items you buy most often.
There's no need to track every single thing that you buy! This is so you don't get overwhelmed and give up. Focus on 5 – 10 things that you buy the most or cost the most.
2. Use a calculator to figure out the unit price (price divided by unit).
In my Grocery Price Book, I compare the per unit price only. Each store sells a different size so it's crucial to know the per unit price.
I use a calculator to figure out the unit price from the price from the size.
Example: $24.99 divided by 20 lbs = $1.25/lb.
This way, you can quickly see which store has the lowest price.
3. Highlight which store has the lowest price.
You can create your own grocery price book or list with a simple notebook, binder, or Excel spreadsheet. Anyone can do it.
From utilizing a grocery price book, I found that Costco always has the lowest price for their brand of toilet paper and paper towels, even if there are coupons for other brands.
My favorite place to get diapers is Safeway or Target for their store brands. Sometimes there is even a buy 2, get 1 free deal at Safeway.
Final Tips
Use a grocery price book to figure out the best price and best place to buy that item. Also, keep in mind that prices fluctuate and can change.
You don't have to compare prices all the time but maybe once or twice a year. Just knowing the lowest prices helps when you shop, going forward.
Once, I saw a clearance deal on small packs of diapers. Armed with the knowledge from my grocery price book, I knew that it was an incredible deal! So I bought as many packs as I could.
After making a grocery price book, you will have a knowledge of what's the best deal for you!
Do you use a grocery price list? How do you find the best deals?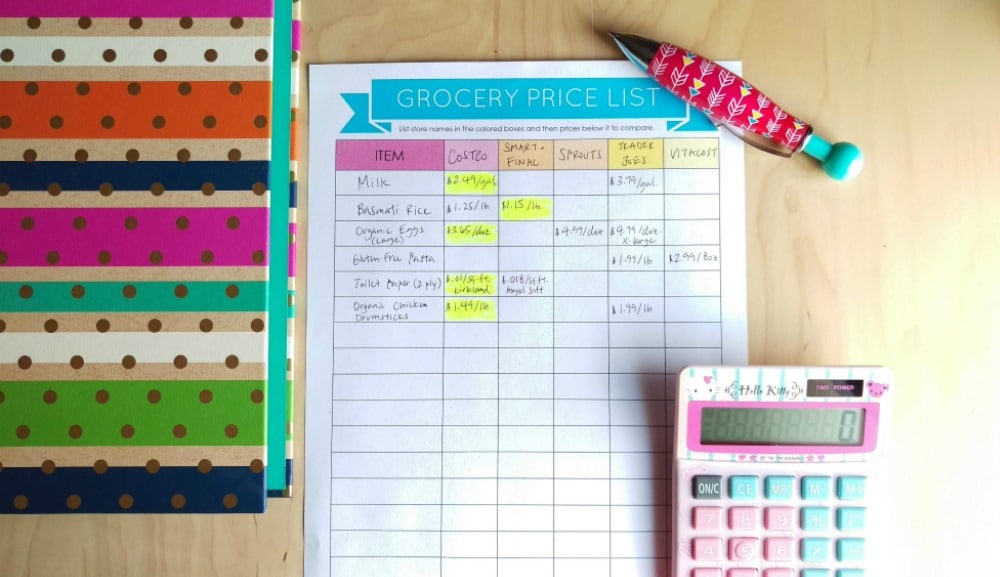 Get my Grocery Price List as part of my Meal Planning Binder Bundle.
Pin this for later: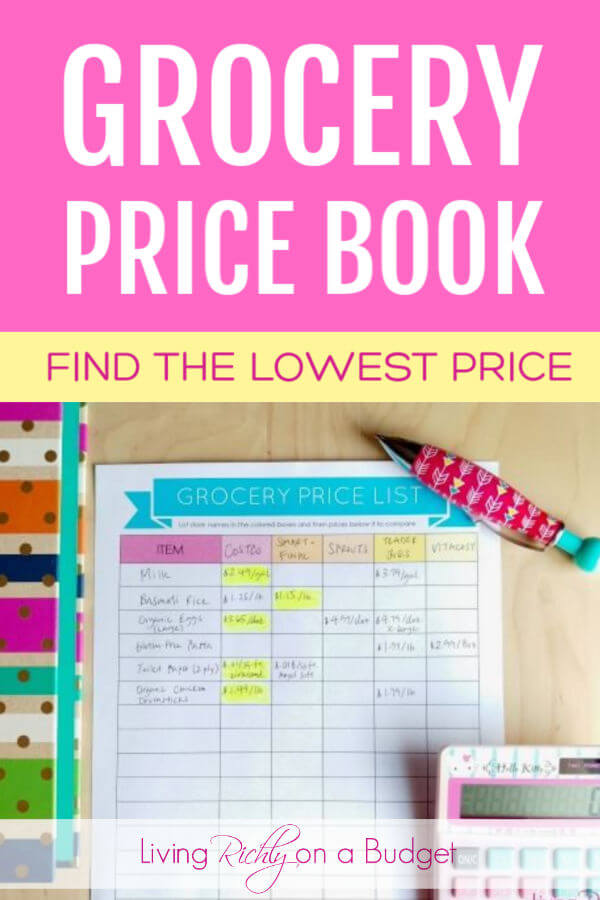 You might also like: