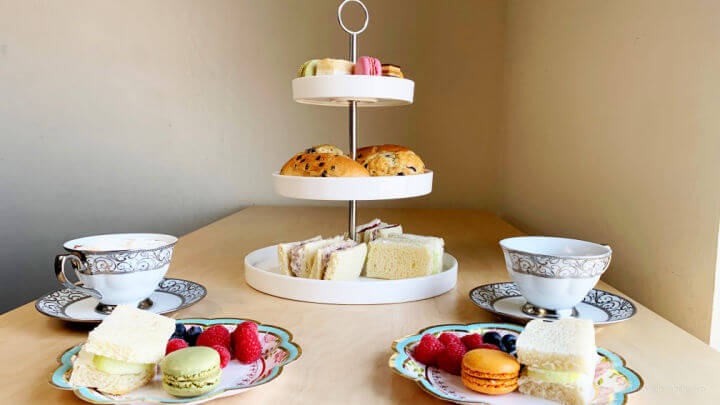 Have you wondered how to bring the magic of afternoon tea to your home? Here's a simple guide on afternoon tea ideas, using ONLY ingredients from Trader Joe's.
I've been fortunate to have gone to a few afternoon teas at hotels and teahouses. I enjoyed each experience but always felt that I could recreate it at home. And so I did!
When my daughter was 4, I wanted to share the afternoon tea experience with her, without having to pay the exorbitant prices of afternoon tea place. So I made simple cream cheese and jam sandwiches, sliced some apples, and made chai tea lattes.
I carefully arranged the items on a one-tier cake stand. And we both really enjoyed the experience of being present and slowly eating the small bites and tea.
Then when I was IKEA, I found an affordable 3 tier cake stand. Having the 3 tier stand, elevated the experience.
I discovered Sweet Bites, an assortment of 3 kinds of sumptuous mini-cakes, from Trader Joe's. This became a STAPLE in our house for afternoon tea or just an easy dessert.
Main Foods for Afternoon Tea
Top Tier
Desserts, mini-cakes, macarons, cupcakes, fruit
Middle Tier
Scones, croissants, breads
Bottom Tier
Sandwiches – Egg salad sandwiches, cucumber sandwiches, chicken salad sandwiches, cream cheese and jam sandwiches
---
Trader Joe's Products for Afternoon Tea
Sandwich Ingredients
White Sandwich Bread
Cream Cheese
Jam
English and Persian Cucumbers
Egg Salad
Wine Country Chicken Salad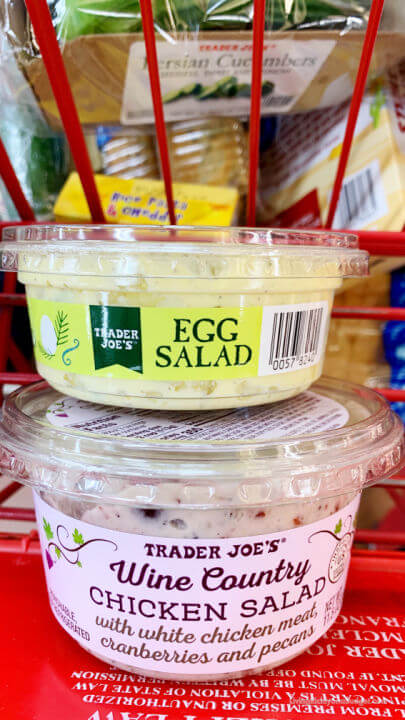 Scones/Breads/Small Bites
Crumpets
Croissants
Chocolate Croissants
Orange Cranberry Scones
Vanilla Glazed Scones
Blueberry Scones
Madeleines
Pain Au Lait (Milk Bread)
Chocolate Chip Pain Au Lait (Milk Bread)
Cupcakes
Sour Cream Glazed Donuts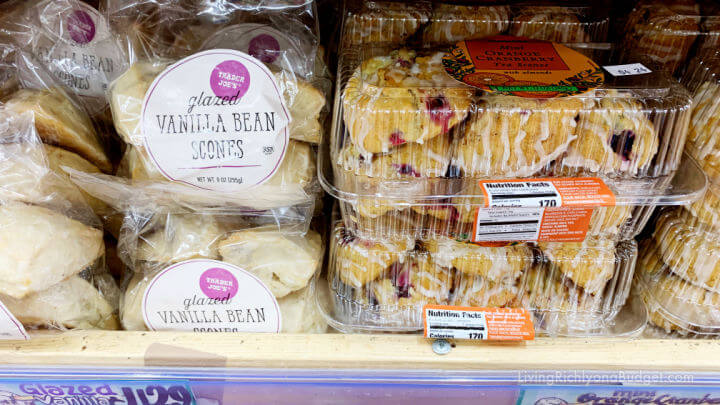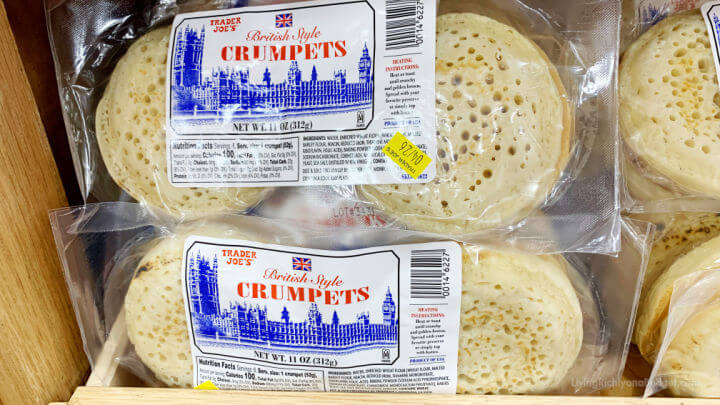 Jams/Spreads
Lemon Curd
Raspberry Jam
Strawberry Jam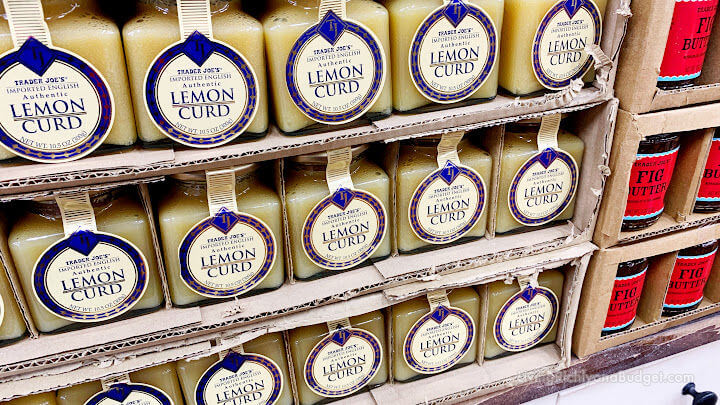 Desserts
Sweet Bites
Macarons – Chocolate and Vanilla or Assorted Flavors
Sea Salt Brownie Bites
Brookies
Fruit – berries, figs, grapes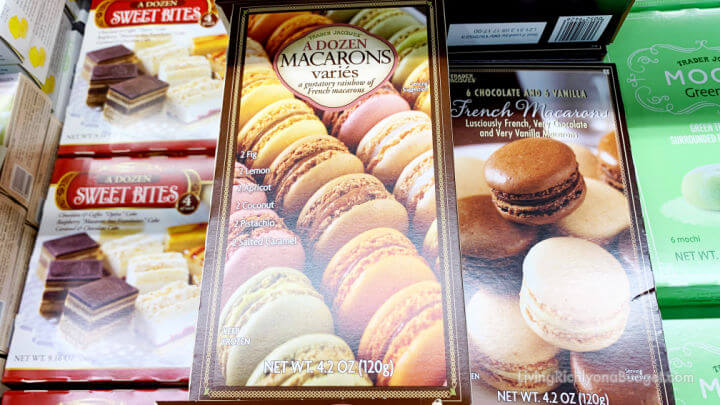 Teas
Caffeinated
English Breakfast Tea – This is an all around good tea to have. It has a bold, robust flavor and goes well with cream and sugar.
Irish Breakfast Tea – This tea also has a strong flavor but a bit more malty than English breakfast tea. And it can be enjoyed with cream and sugar.
Green Tea – Green tea (as tea bags) is another trusty favorite that a lot of people love. This doesn't require cream or sugar.
Pomegranate White Tea – It's a fruity tea with some caffeine that's not used with cream or sugar.
Moroccan Mint Green Tea – For mint tea lovers
Decaf
Decaf Green Tea – This decaf tea tastes just as good as regular, caffeinated green tea.
Chamomile Tea – It's a tea for relaxing.
Ginger Turmeric Tea – A healthy and healing tea.
Detox Tea – I love this tea for its cleansing properties. It's a bit spicy but in a delightful way.
---
Simple Sandwiches for Afternoon Tea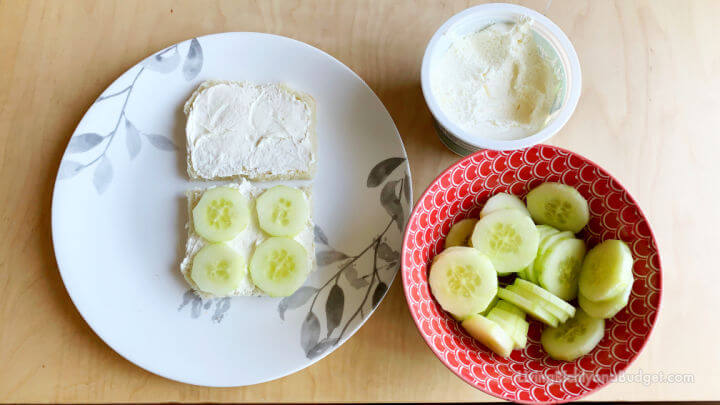 Cucumber Sandwich
Cucumber sandwich is one of the easiest tea sandwiches to make. Simply spread cream cheese on both slices of bread and then place sliced cucumbers on only one slice of bread.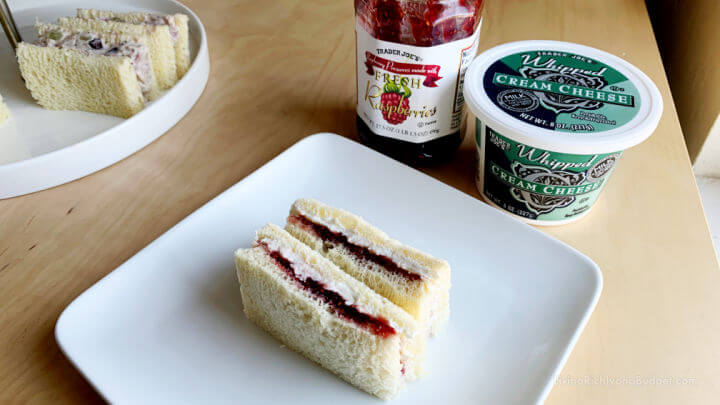 Cream Cheese and Jam Sandwich
This is another easy sandwich to make for afternoon tea. It's just jam on one slice and cream cheese on the other.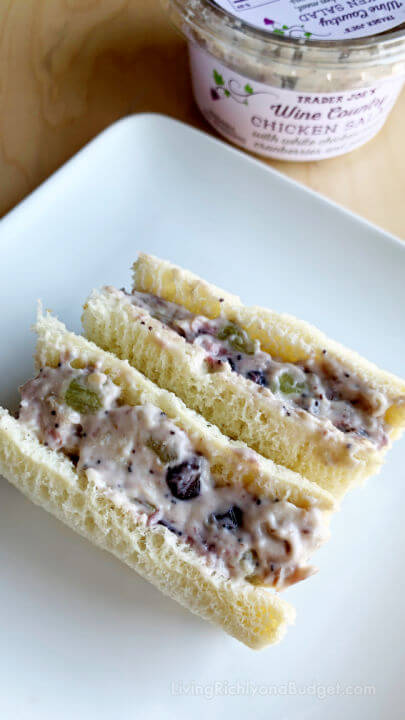 Chicken Apple Salad Sandwich
You can make your own chicken apple salad or buy Trader Joe's Wine Country Chicken Apple Salad. This premade chicken salad filling has celery, cranberries, and pecans and is quite tasty.
---
Where to Buy Afternoon Tea Accessories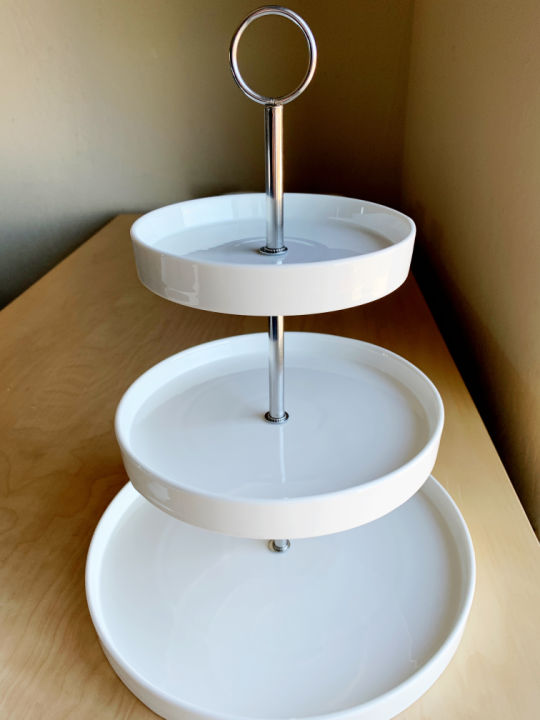 I love the look of this porcelain cake stand! I ordered 2 of these and one of them was defective.
The dowel (the metal piece holding it all together) was crooked so the whole thing looked crooked. And then the O ring handle on top fell off as I was twisting it!
FYI: Don't carry this stand solely with the handle as it can snap off easily. I also ordered other stands but they also had the same "crooked" problem.
One stand was perfectly straight and fine but I ended up also using the defective one because I didn't have time to order another.
Be sure to order ahead of time to check out your stands!
Do you need a 3 tier stand? No, you can get by without one but it really elevates your afternoon tea experience to make it feel more authentic.
Alternatives are a cake stand or just a nice plate. I started out with a $5 ceramic cake stand from Target dollar spot.
---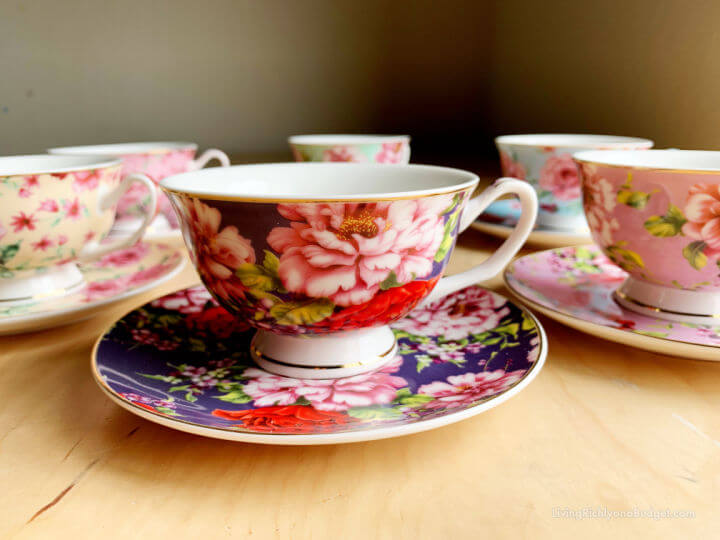 Tea cups are a must! I don't feel like it's too hard to find tea cups. They're sold at a discount price at Marshall's, Ross, etc.
I got these pretty tea cups on Amazon and you can give them to guests as party favors! BTW: the bakery box below fit these tea cups perfectly!
---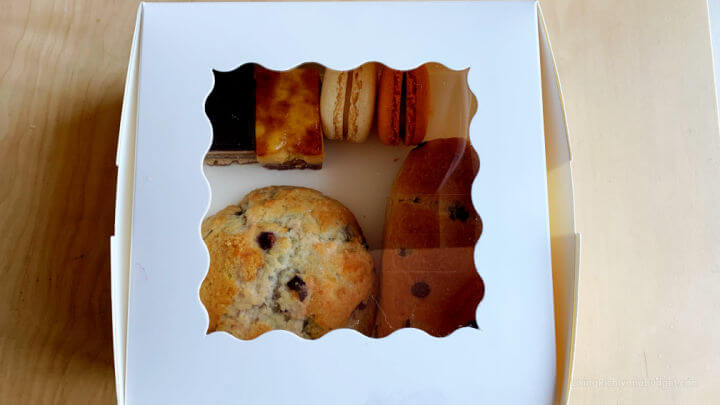 These boxes were great for guests to take home leftover home, which they did!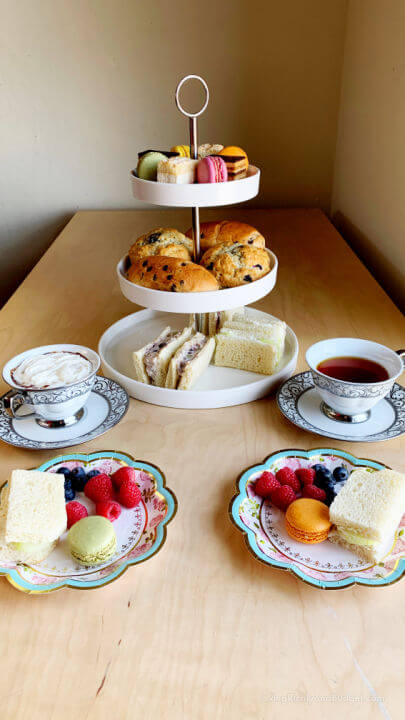 The fancy paper plates pictured above made a great addition to our afternoon tea. They look so real that you can't tell they are paper until you touch it.
---
Watch the YouTube Video for More Tips:
There Are No Rules
After I threw my first afternoon tea party for kids, I learned that I don't need to stick to the Afternoon Tea rules. Scones were always a staple at every afternoon tea place I have been to.
However, for our kid guests, they didn't know what scones were! And didn't want to try them!
I went out of my way to get these pricey but delicious scones from a gourmet grocery store, only for just 1 person to eat them! It was super disappointing.
Next time, I have to gauge what guests would like instead of doing what I like… haha! Which leads me to the next tip…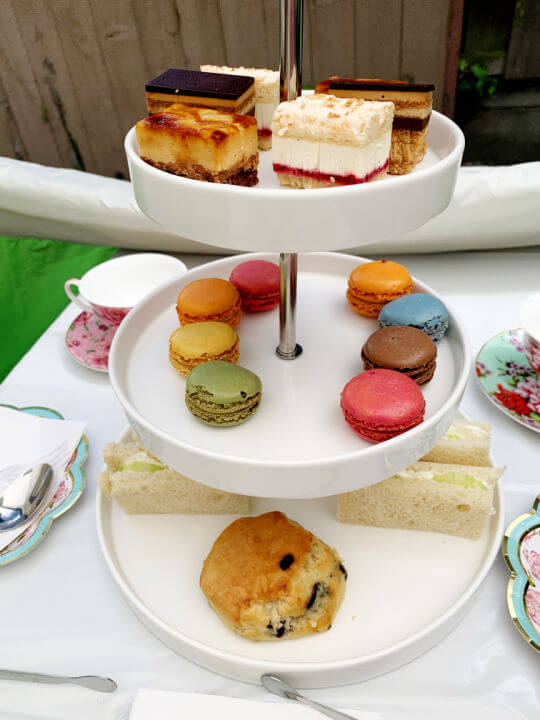 Tea Party for Kids Tips
If you're doing a tea party for kids, get what they like! Kids have a sweeter tooth than adults (or me).
Make hot chocolate
I made the mistake of making a dark chocolate, hot chocolate, and was told that it wasn't sweet enough for them. So I had to fix it but adding milk chocolate and more sugar.
I made hot chocolate from scratch with my gourmet hot chocolate recipe. I would use semi-sweet chocolate chips, take out the heavy whipping cream, and just do 8 oz. of milk per person.
Don't forget whipped cream. The kids LOVED that!
Leave out the scones
Instead of scones, I would have just made a macaron or cupcakes tier. The kids LOVED the macarons a little too much!
This post contains affiliate links. When you make a qualified purchase, I will receive a small commission at no extra cost to you.
Pin this for later: