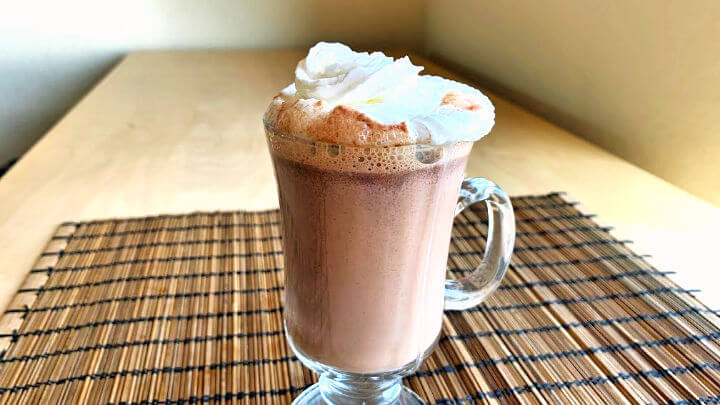 When I need a pick-me-up or something to cheer me up, I turn to hot chocolate. But this isn't your run-of-the-mill instant hot chocolate, overly sweet hot chocolate from the coffeeshop, or ones made with chocolate syrup. No, no no!
Dude, this is rich, creamy, crave-worthy, gourmet hot chocolate that isn't overly sweet… so much so that you can actually taste the chocolate instead of just lots of sugar.
This is like the hot chocolate that's sold for $5 at the Ferry Building in San Francisco. I know not everyone has been to the Ferry Building but what I'm getting at is that this kind of hot chocolate is hard to find.
There are only certain places that sell gourmet hot chocolate and make it with high quality melted chocolate. This is the kind of hot chocolate that you dream about while you're sitting in a comfy chair next to a warm fireplace.
What makes this gourmet hot chocolate "gourmet" are the quality of the chocolate you use and the added fat of heavy whipping cream. The fat adds extra flavor and makes a huge difference!
This recipe uses double chocolate – cocoa powder and high quality chocolate from a bar. By using chocolate from a bar instead of chocolate chips, it will melt better. Chocolate chips have an ingredient that helps it keep its shape and we don't want that ingredient in our hot chocolate.
Now the kind of chocolate that you use matters! If you're a chocolate connoisseur, you know what I mean.
I recommend Scharffen berger, Ghiradelli, or any brand that you like to eat. And use dark or bittersweet chocolate instead of semi-sweet or milk chocolate.
Dark and bittersweet chocolate uses less sugar so you can control the amount of sweetness you want.
Note: When making this over the stove, always stand by and watch out for overboiling, as milk tends to boil over if you heat it too long. If the milk overboils, just remove from heat and continue mixing the ingredients in.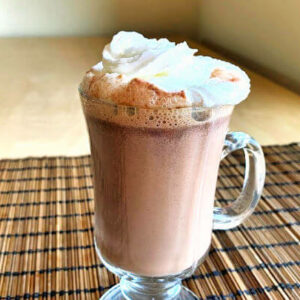 Gourmet Hot Chocolate
Delicious, gourmet, creamy hot chocolate of your dreams can be made easily at home with just a few easy-to-find ingredients.
Instructions
Heat a pan over a stove with medium heat. Pour in milk and heavy whipping cream.

Let the milk and cream heat up for 30 seconds – 1 minute and add in cocoa powder. Whisk until fully dissolved.

Add in chocolate and whisk until it melts completely. Turn off stove.

Pour in sugar. Remove from heat and serve.
Please LEAVE A STAR RATING and COMMENT! Help GET THIS RECIPE FOUND by more people.
This post contains affiliate links. When you make a qualifying purchase, I will receive a small commission at no extra cost to you.
Other Coffeehouse Drinks to Make: