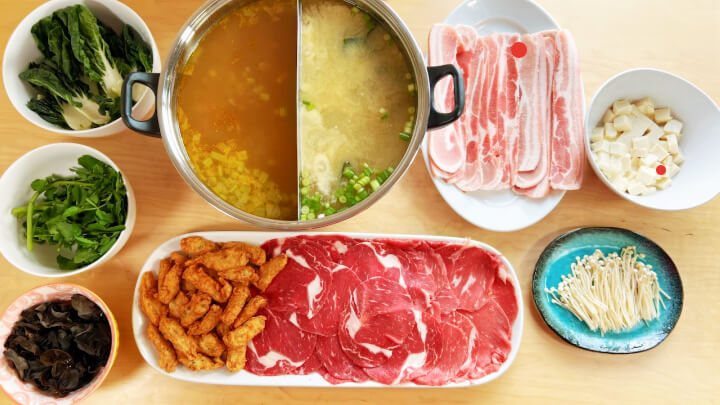 Do you want to do a hot pot at home but aren't sure how to start? Chinese Hot Pot at Home is easier than you think, with this guide for beginners.
I'm Chinese and grew up around enjoying hot pot at restaurants and doing hot pot at home.
In this article and video, I'll show you:
How to do Hot Pot in an electric pot vs. stove
Meats and Sides for Hot Pot
How to Make Two Easy Broths
How to Make a Hot Pot Dipping Sauce
Watch the Hot Pot Recipe Video
---
What is Hot Pot?
Hot Pot is a fun, communal, dining experience. It's usually done around a boiling pot of broth, that is consistently heated on a table with room enough for plates of thinly sliced raw meat, seafood, and sides.
Each person cooks their own food in the shared pot of broth. And the pot may have a divider to accommodate two kinds of soup broths – spicy or non-spicy.
---
Electric Pot or Portable Stove?
There are two ways to do hot pot at home – with an Electric Pot or over a portable Stove. One is not necessarily better than the other but it's up to you, which method you want to do.
---
Electric Pot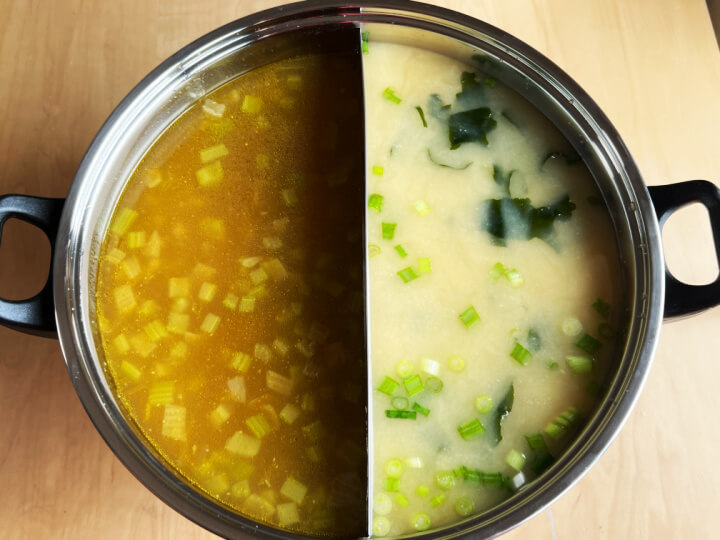 Pro's
The electric pot is designed specifically for making hot pot at home. The pot has a divider for 2 broths and the heating element is included.
So the electric pot has a pot + heating element all in one. Just plug it into an outlet and it's ready to use.
This electric pot is more impressive for presentation purposes, if you are hosting a get together at home. And there's no dangerous, open flame to worry about as it is electric.
The pot comes to a boil really fast! I wouldn't cook my broths from scratch in it though. I would cook my broths in another pot then transfer the cooked broths into the electric pot to heat up and use for hot pot.
This is a one purpose kind of cooking equipment. You would probably only use this specifically for hot pot.
Con's
The cord isn't that long so you will most likely need an extension cord to plug it in from the dining table. And there's the cost of the electric pot to think about. The electric pot is around $57 – $70.
---
Stove Method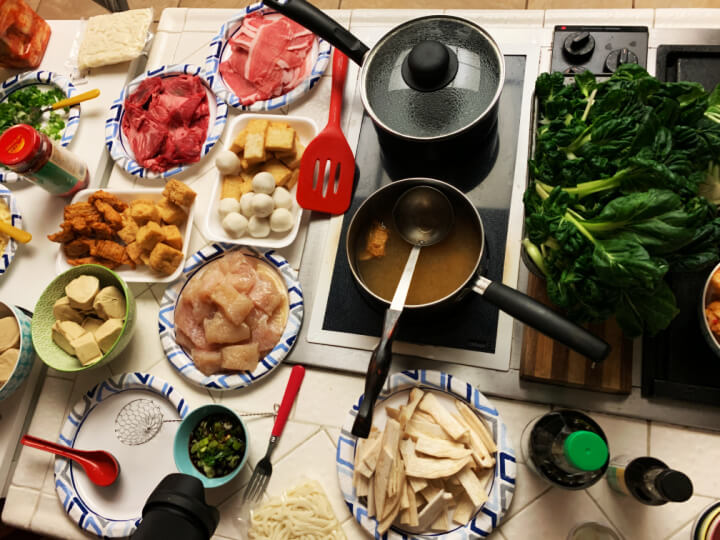 The other method is to use a gas camping stove, electric induction single burner, or a stove on a kitchen island. If you already have these on hand, then might consider these.
Gas/Camping Stoves
Pro's
Camping gas stoves are great in that they are cordless and can be placed almost anywhere. The heat up well too.
Con's
There's an open flame to be careful of and fumes, especially around young children. And you need to buy gas cans to operate camping stoves.
---
Electric Induction Single Burner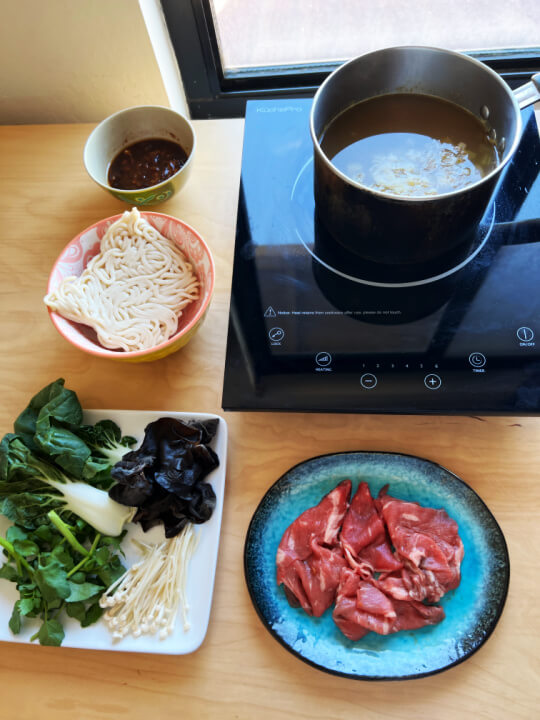 Pro's
An induction stove is an electric burner with a clean, flat surface. It's flameless and doesn't give off gasses like a gas stove does.
They are super easy to clean by wiping down the surface. There are single burner, induction stoves available on Amazon.
Con's
They are corded, which means you might need an extension cord when using for hot pot. Induction stoves are a little loud due to the fan noise.
And induction stoves only work with stainless steel or cast iron pots and pans.
---
Hot Pot Ingredients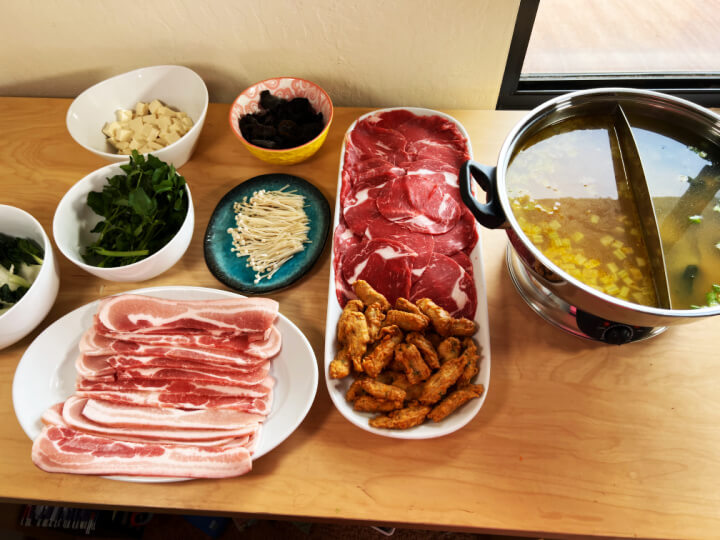 The best raw food for hot pot are the ones that cook fast! That's why thinly sliced meats and small veggies work well.
Meats (Thinly Sliced)
Beef (Ribeye, Sirloin, Flank Steak)
Pork Loin
Pork Belly
Chicken (Boneless Thighs, cut into small pieces)
Spam
Seafood
Shrimp
Fried Fish Sticks
Fish Balls
Lobster Balls
Imitation crab sticks
Fish Fillets (Small pieces)
Squid
Scallops
Tofu
Fried Tofu
Soft, Medium, or Firm Tofu
Bean Curd Sheets
Veggies
Baby Bok Choy
Choy Sum
Watercress
Spinach
Napa Cabbage
Pea Shoots
Corn on the Cob
Mushrooms
Enoki Mushrooms
Wood Ears
Shiitake Mushrooms
Oyster Mushrooms
Noodles
Fresh or Dried Ramen
Udon Noodles
Chow Mein Noodles
Rice Noodles
Cellophane Noodles
Thai Wheat Noodles (Trader Joe's)
Dipping Sauce
Soy Sauce
Oyster Sauce
Sesame Paste
Hoisin Sauce
Chinese BBQ Sauce
Miso Paste
Chili Sauce
Sriracha Sauce
Minced Garlic
Chopped Green Onions
Chopped Cilantro
---