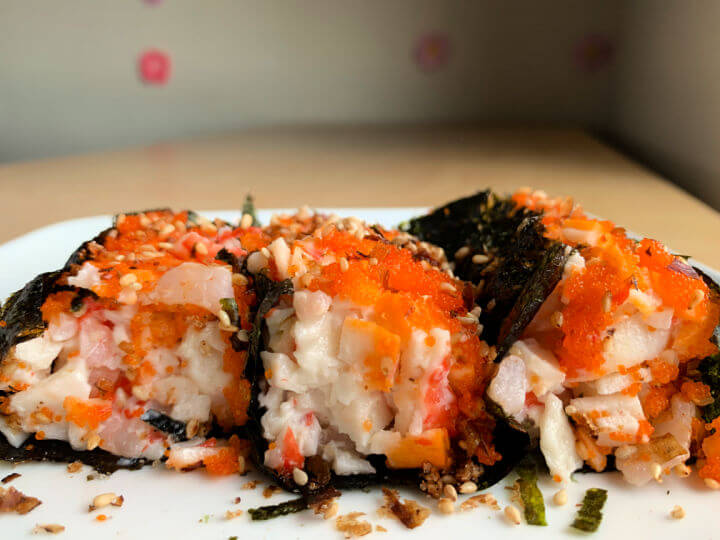 Sushi bake is a baked sushi casserole and a deconstructed sushi roll. You get all the sushi taste without the complicated process of rolling them!
This particular sushi bake is like a baked California roll. It's made with cooked seafood – shrimp and imitation crab. So it's for everyone!
Sushi bake is great for parties as it can feed a lot of people. I know the tray doesn't look like much but it will fill you up fast!
For our family, it's like 2 meals. Eat it now and then it's lunch for tomorrow.
I've been lucky to enjoy sushi bake during the holidays, when a family friend took over the duty of making sushi bake! Thank you, Rani!
And it has become a comfort food for me through the years. Since I haven't made it in over 10 years, it was quite special when I made this baked sushi for this recipe post.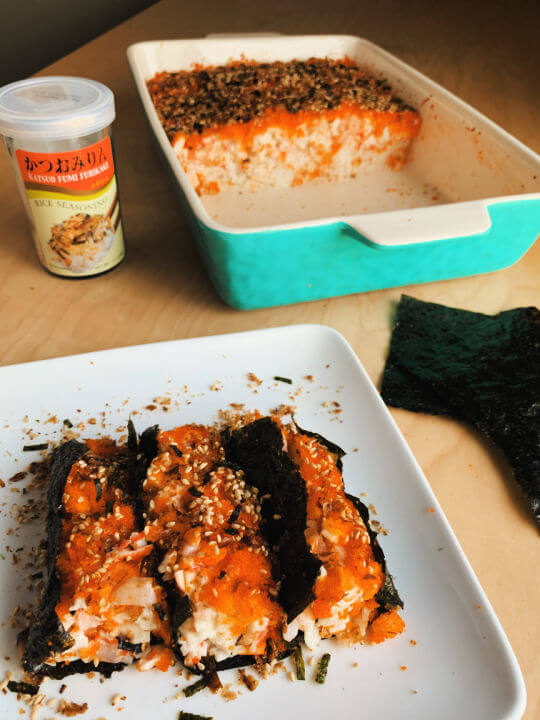 Sushi Bake Origin
This sushi bake recipe is near and dear to my heart. Years ago, I was at a friend's house and tried sushi bake for the first time and LOVED it!
When I first started blogging, this was one of the first recipes I posted in 2007 and it took off! I was known for YummySF Sushi Bake. Sadly, my first food blog is now defunct.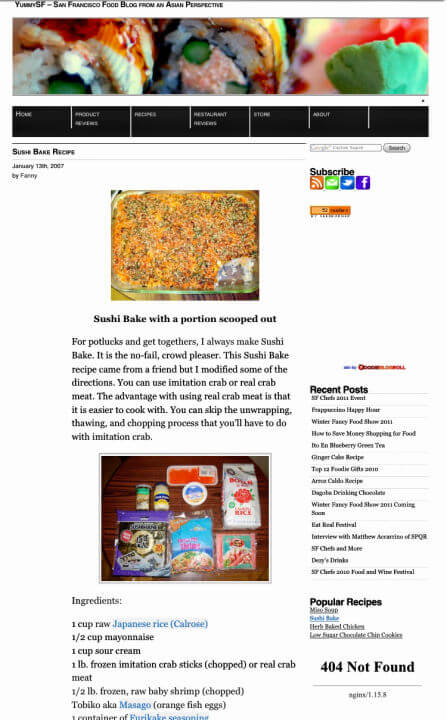 Thankfully, it still shows in the Internet archive site, the Wayback Machine. So finding the original recipe with the photos brought everything full circle for me and prompted me to post it on this blog.
Sushi Bake Ingredients
Shrimp
Baby shrimp is ideal because it means less chopping but you can use regular sized shrimp as well.
Imitation crab or real crab
You can find this at Asian grocery stores in either the fridge or frozen section.
Mayonnaise
Use regular mayonnaise or Kewpie mayonnaise.
Sour cream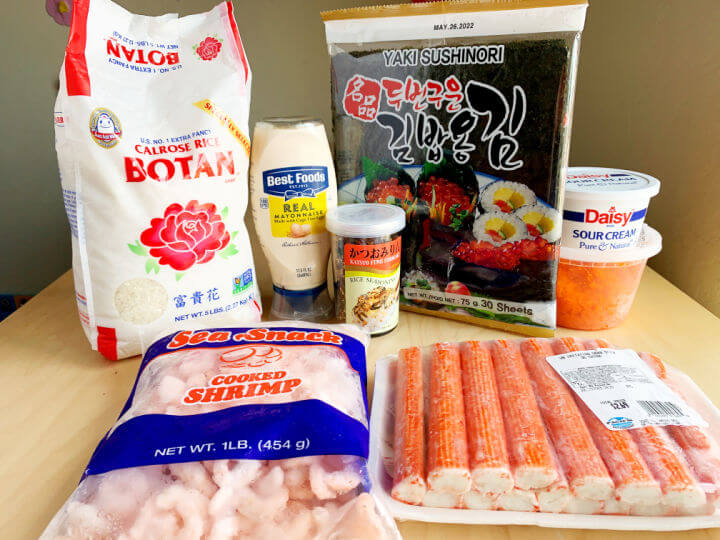 Tobiko or Masago (orange fish eggs or sushi caviar) Buy Here
You can find this at Asian grocery stores. I find this to be the most difficult ingredient to find because it's often placed in a nondescript location, in a fridge near the seafood section.
I found it on Amazon, albeit at a steeper price. But they do next day delivery with ice packs. You need about 6 oz to cover the top of the sushi bake. But you can always use less and spread it out more.
Masago gives the sushi bake a nice crunch and adds a nice color. But you can leave it out if you can't find it.
Furikake seasoning Buy Here
Furikake is a Japanese rice seasoning made of seaweed, bonito flakes (skipjack tuna shavings), soy sauce, rice wine, and sesame seeds. It really adds a punch of flavor to plain, steamed rice.
There are two main brands that I often come across, Seto and Katsuo. The Seto brand has egg yolk powder. I prefer the Katsuo brand.
Nori Seaweed Buy Here
Nori seaweed sheets are used for making sushi. In this sushi bake recipe, we cut it into 4's and it acts like a wrap for the sushi bake.
What kind of rice works for this sushi casserole?
Calrose is the ideal choice because it's sticky and starchy. But you can also use Jasmine rice, in a pinch.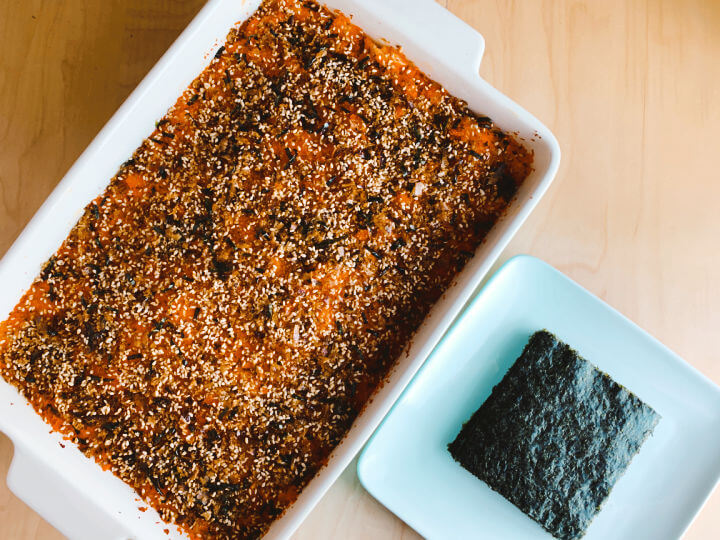 How to eat sushi bake
Scoop a small portion of sushi bake with a spoon, less is more! It works best when you scoop a portion that's as long as the seaweed square, so long and skinny, like a 1″x 3″ piece.
Place it onto a seaweed square, curl the seaweed under, and enjoy. This way, it kinda looks like a sushi roll. But don't overthink it, just enjoy it!
Is baked sushi healthy?
Yes, it's seafood and rice. It's like eating sushi.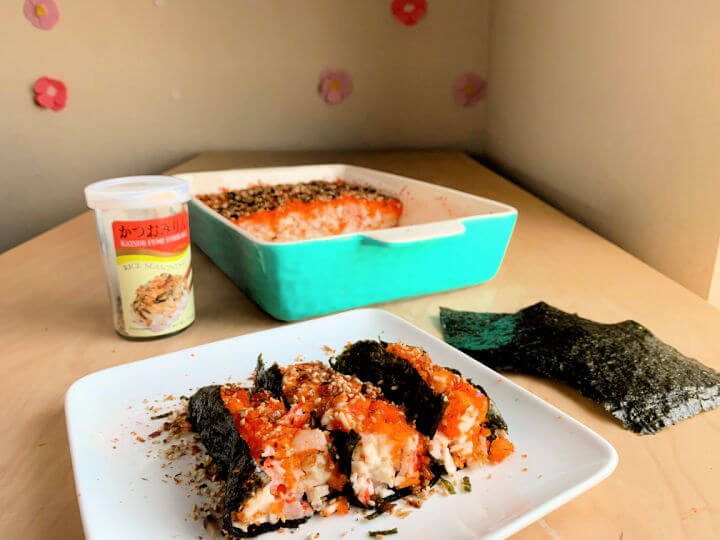 Where to Buy:
You can find all of these ingredients at an Asian supermarket or on Amazon.
Sushi Bake Recipe Video
Check out these other recipes: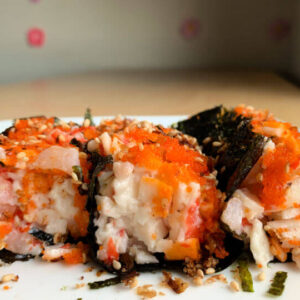 Original Sushi Bake Recipe
Get the taste of sushi without having to roll sushi! Make this delicious sushi bake to satisfy your sushi cravings.
Instructions
Cook rice in rice cooker. Preheat oven to 375 degrees.

Boil shrimp for 5 minutes. If using raw shrimp, cook until shrimp turns pink. Drain and chop into small pieces. Set aside.

For frozen imitation crab sticks, place them in the hot water that was used for boiling shrimp in the previous step. Remove when crab sticks are thawed. Then unwrap plastic wrapper from crab sticks and chop into small pieces. For fresh crab sticks, unwrap plastic wrapper from crab sticks and chop into small pieces. Set aside.

In a large bowl, mix together mayonnaise, sour cream, chopped shrimp, and chopped imitation crab sticks until combined.

In a 9×13 pan, spread cooked rice onto the pan, making sure to create a flat and even layer.

Next, spread the crab and shrimp mixture onto the rice as the second layer. Again, be sure to create a flat and even layer.

Spread the tobiko or masago evenly onto the crab and shrimp mixture as the 3rd layer.

Finally, sprinkle the Furikake seasoning as the final layer and topping to this sushi bake. You might use up most of the bottle of Furikake. Place pan into oven and bake for 20 minutes.

While sushi bake is cooking, cut up each seaweed sheet in four.

When sushi bake is done, remove from oven and let cool for 5 minutes. With a spoon, scoop out a small amount of sushi bake onto seaweed sheet to eat.
Notes
Masago or Tobiko is the priciest ingredient in this recipe. But it also lends a more authentic sushi taste to this dish. A reader suggested that I was using too much Masago in the video. Masago is sold in containers that are pre-measured at Asian grocery stores. You can use half the container for the recipe and freeze the other half for later.
Seaweed – I like the seasoned seaweed snack packs available at Costco or Asian grocery stores. The seasoned snack packs are pre-cut, more flavorful, and not as dry as plain Nori sheets.
Salmon Sushi Bake Variation – I have made Salmon Sushi Bake using canned salmon. Substitute 3 5 oz. cans of salmon for the imitation crab.
If you love this sushi bake recipe, please leave a star rating on the recipe! It will help more people find this recipe. Thank you!
Please LEAVE A STAR RATING and COMMENT! Help GET THIS RECIPE FOUND by more people.
This post contains affiliate links. When you make a qualifying purchase, I will receive a small commission at no extra cost to you.