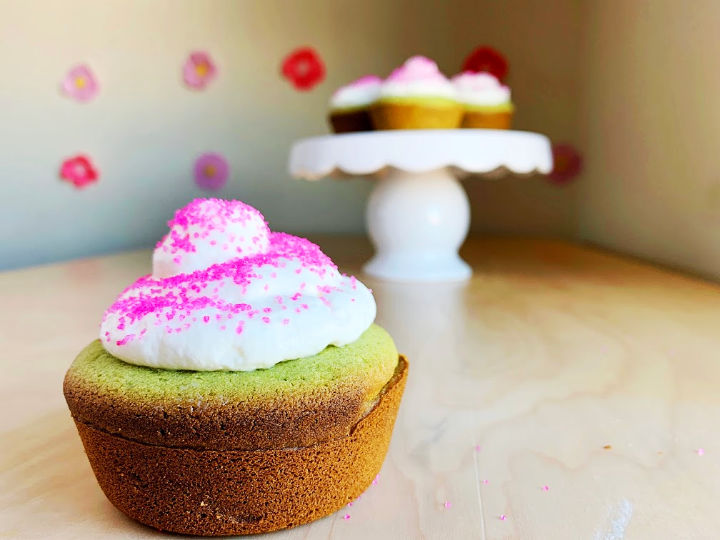 If you love all things with matcha green tea, you're going to love these matcha mochi cupcakes! They are moist, chewy, lightly sweetened with a touch of green tea flavor, and fully satisfying.
These little mochi muffins are great and filling for breakfast or as an afternoon snack. But if you're sensitive to caffeine, treat it like you're drinking coffee, meaning that you should eat them earlier in the day.
I'm mentioning the caffeine content because after my daughter ate them at night, she wasn't able to sleep all night! So be forewarned.
I was inspired by matcha mochi pancakes that I thoroughly enjoyed at Morning Wood, a Hawaiian breakfast/brunch place in San Bruno, CA. My husband and I had a lovely, kid-free brunch date there on Valentine's Day of this year, before the whole quarantine thing happened.
This is one of those brunch spots that has a constant line out the door, even on weekdays! Their matcha mochi pancakes are moist, chewy, and SO filling!!!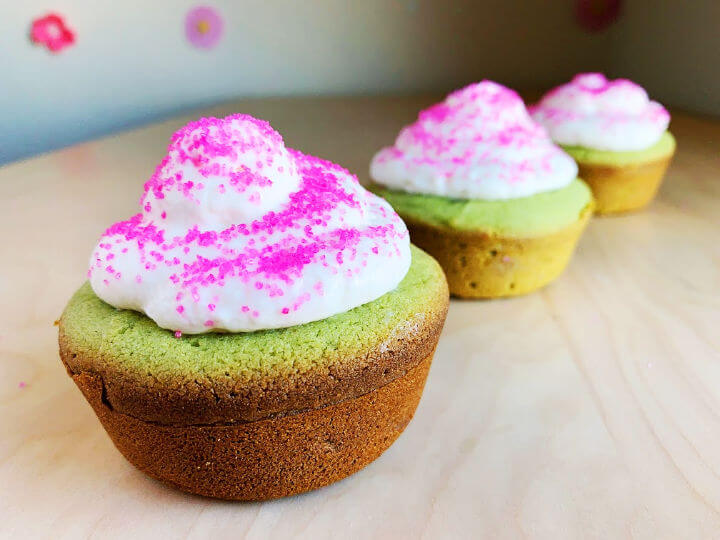 During shelter-in-place, they no longer made their famous matcha mochi pancakes, but offered a matcha mochi muffin instead. Even though I haven't tried their matcha mochi muffin, I thought maybe I could replicate their pancake into muffin form. So here it is!
Mochi baked goods aren't like other cupcakes or muffins. They are crispy on the outside and chewy and dense inside because they are made with mochiko sweet rice flour.
These mochi matcha cupcakes or muffins are super moist inside and have a full cakey feeling when you bite into it.
And they're like a meal in itself. You will feel so full after just one!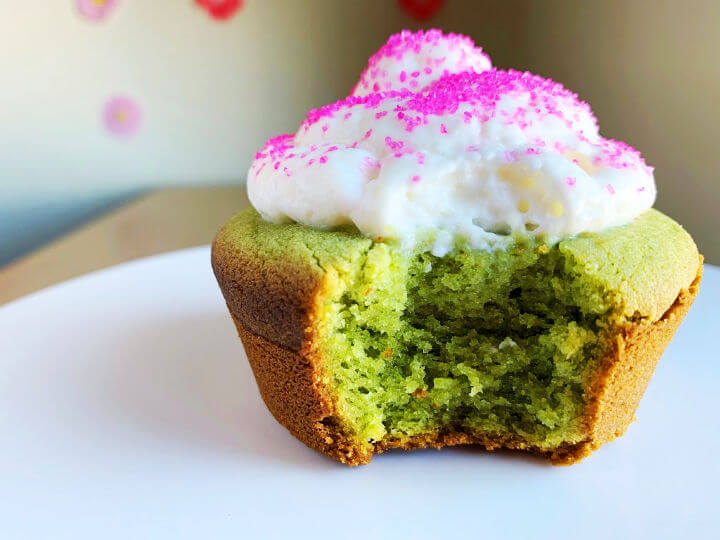 Matcha Mochi Cupcakes or Muffins?
So these could be either. They are perfectly delicious as muffins without frosting or even cupcake liners.
If you bake them without liners, the muffins will brown and crisp more on the edges. They are so filling though that you don't really need to frost them.
But if you do decide to frost them like I did in the photos, you can add a touch of whipped cream, like canned whipped cream. It's not necessary though.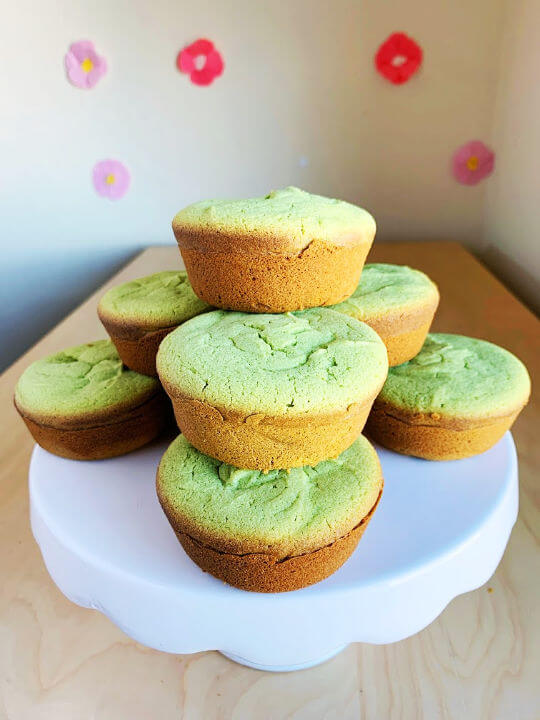 What is Mochiko Sweet Rice Flour?
Mochiko sweet rice flour is a rice flour used in baking and making mochi. It's not to be confused for white rice flour or brown rice flour.
They come in white boxes and only one size, 16 oz. The brand is Koda Farms.
Where to Buy: Amazon or Asian grocery store
FYI: the Mochiko flour doesn't keep long and can go stale. Use a fresh box if you can.
When I first made these matcha mochi cupcakes, I was desperate to have all the ingredients without a trip to the store. It was 9pm at night and I grabbed an unopened box of Mochiko flour that was sitting on a high shelf.
It had no expiration date and I had no idea how long it had been sitting there. Well, after I made them, the cupcakes tasted stale! My 3 year old son even said,"Mommy, these cupcakes taste yucky."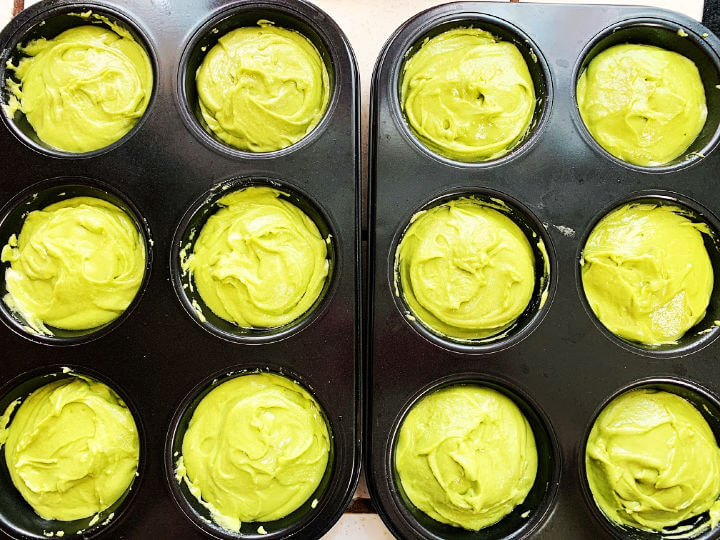 All you need to make this recipe is cupcake tins. A stand mixer makes it easier to do all the mixing and a cooling rack is nice.
The cupcakes rose in the oven but then dropped and flattened once they came out of the oven. I think that's how baked mochi products are. They won't dome like regular cupcakes because of the dense nature of Mochiko rice flour.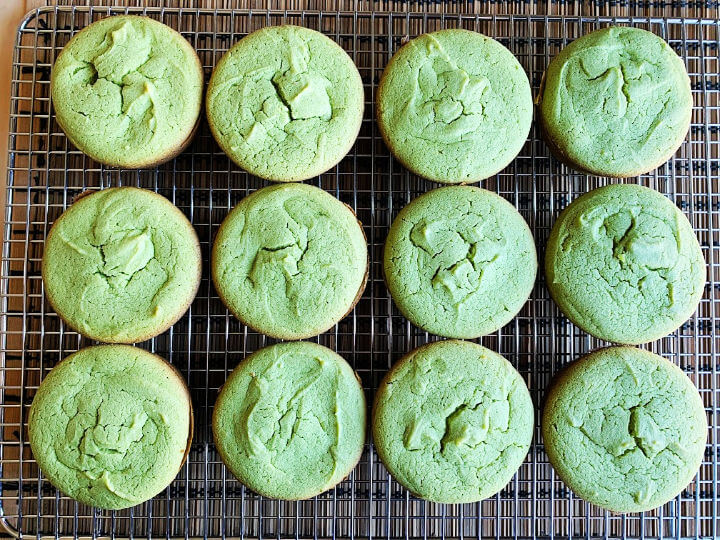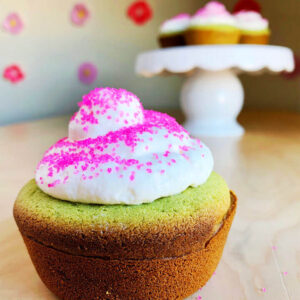 Matcha Mochi Muffins
Matcha Mochi Muffins are lightly sweetened, with a hint of green tea, and fully satisfying.
Instructions
Preheat oven to 375 degrees.

Place cupcake liners into muffin pans or grease muffin pans with a lightly oiled paper towel, if not using cupcake liners. The edges of the mochi muffins will come out crispier without cupcake liners.

In a mixing bowl, stir together dry ingredients.

In a bowl of a stand mixer with paddle attachment (optional) or in another bowl, mix together wet ingredients.

Pour dry ingredients slowly into wet ingredients. Mix well until combined.

Bake for 25 minutes or until a toothpick comes out clean. Remove from muffin pans and place on a cooling rack. When cool, frost with whipped cream or eat as is!
Please LEAVE A STAR RATING and COMMENT! Help GET THIS RECIPE FOUND by more people.
This post contains affiliate links. When you make a qualifying purchase, I will receive a small commission at no extra cost to you.
This post contains affiliate links, where I earn a small commission if you make a qualifying purchase.
More:
The Original Sushi Bake Recipe