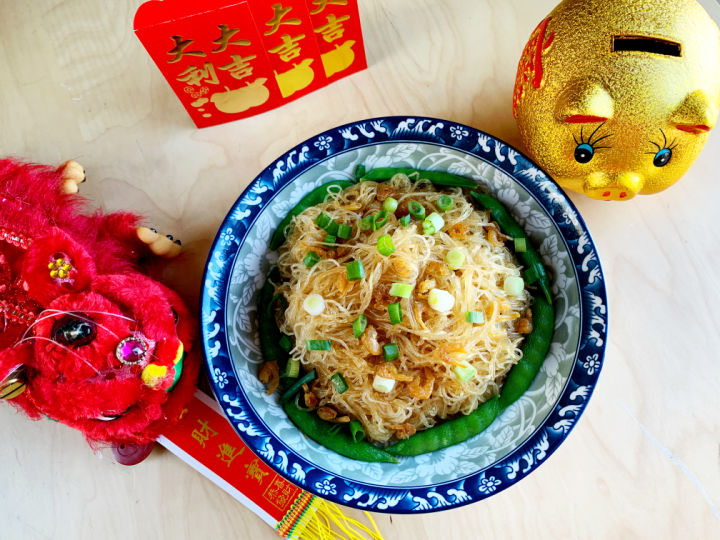 Chinese stir fry glass noodles or fensi (粉絲) is my FAVORITE dish that my dad and my grandmother on my mom's side made. I LOVE it so much that as soon as it hits the dinner table, I scoop a generous amount into my bowl and slurp it right away!
This Chinese glass noodle dish is a common home cook's dish and not often served in restaurants. There are also different variations of this stir fry glass noodles dish.
I love the flavors of these savory, sticky noodles that are simply flavored with crispy, salted, dried baby shrimp, soy sauce, and green onions. It's a humble and simple side dish that can be eaten every day but is also a staple in our Chinese New Year dinner table.
Although these noodles may resemble Filipino pancit, they are made with different ingredients. The color of these glass noodles come from soy sauce.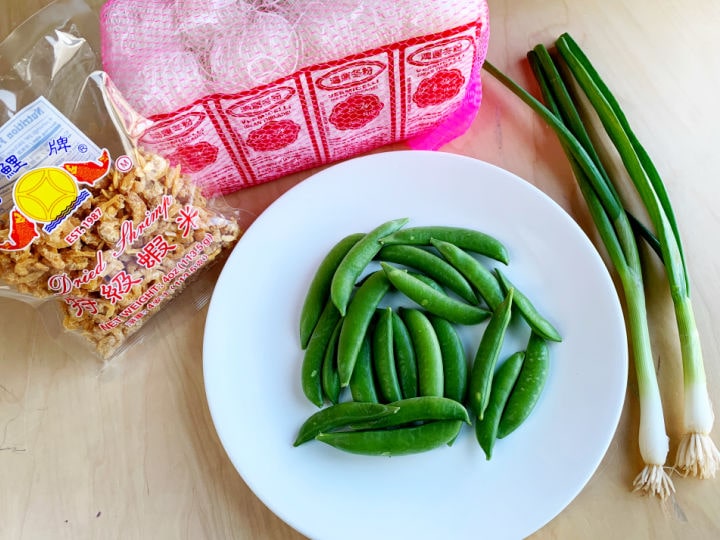 What are Glass Noodles?
Glass noodles are made of starches from peas, mung beans, potatoes, and cornstarch. Each brand has a different combination of ingredients. And glass noodles are gluten-free.
Glass noodles has a lot names:
Cellophane noodles
Bean Thread Vermicelli
Fensi
Mung Bean Noodles
Mung Bean Vermicelli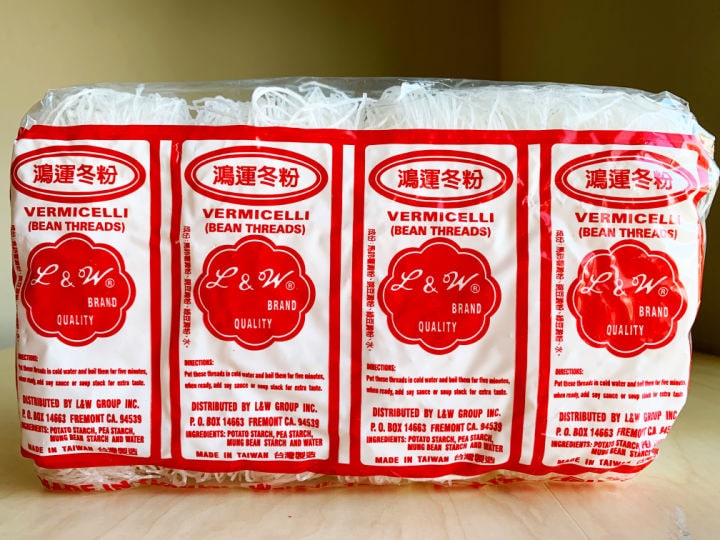 How to Cook Glass Noodles
Glass noodles are packaged in bundles of 8. One bundle is a one serving. So for 4 people, I would use 4 bundles.
Glass noodles are prepared a little differently than most noodles, in that they must be soaked first so they will soften for stir frying. I soak mine for at least 10 minutes along with the dried shrimp in a separate bowl.
1. Soak glass noodles and dried shrimp in separate bowls for 10 minutes.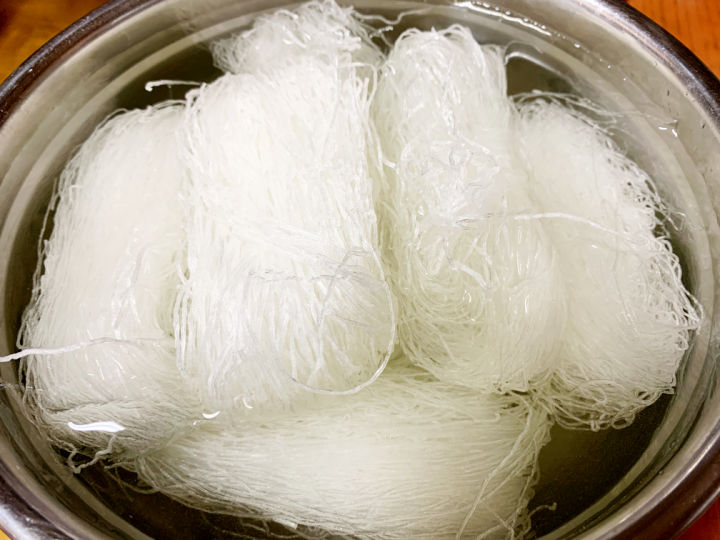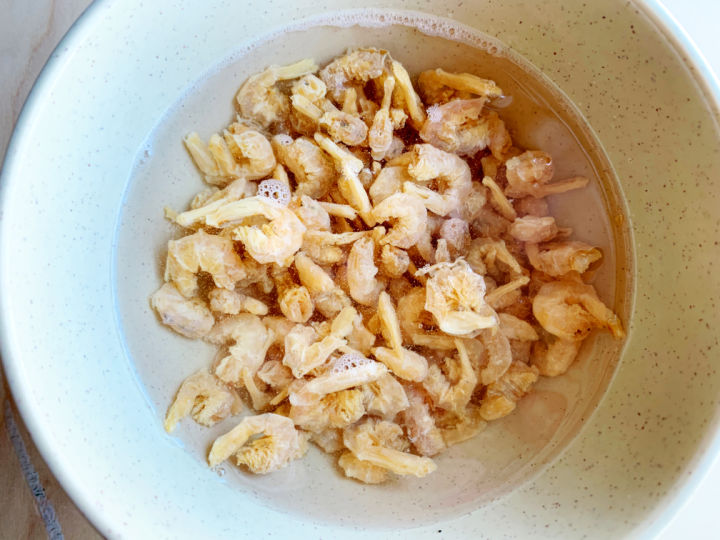 2. Drain noodles and shrimp. You can pull them apart so that they won't stick as much during cooking. I normally skip this step but I had to pull them apart so they would look better for these photos!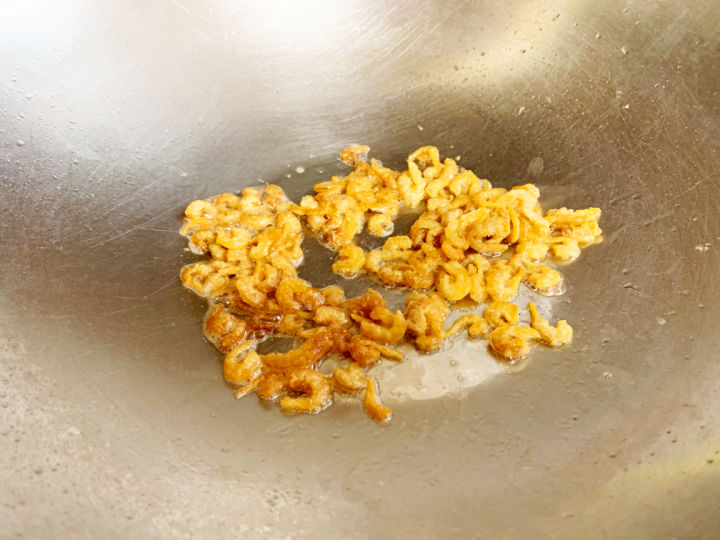 3. Add oil to a hot wok or pan and cook the dried shrimp until brown and crispy. Then remove from pan.
4. Next, add oil to the pan again. When the oil shimmers, carefully add in the glass noodles. Stir noodles.
5. Then add soy sauce and water. Stir the noodles around to distribute the water. You can place a lid on the wok or pan to get a steaming effect. But you can also just keep stirring the noodles (without a lid), until the noodles absorb the water, like my dad does.
Yes, stir frying glass noodles can get you into a "sticky" situation but don't be scared. Keep going. It will work out in the end.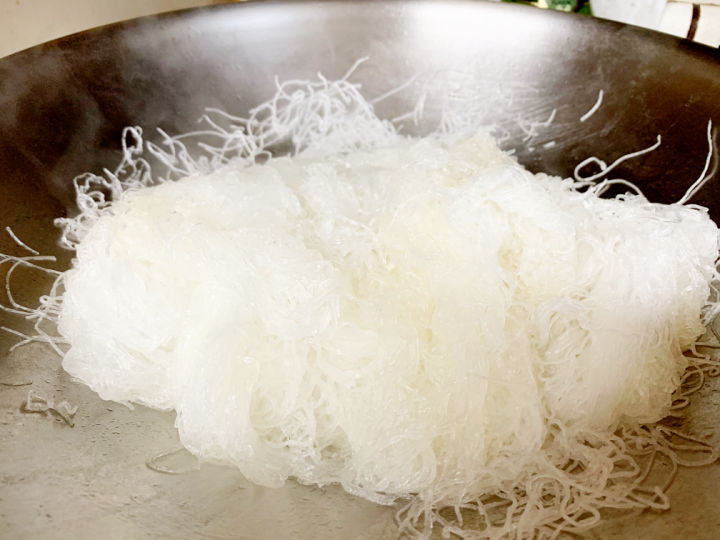 Note: If after the water evaporates and the noodles are still stiff and not cooked, repeat the process. Add more water and stir the noodles to combine. The water will slowly cook the noodles.
When the noodles are cooked, they will be soft, translucent, and shiny. Hence the name "glass noodles."
Do the same with the soy sauce. Keep stirring until the color is fully distributed. But feel free to add more soy sauce if there are white spots that didn't get enough soy sauce.
6. Add the cooked shrimp and green onions at the end and continue cooking for at least a minute.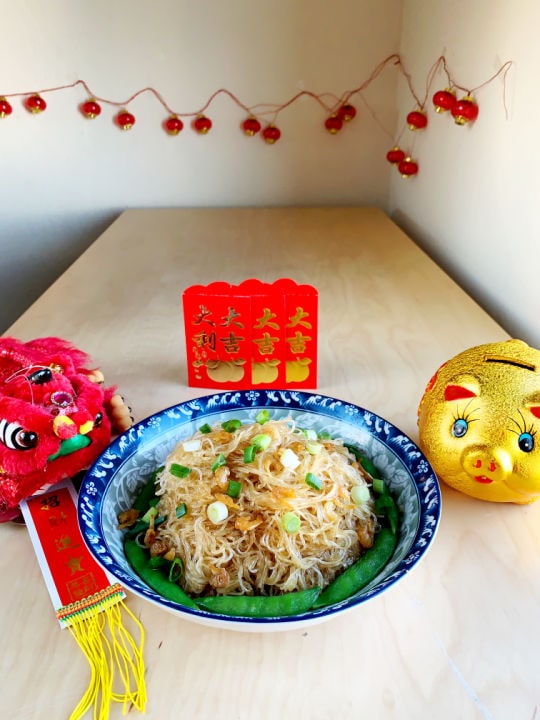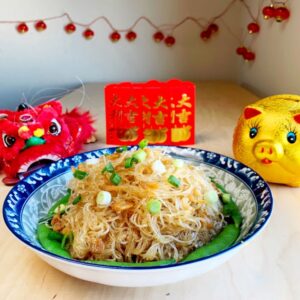 Chinese Stir Fry Glass Noodles with Dried Shrimp
Make Chinese Stir Fry Glass Noodles with just a few ingredients. This is a hearty side dish for every day meals or Chinese New Year.
Equipment
Wok with lid or large pan with lid
Instructions
Soak dried shrimp and noodles in separate bowls of water for 10 minutes. Then drain shrimp and noodles.

Heat a wok or pan to medium heat. When hot, add 1 tablespoon oil. When the oil is hot, add dried shrimp. Cook until shrimp is brown and remove from pan.

To the wok, add 2 tablespoons oil, and when heated, add bean thread noodles. Add 4 tbsp soy sauce and stir noodles.

Next add 1/2 cup of water, stir noodles, and cover with a lid. Let steam for 2-3 minutes and check to see if the noodles soften. If not soft enough, add another 1/2 cup of water, stir, and cover with lid, and steam for 2-3 more minutes. Repeat as necessary.

When noodles are soft and clear, add in green onions and shrimp. Stir until combined, at least one minute. Remove from heat and serve. Garnish with steamed sugar snap peas, if desired.
Please LEAVE A STAR RATING and COMMENT! Help GET THIS RECIPE FOUND by more people.
This post contains affiliate links. When you make a qualifying purchase, I will receive a small commission at no extra cost to you.
This post contains affiliate links. When you make a qualifying purchase, I will receive a small commission at no extra cost to you.
You Might Also Like:
Instant Pot Braised Pork Belly