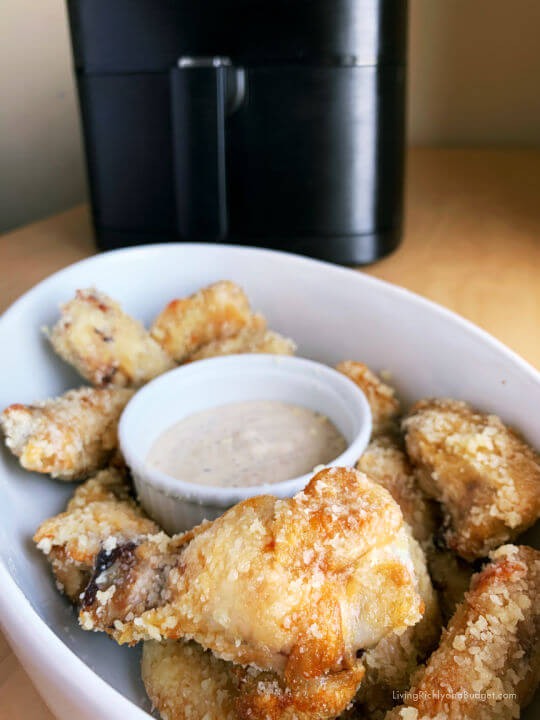 Air fryer garlic parmesan wings are SO good and taste like the ones from Wingstop. Make these crispy and delicious wings at home easily, in your air fryer.
Having an air fryer has made life much easier. We have been able to cook SO many more things at home with it.
One of my favorite things to make in my air fryer is chicken wings because they come out nice and crispy, almost like they were deep fried in oil. And they cook faster than using an oven because there's no pre-heating in this recipe.
Watch the Garlic Parmesan Wings Recipe Video
Dude, we used to go to Wingstop all the time for wings because back in the day, I didn't know how to make their wings. My favorite flavor was their garlic parmesan wings. I couldn't get enough.
But the cost of going to Wingstop can add up over time. At our Wingstop, an order of 10 wings is $14.99 and doesn't include the dipping sauce.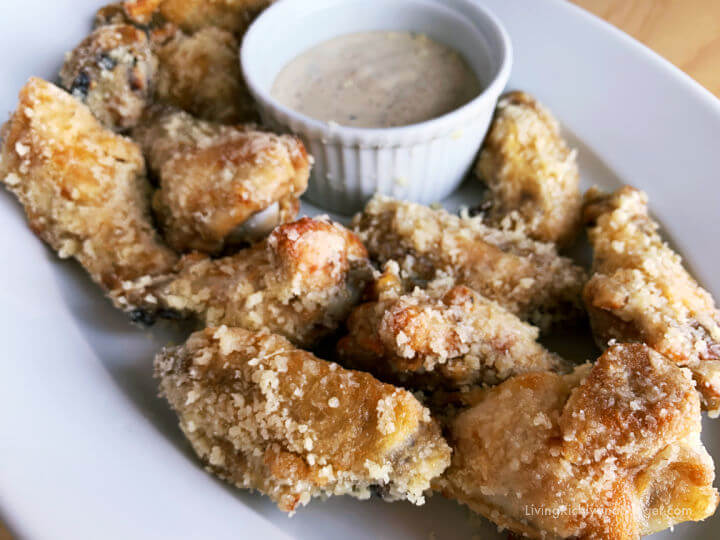 If you make them at home, 10 wings would cost less than $6! To be fair, Wingstop does have larger and meatier wings.
The only drawback to making garlic parmesan wings in your air fryer is that the basket can only hold so many wings. In my Cosori Max XL air fryer, I can only fit 13 wings at a time.
So if you need to make a large amount, you would have to make a few batches.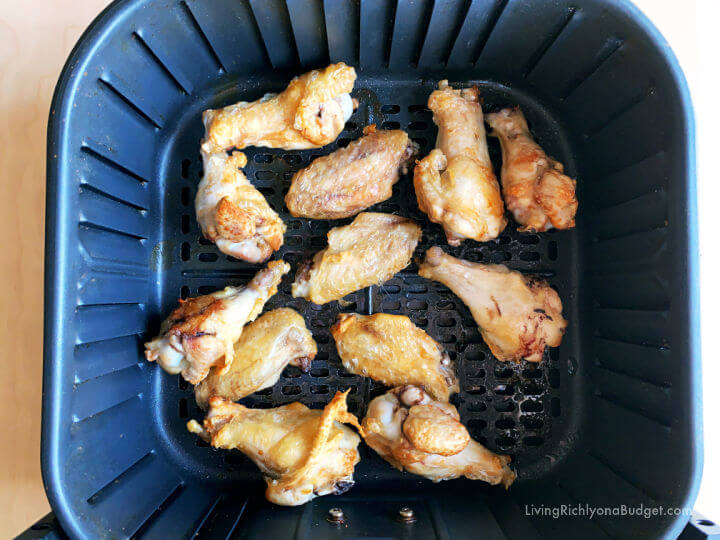 Do you add garlic parmesan before or after air frying?
I think it's better to add the sauce after the wings have finished cooking, here's why. Cooking cheese in the air fryer is tricky as it can burn when cooked.
Also, when I was at Wingstop, I saw them coat the wings with sauce AFTER the wings were fried.
Garlic Parmesan Wings Ingredients
Frozen wings
Unsalted butter
Garlic Cloves
Parmesan Cheese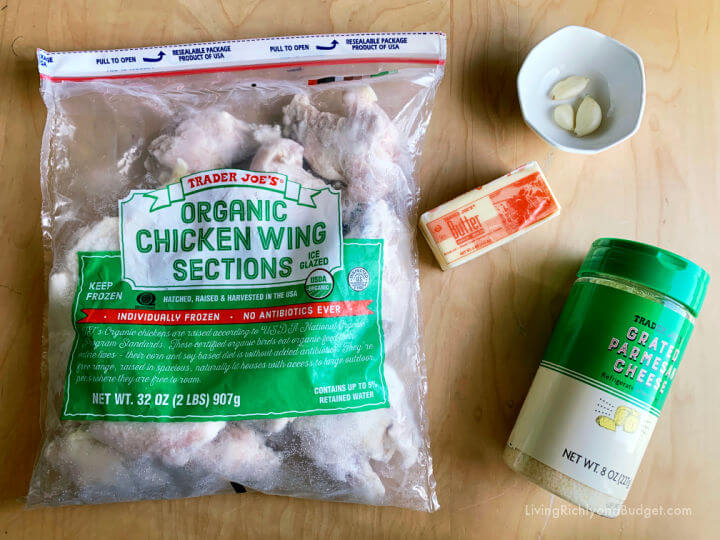 Does garlic parmesan wings have parsley?
Every other recipe that I have seen, for garlic parmesan wings has parsley in it. But the garlic parmesan wings from Wingstop do not have parsley.
It's optional to add parsley, but I don't feel like it's necessary so I left it out.
How to Cook Garlic Parmesan Wings
Fully cook wings in air fryer.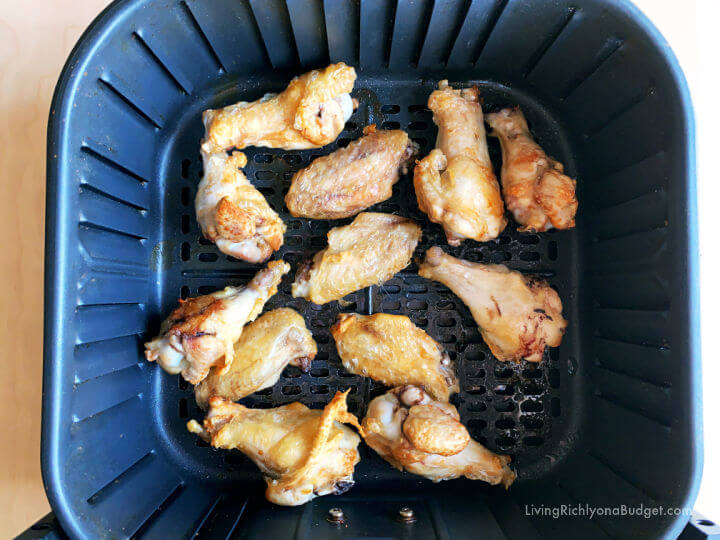 Make sauce and dip wings into garlic butter sauce.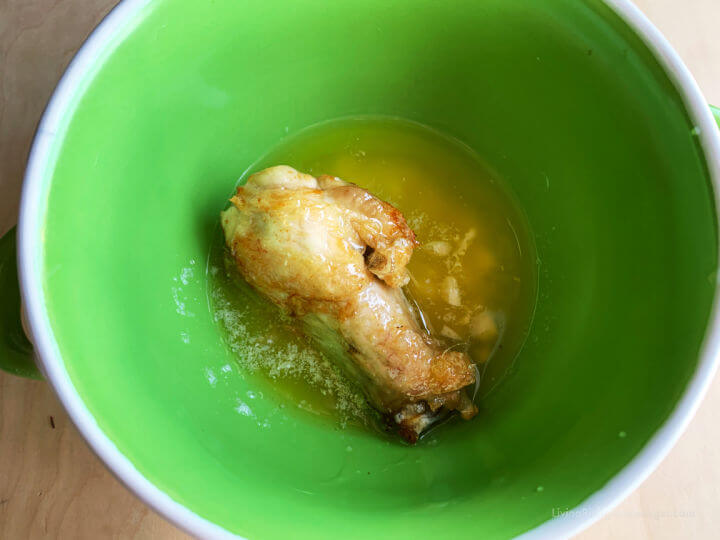 Fully coat wings with shredded parmesan cheese.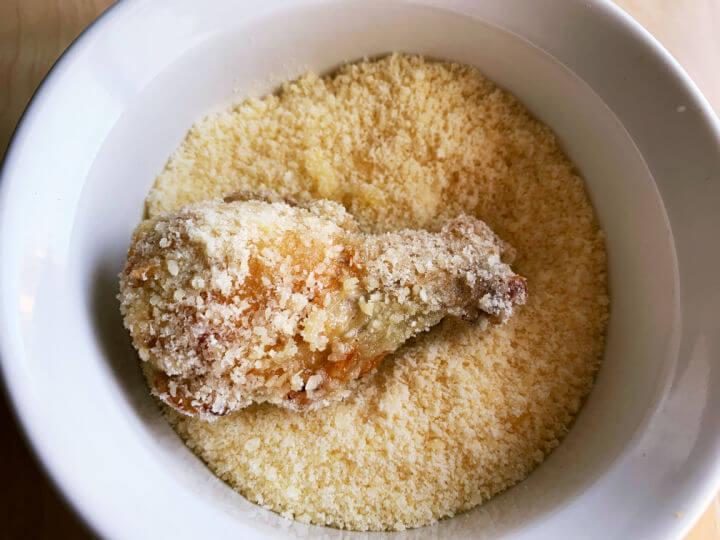 Serve hot with optional sauce, such as ranch or caesar dressing.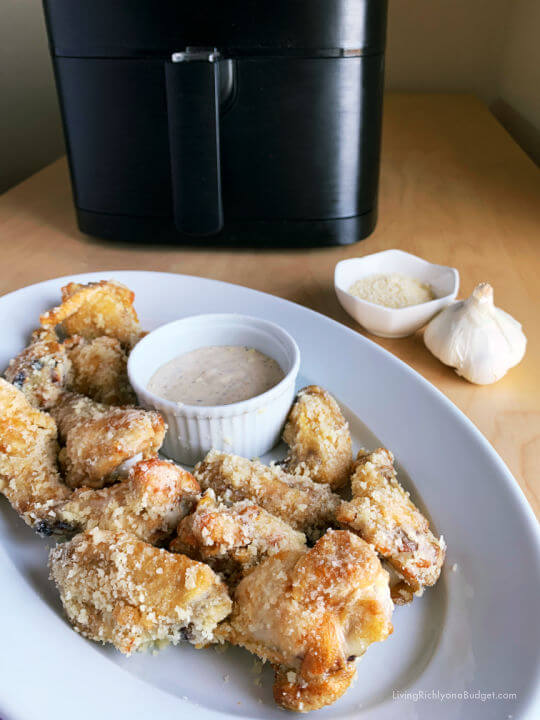 Other Air Fryer Chicken Wings Recipes:
Air Fryer Teriyaki Wings – 2 Ingredients
Air Fryer Lemon Pepper Wings from Frozen
Air Fryer BBQ Chicken Wings – 2 Ingredients
Other Air Fryer Recipes:
Air Fryer Spam – Everything You Need to Know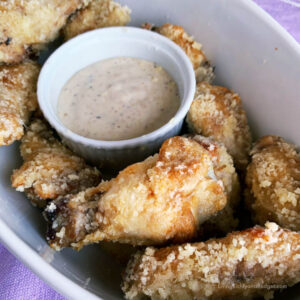 Air Fryer Garlic Parmesan Chicken Wings
Make crispy, savory garlic parmesan wings from frozen, in your air fryer. It's SO good!
Ingredients
Garlic Parmesan Seasoning
5

tablespoons

unsalted butter

3

cloves

garlic

1/4

cup

parmesan cheese

finely grated
Instructions
Pre-Cook
Place frozen chicken wings into air fryer basket, making sure to spread them out. Close the basket. Set air fryer temperature to 400° F (205° C) for 10 minutes and press the cook button.
Drain Liquid
After the air fryer is finished cooking, remove the entire basket from the air fryer. Release the air fryer basket from the drip pan. Set hot air fryer basket onto a plate or wood cutting board. Drain the liquid in the drip pan and dry clean with a paper towel.
Flip Wings
Flip wings over in the air fryer basket.
Cook
Attach the air fryer basket back onto the drip pan. Place back into the air fryer and close. Set the air fryer temperature to 400° F (205° C) for 15 minutes and press the cook button.

While the wings are cooking, set aside a plate, tongs, and a pastry brush or rubber spatula and prepare the seasoning in the next step.
Make the Seasoning
Chop the garlic into small pieces and set aside. In a pan over low heat, melt the butter. Pour melted butter into a small bowl. To the bowl of butter, add the chopped garlic. Mix well. (The sauce should be thin and liquidy. If it's too thick, like a paste, add more melted butter.) Pour shredded parmesan cheese into a separate bowl.

5 tablespoons unsalted butter,

3 cloves garlic,

1/4 cup parmesan cheese
Check the Temperature of the Wings
When the air fryer is finished cooking, pull out the air fryer basket. Using a meat thermometer, check the wings (especially the drummettes) to make sure the internal temperature reaches at least 165° F (75° C). Cook for 2-3 minutes longer, if needed.
Coat with Seasoning
Pull out the air fryer basket. Using tongs, remove the wings and place onto a plate. Using tongs, pick up each wing and dunk into bowl of garlic butter sauce, making sure to coat both sides. Next, coat each wing with parmesan cheese. Serve while wings are hot.
Notes
Because chicken wing drummettes tend to be larger and meatier than joints, drummettes may take longer to cook. So when you are using a meat thermometer to check the internal temperature, the joints may be fully cooked while drummettes need to cook longer. Make sure to take the temperature of the drummettes.
I find it easier to cook them all together for a longer time than to remove the joints. But do whatever works best for you.
Please LEAVE A STAR RATING and COMMENT! Help GET THIS RECIPE FOUND by more people.
This post contains affiliate links. When you make a qualifying purchase, I will receive a small commission at no extra cost to you.
Pin This for Later: