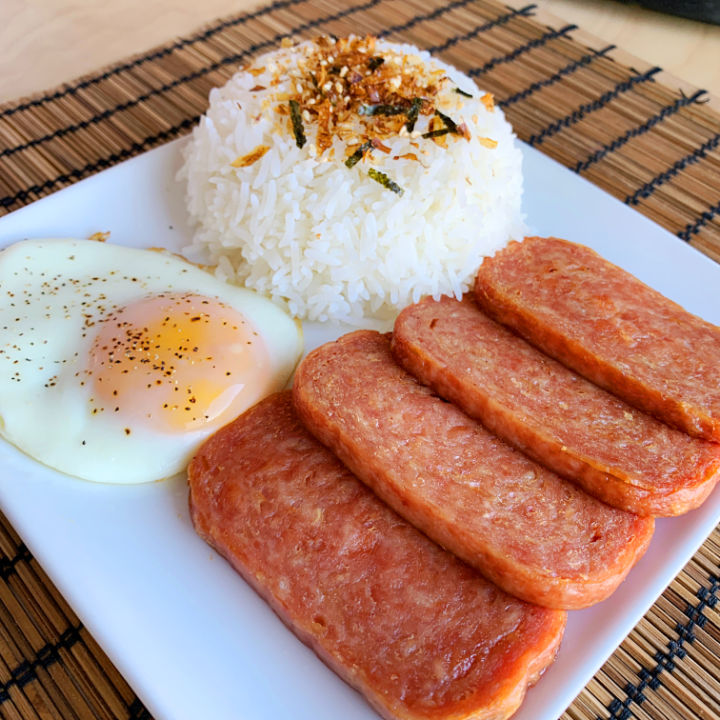 Did you know that you can cook Spam in an air fryer? It's much easier and faster since you can cook many slices at once and no oil is needed!
Spam is such a beloved food product, especially among Asians. This canned pork, luncheon meat, (even if not always healthy) is a staple in our diet.
When I mention Spam to my kids, they get excited. When I posted a video of how to cook Spam in an air fryer, people went crazy!
Is it the salty, savory, meaty flavor? Is it because it can be crispy and juicy at the same time?
Is it because Spam is versatile? It can be made into a sandwich with scrambled eggs, wrapped with rice in seaweed as musubi, or eaten handheld?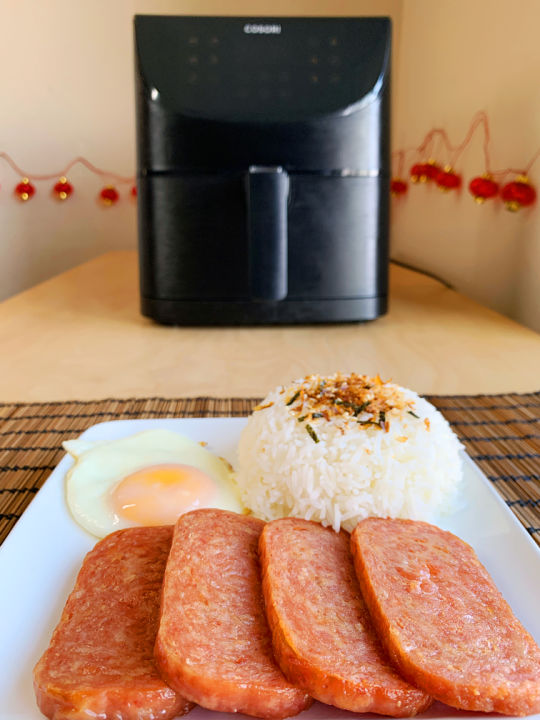 There is a girl at my kid's school, who is half Filipino. One day, while I was saying "hi" to her, she pulled out a slice of Spam, out of her jacket pocket and told me that her Lolo (grandpa) made it for her for breakfast.
I was like, this is a Napoleon Dynamite moment! People really do keep cooked food in their pocket and eat it at school!
It's a convenient food to have at home since it's shelf stable and is very filling. We keep it on hand as a backup, in case of emergencies, but then we end up eating our Spam stock pretty quickly.
Does Spam Cook Better in an Air Fryer?
Yes! Spam is much easier to cook in the air fryer because you can cook 8 slices at once! And you don't have to add oil, which means the Spam will come out less oily!
Need help using an air fryer? Check out my Cosori Air Fryer Guide.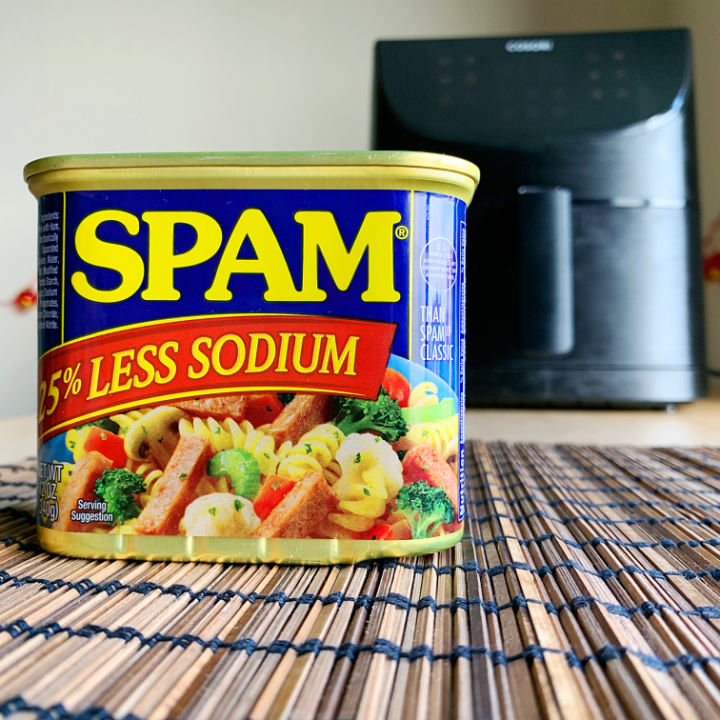 How Many Slices to Cut Spam?
There is an ongoing debate on how many slices to cut your Spam. Some say any number from 6 – 12!
My magic number is 8 slices. It's just thick enough so that when you cook it, the Spam doesn't overcook and get too hard. Plus, all 8 slices will fit perfectly in the Cosori air fryer!
In the recipe below, it's for 8 slices but you can adjust the cooking time for more or less slices. For more than 8 slices, I would try cooking it with less time, like 10 minutes or less. You will have to experiment with one slice to get your correct cooking time.
How to Cut Spam
This method will yield 8 slices. I like to do the half/half method. Sorry, I just made up this phrase but you'll see because it will make sense.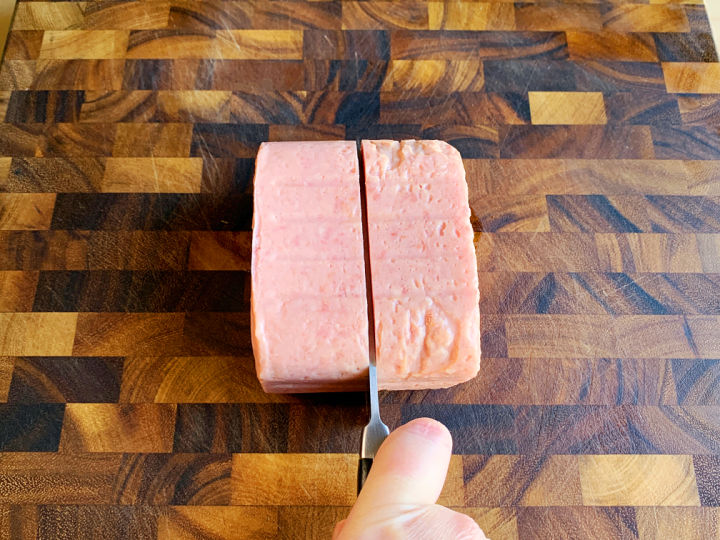 Cut the Spam block in half and you get 2 pieces.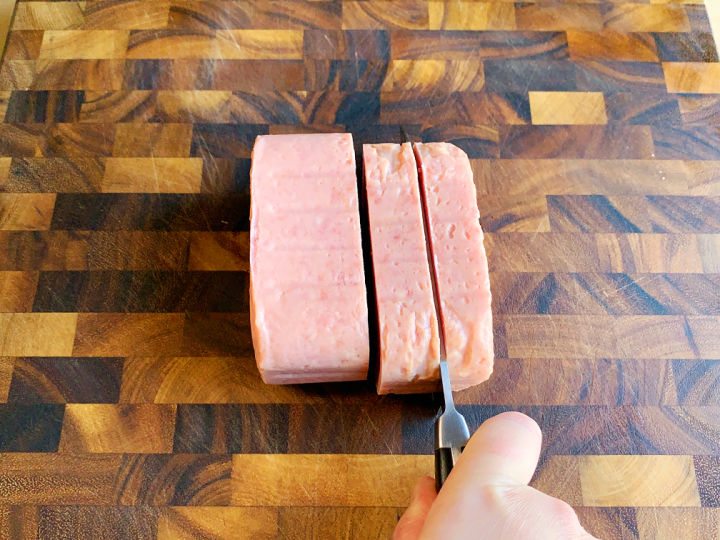 2. Take one half and cut it in half.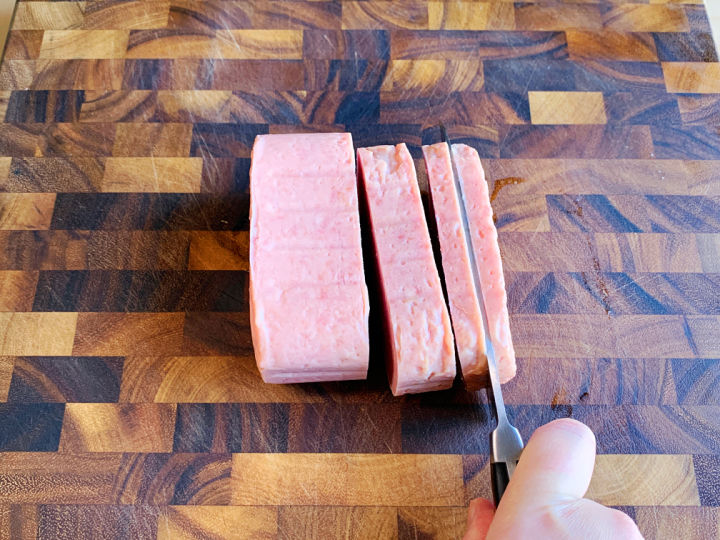 3. Then take that smaller piece and cut it half.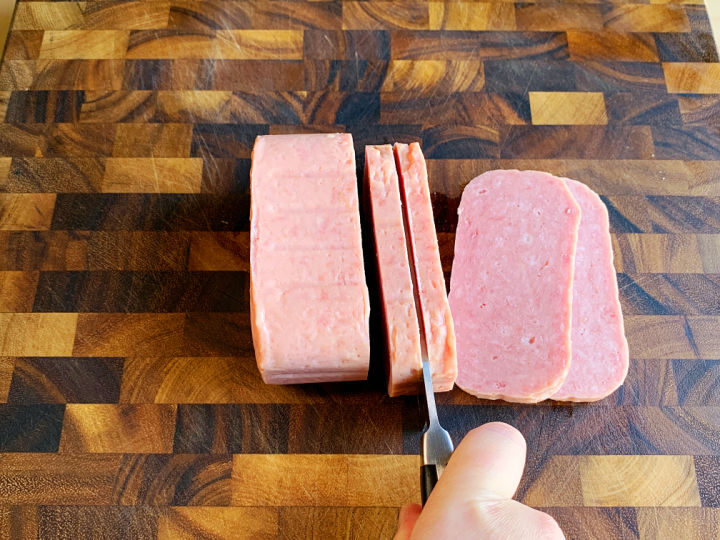 4. Keep going with other pieces until you get 8 slices.
Spam Air Fryer Temperature
400 degrees
Spam Air Fryer Time
10 – 12 minutes, flip halfway through
10 minutes – soft
12 minutes – more crispy
How to Cook Spam in Air Fryer, Step-by-Step
1. Preheat air fryer.
2. Place spam slices in air fryer, making sure they are spread out and not overlapping.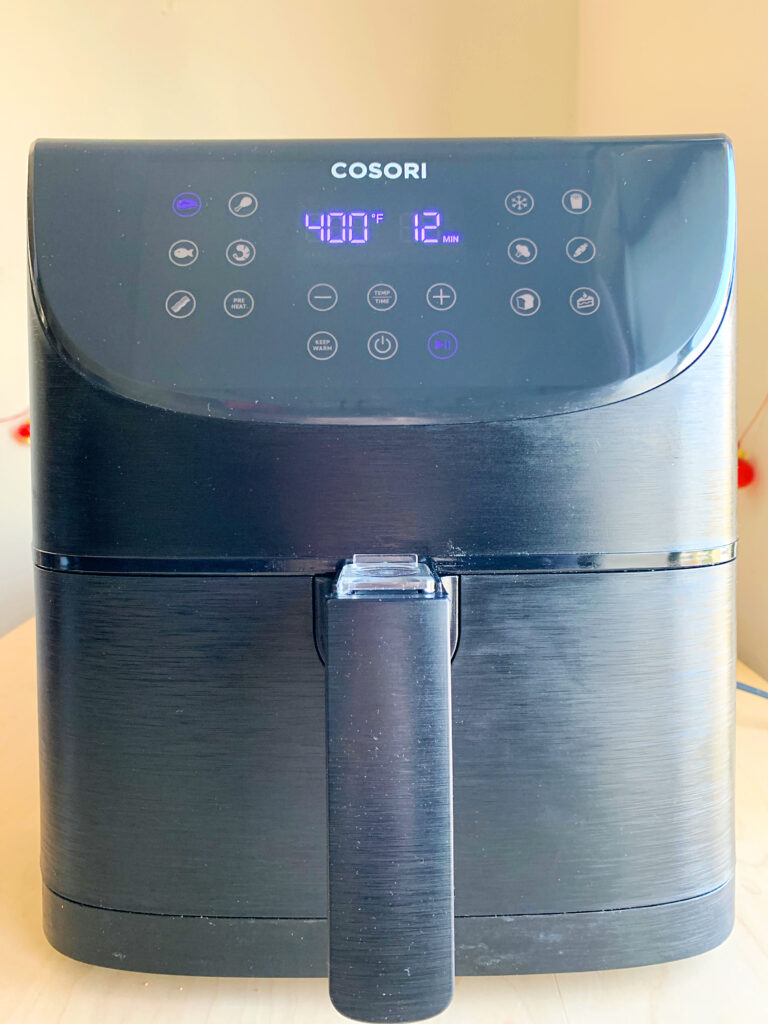 3. Cook at 400 degrees for 12 minutes, for 8 slices.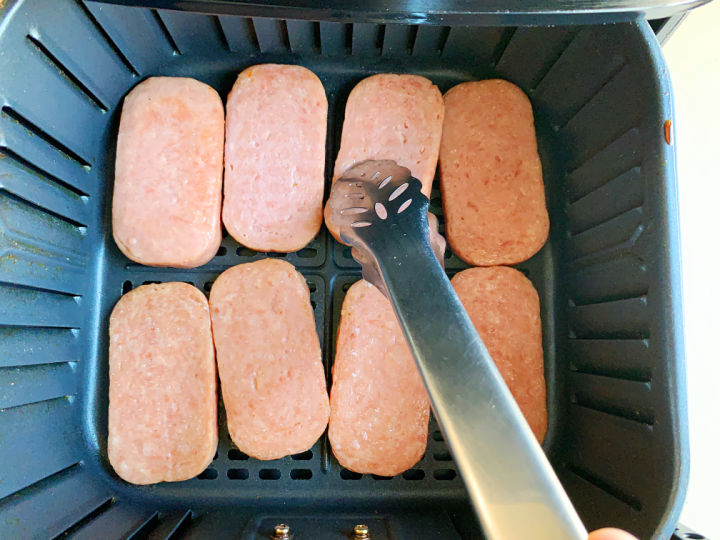 4. At 6 minutes, pause air fryer. Pull out basket and flip spam slices. Then close basket and press the cook button to continue cooking.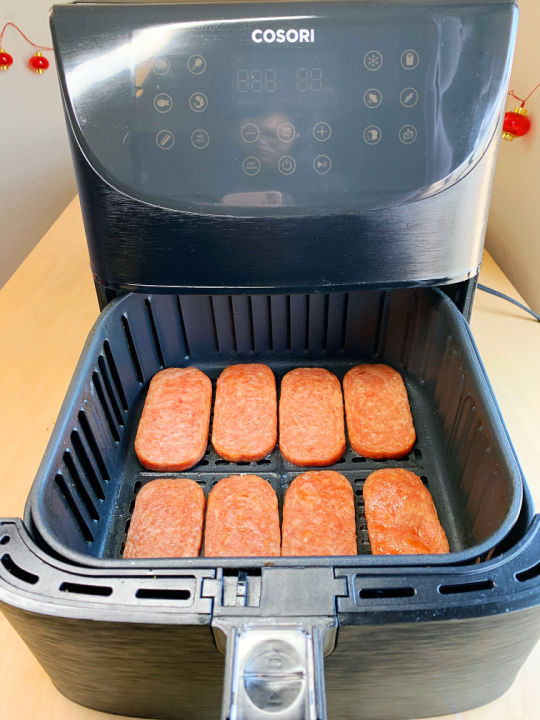 5. When finished cooking, remove from air fryer and serve.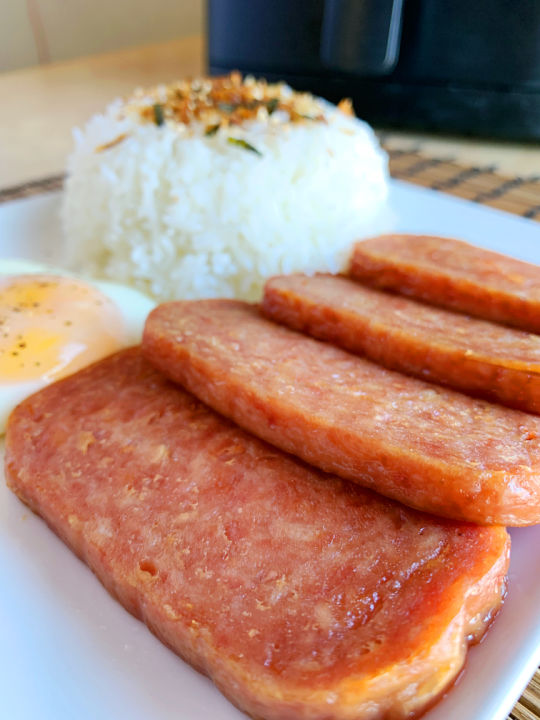 Food You Can Make with Spam
Fried Eggs
A fried egg can go on top of Spam with rice. Or you can make a fried egg and spam sandwich.
Musubi
Wrapping Spam and rice with dried seaweed, with or without egg, with sauce or furikake, makes it a convenient handheld snack or meal.
Sushi
Roll up Spam with sliced carrots, chopped cucumber, eggs, pickled radish and sauteed Spinach in nori seaweed sheets and it's almost like a futomaki roll.
Fried Rice
Use Spam as the meat in your fried rice, along with scrambled eggs, and frozen vegetables.
Noodle Soup
Spam saimin noodles are a thing. You can serve Spam with ramen or an egg noodle soup, as well.
Other Air Fryer Recipes and Tips
Recipe Video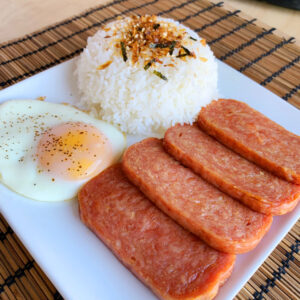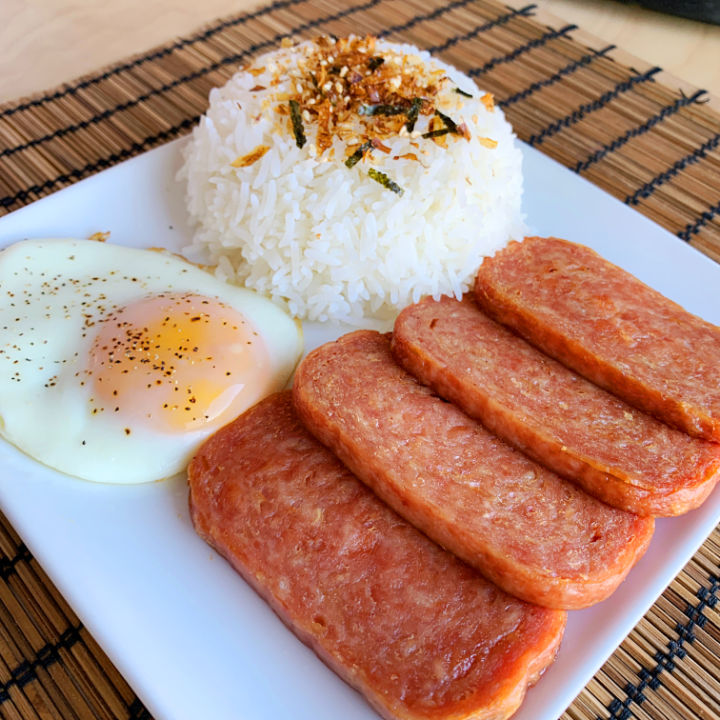 Air Fryer Spam
Cook spam in your air fryer, quickly and easily.
Instructions
Preheat air fryer. Cut Spam into 8 slices.

Place Spam slices into air fryer basket, making sure they are spread out and not overlapping. Close basket and cook at 400 degrees for 12 minutes.

At 6 minutes, pause cooking. Open basket. Using tongs or a fork, flip Spam slices. Close basket and press cook button to continue cooking.

When finished cooking, remove from air fryer and serve.

Note: Some slices may bubble up after cooking but this is normal. Bubbles will deflate as it cools down.
Please LEAVE A STAR RATING and COMMENT! Help GET THIS RECIPE FOUND by more people.
This post contains affiliate links. When you make a qualifying purchase, I will receive a small commission at no extra cost to you.
Pin for Later: