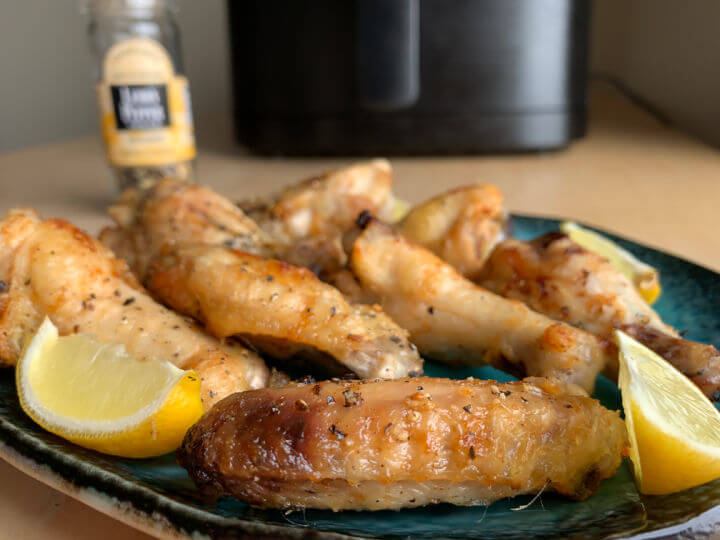 It's SO easy to make air fryer lemon pepper wings at home with 3 ingredients and from frozen! You won't believe it!
Wanna make crispy, savory lemon pepper wings just like the ones from Wingstop? These wings are crispy on the outside but tender and juicy on the inside, the way they are supposed to be.
Lemon pepper wings are perfect for game day, UFC fight nights, or just catching up on the new season of Selling Sunset. This recipe is SO simple and doesn't require a lot of thinking or measuring. So it's my kind of recipe!
And it's just 3 ingredients – frozen wings, lemon pepper seasoning, and cooking spray. And an air fryer, of course!
Watch the Air Fryer Lemon Pepper Wings Recipe Video
It's kind of a pantry meal where you don't have to run out to buy fresh ingredients. If you keep lemon pepper and frozen wings on hand, you can make these babies anytime!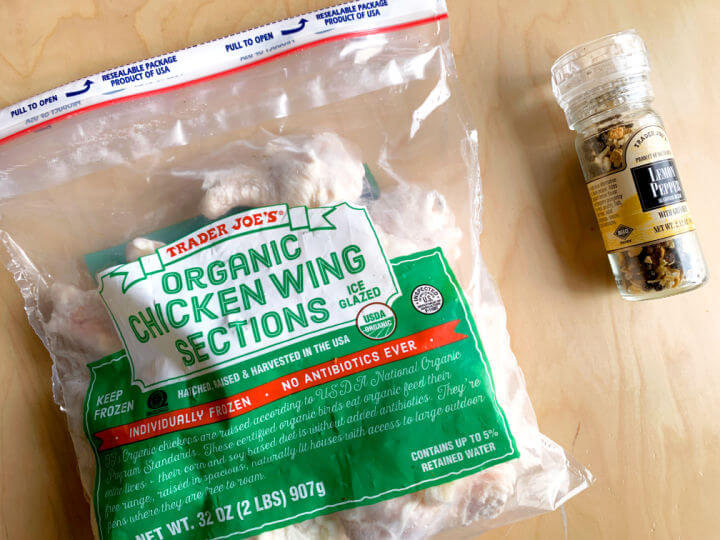 My husband and I were kinda obsessed with Wingstop's lemon pepper wings for awhile. But then we had 2 kids and the cost of eating out doubled.
I did a poll on my Instagram stories asking people which chicken wing flavor was their favorite and lemon pepper was the #1 flavor! I was SO surprised.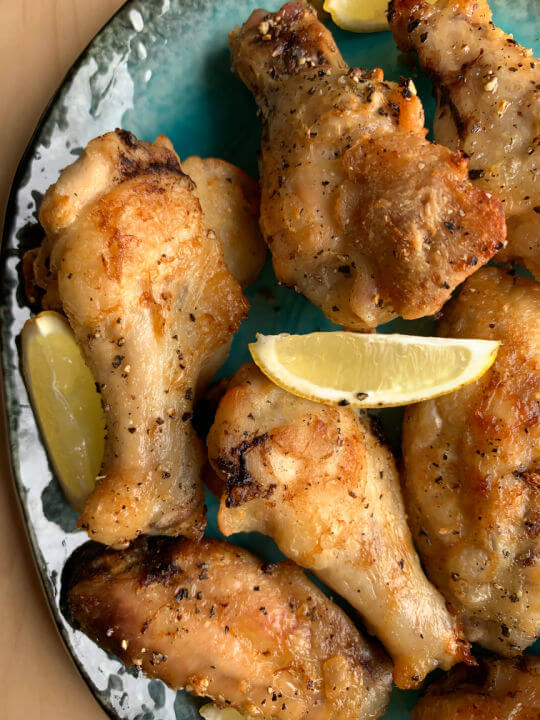 Fresh or Frozen Wings
I like to get the frozen wings from Trader Joe's. The joints and the drummettes are already separated and there are no wing tips to deal with.
Plus, it's more convenient to have frozen wings because you can make lemon pepper wings any time. You don't have to worry about using them up by a certain date like fresh wings.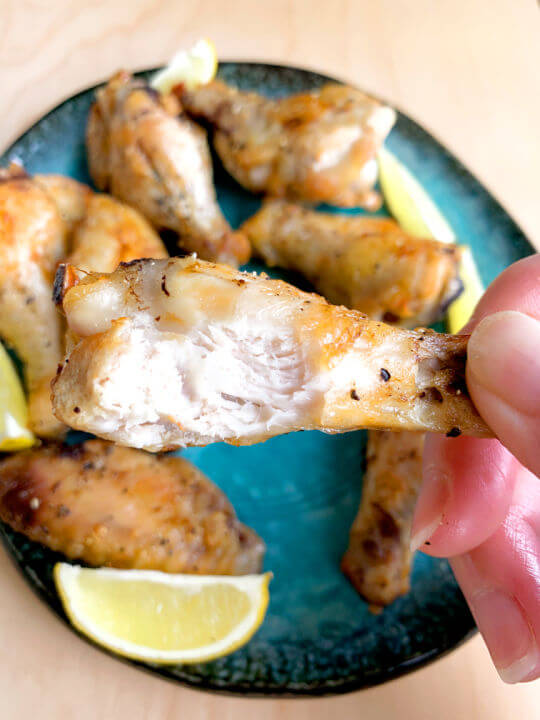 Please note that because these wings are frozen, we have to cook them at a higher temperature.
Lemon Pepper Seasoning
I tend to use Trader Joe's lemon pepper seasoning since I get the frozen wings there as well. But you can use another brand of lemon pepper seasoning.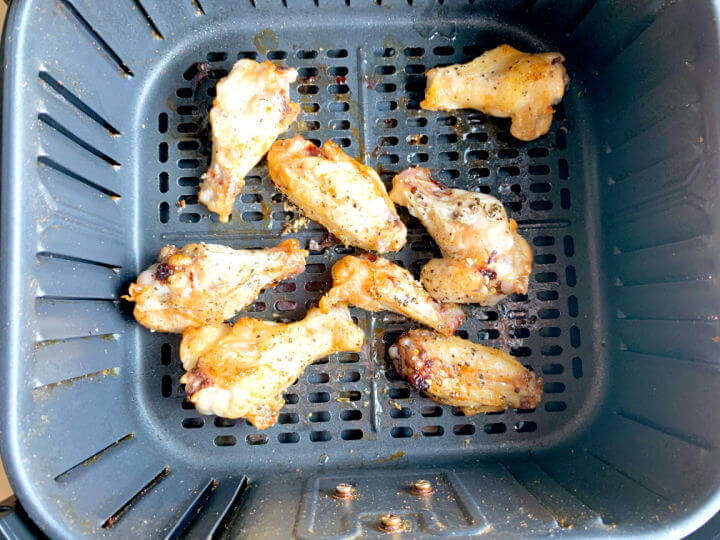 Frozen Wings in Air Fryer
The beauty of this recipe is that you don't have to thaw out frozen wings! They will cook in the air fryer.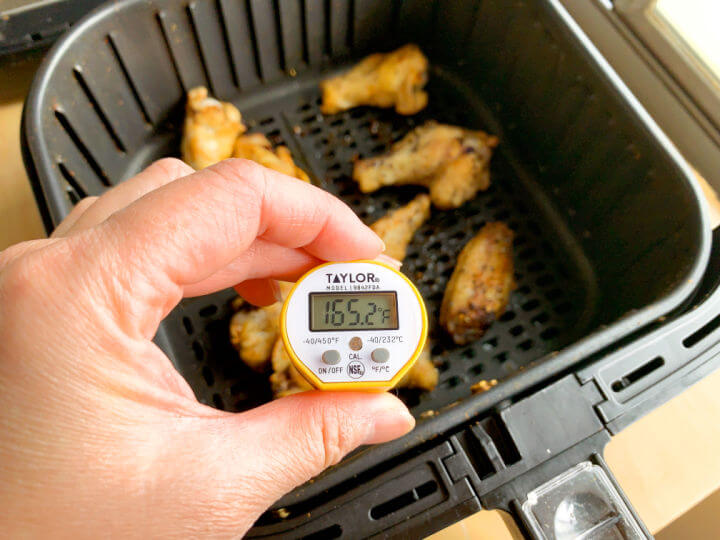 Here's how:
Pre-Cook wings in air fryer for 10 minutes.
The drain the excess water from the drip pan.
Continue cooking wings for 12 more minutes.
Remove and season the wings.
Seal in the seasoning by cooking for 3 more minutes.
Other Air Fryer Chicken Wings Recipes:
Air Fryer Teriyaki Wings – 2 Ingredients
Air Fryer Garlic Parmesan Wings from Frozen
Air Fryer BBQ Chicken Wings – 2 Ingredients
Other Air Fryer Recipes:
Air Fryer Spam – Everything You Need to Know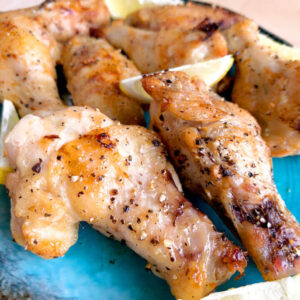 Air Fryer Lemon Pepper Chicken Wings
Make savory lemon pepper wings in your air fryer with just 2 ingredients.
Instructions
Pre-Cook
Place frozen chicken wings in the air fryer basket. Make sure that the wings are spread out and not overlapping. Close the air fryer basket. Set the cooking temperature for 400° F (205° C) for 10 minutes. Press the cook button.
Drain the Liquid
After the air fryer is finished cooking, remove the entire basket from the air fryer. Release the air fryer basket from the drip pan. Set hot air fryer basket onto a plate or wood cutting board. Drain the liquid in the drip pan and dry clean with a paper towel.
Fip Wings
Flip wings over in the air fryer basket.
Cook
Attach the air fryer basket back onto the drip pan. Place back into the air fryer and close. Set the air fryer temperature to 400° F (205° C) for 12 minutes and press the cook button.

While the wings are cooking, set aside the lemon pepper seasoning, cooking spray, a plate, and tongs.
Season the Wings
Pull out the air fryer basket. Using tongs, remove the wings and place onto a plate. Coat the wings with cooking spray.

Generously pour lemon pepper seasoning onto the wings so that they are layered in lemon pepper. Flip the wings over and repeat the process of coating the wings with cooking spray and seasoning with lemon pepper.

1 container lemon pepper seasoning
Seal the Seasoning
Place wings back into air fryer basket and close the basket. Set air fryer temperature to 380° F (193° C) for 3 minutes and press the cook button.

When the air fryer is finished cooking, pull out the air fryer basket. Using a meat thermometer, check the wings (especially the drummettes) to make sure the internal temperature reaches at least 165° F (74° C). Serve hot with a sauce (optional).
Notes
Because chicken wing drummettes tend to be larger and meatier than joints, drummettes may take longer to cook. So when you are using a meat thermometer to check the internal temperature, the joints may be fully cooked while drummettes need to cook longer. Make sure to take the temperature of the drummettes.
I find it easier to cook them all together for a longer time than to remove the joints. But do whatever works best for you.
Note: In this recipe, I say to use 1 pound of wings. But use however much you want, that can fit into your air fryer basket without overlapping, which may be 1.5 pounds.
Please LEAVE A STAR RATING and COMMENT! Help GET THIS RECIPE FOUND by more people.
This post contains affiliate links. When you make a qualifying purchase, I will receive a small commission at no extra cost to you.
You might also like:
Pin this for later: