For this Cosori Air Fryer Max XL review and guide, we tried it out for a few months to give you a detailed breakdown on whether it's worth buying and how to use it.
And when I say "we" tried it out, I mean that my husband also tested it out. It's kind of a huge deal if my husband wants to use a new kitchen appliance because that means it's easy to use and not intimidating! He never learned to use the Instant Pot because it made him nervous.
Check out this easy Air Fryer Spam recipe.
Cosori Air Fryer Max XL Pros: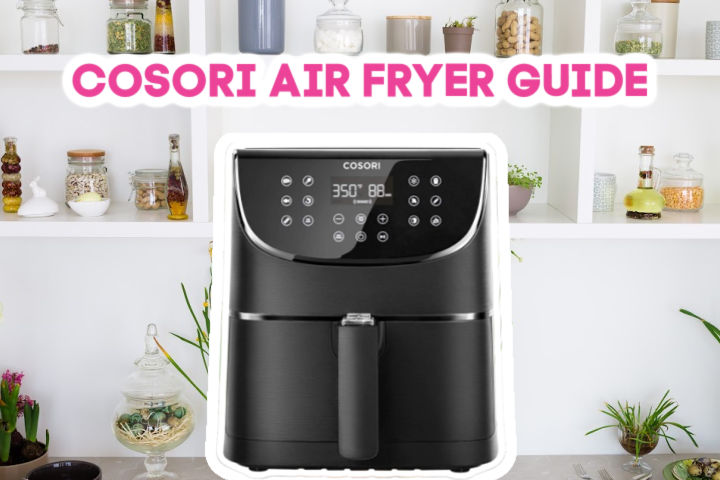 First off, this size is perfect for families. It has:
Larger Basket Great for Families
The basket size is a large 5.8 basket that holds more food yet it doesn't take a ridiculous amount of space on the kitchen counter. The basket shape is square-ish so that means it fits more food than a round basket.
When you can cook more food in a basket at a time, that means you won't have to cook as many batches as you would with a smaller air fryer. So, yes, it's worth it to getting an air fryer that has a larger basket for your family.
Easy-to Use Digital Touch Screen Buttons
Don't take digital buttons for granted. With the digital buttons, you can go to preheat in one button, meat mode in one button. Then click a button to pause cooking time and temperature. It makes using this air fryer SO much easier!
The cheaper air fryers have an OG style toaster oven dials for cooking time and temperature. These dials are difficult to use and cumbersome to use. It takes a little more thinking to get an exact temperature as only every other temperature number is printed.
And what if you need to pause cooking and flip something? There's no way to stop the dial cooking timer. And if you change your mind and want to change the cooking time or temperature, forget about it!
Nonstick Basket Made with Safe Materials
The air fryer basket is nonstick and is dishwasher safe, PFOA free, and BPA free. It's also fairly easy to clean.
Budget Friendly
The price varies from under $100 for holiday sales to a little above $100. I think this is a great price point for an air fryer that you might use almost every day.
Cosori Air Fryer Max XL Cons: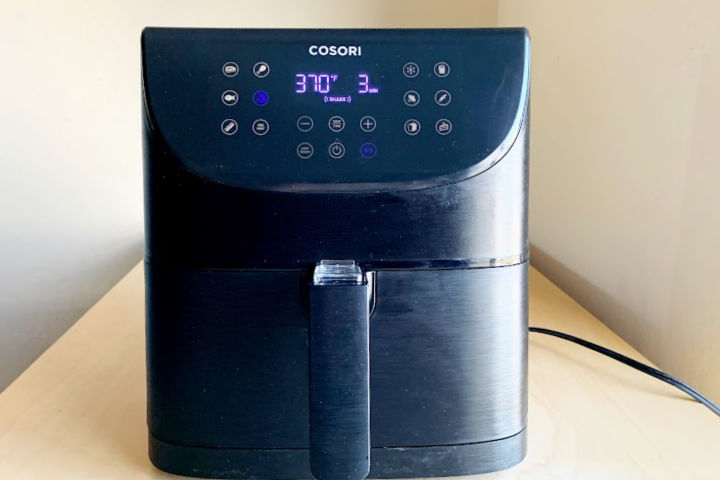 Buttons Take Time to Get Used To
The buttons are easy to use but the buttons for manually setting the temperature and time may require some patience to get accustomed to. You can't hold down the button to speed through the settings. You have to press and let go, press and let go to get to a specific temperature and time.
Can Be Challenging to Clean
I said earlier that it can be fairly easy to clean but it depends on what you're cooking. Things that are crumbly are a PAIN to clean.
One time I cooked these chicken nuggets that had tiny crumbs and the crumbs went all over the air fryer basket, including the edges of the vents of the basket. After several tries to clean, soaking in hot soapy water and using vinegar, the crumbs still remained stuck… like a bad boyfriend!
Touch Screen Can Get Oily
And then my husband made said nuggets AGAIN in the air fryer after I mentioned how hard it was to clean the air fryer after… I might have accidentally thrown those nightmare nuggets away. Oops!
This is a minor nuisance compared to the Crumb Debacle mentioned above. From time to time, you'll have to clean the touch screen.
---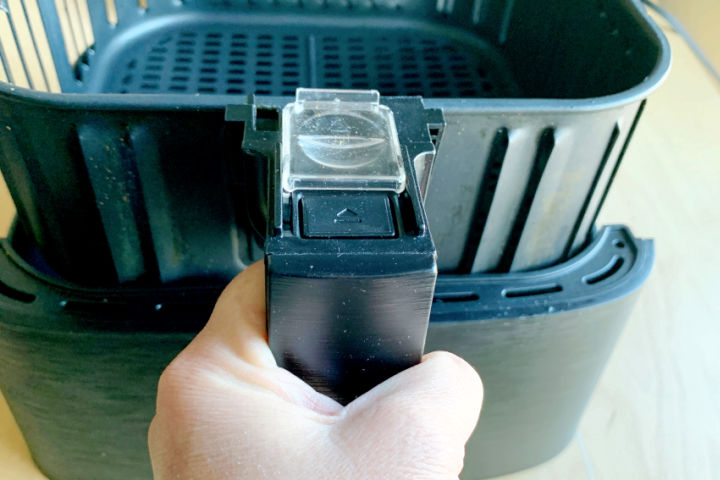 How to Use the Cosori Air Fryer Max XL
1. Open the Fryer Baskets
Pull handle straight out towards you. It takes a big yank.
2. Remove Fryer Inner Basket from Outer Basket
Move the clear tab and push the button on top of the handle to remove the inner basket from the outer basket.
3. Fit Inner Basket Back Together with Outer Basket
To place the inner basket back into the outer basket, guide it back into the outer basket, making sure the notches match up. Then click back into place.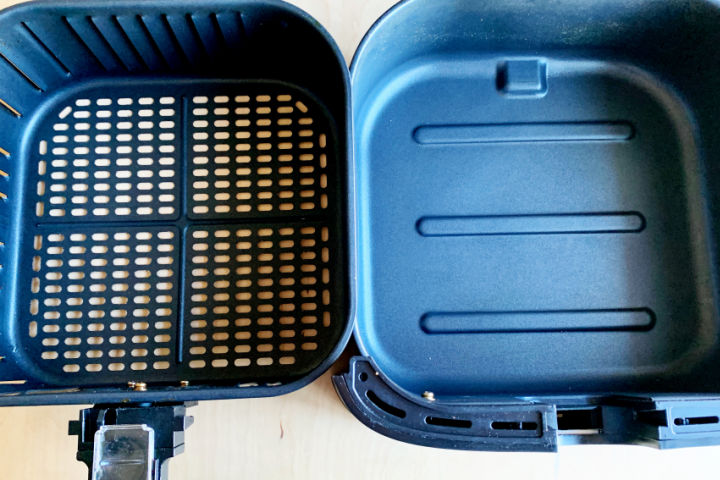 4. Close Fryer Baskets
Push basket back in until it clicks and you hear a beep.
5. Turn on Air Fryer.
Press the blue lit power button.
6. Preset Buttons.
| | | | | |
| --- | --- | --- | --- | --- |
| Presets | Symbol | Temperature | Time | Shake Reminder? |
| Steak | | 400F° / 205°C | 6 mins | |
| Seafood | | 350°F / 177°C | 8 mins | |
| Bacon | | 320°F / 160°C | 8 mins | |
| Chicken Button | | 380°F / 193°C | 25 mins | |
| Shrimp Button | | 370°F / 188°C | 6 mins | ((SHAKE)) |
| Preheat | | 400F° / 205°C | 5 mins | |
| Frozen Food Button | | 350°F / 177°C | 10 mins | ((SHAKE)) |
| Vegetable Button | | 300°F / 149°C | 10 mins | ((SHAKE)) |
| Bread Button | | 320°F / 160°C | 8 mins | |
| French Fries Button | | 380°F / 193°C | 25 mins | ((SHAKE)) |
| Root Vegetables Button | | 400F° / 205°C | 12 mins | ((SHAKE)) |
| Desserts Button | | 300°F / 149°C | 30 mins | |
| Keep Warm | | 170F° / 77°C | 5 mins | |
Symbols are from the Cosori Website
---
7. Control Panel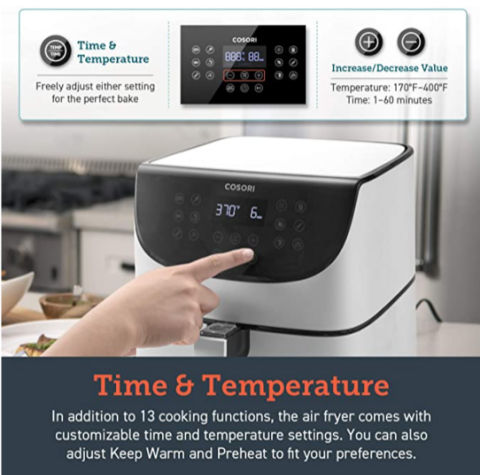 To manually set a temperature and time, press the Temp/Time button once to adjust the temperature, using the plus and minus buttons. Press the Temp/Time button again to adjust the time, using the plus and minus buttons again.
---
How the Shake Feature Works
Certain presets have a ((SHAKE)) feature. When the cooking time reaches midway, a ((SHAKE)) reminder will be displayed on the control panel along with 5 beeps. This is the time to remove the basket and flip or shake your food.
---
Cosori Air Fryer Tips
1. Leave enough space behind it.
Make sure to leave 5.25 inches behind the air fryer so that it has enough air to cook.
2. Do not put anything on top of air fryer.
It's tempting to place things on top of this flat surface but it will affect how the air fryer operates.
3. Leave space in front of the air fryer to pull out the basket.
When you pull out the air fryer basket, you need room for it to rest on the counter.
4. When in doubt, preheat.
Be sure to preheat the air fryer before cooking. Some recipes will not require preheating and the recipe should let you know. If you're not sure, just preheat anyway.
5. Sometimes you will need to add oil.
Some foods would benefit with a little cooking oil sprayed onto it before or during cooking to make them crispier. Foods like chicken nuggets, french fries, and hash browns come out better with oil sprayed on them.
6. How to flip your food midway through cooking.
Press the pause button and pull out the basket. Use tongs to flip the food or shake basket (if called for).
7. Set a timer to remind yourself to flip or shake food.
Certain cooking presets will have a shake reminder. But if you manually set the cooking time and temperature, it saves time to set a timer to remind yourself to flip or shake the food midway through the cooking time.
This way, the air fryer will remember the time and temperature when you pull out the basket.
Air Fryer Recipes to Try: