It's SO cold now and by cold, I mean it's a wimpy 45 degrees here in the San Francisco Bay Area! I know, I know… 45 degrees isn't that cold compared to other parts of the US.
Anyway, I warm up with soups. And this Instant Pot lentil soup is so hearty, comforting that I almost forget how cold it is. Just kidding! I have the heater on full blast!
Lentil soup is so filling and nourishing, especially for winter. I can't believe how hearty it is without meat! It's a nice change when you want a break from eating meat.
This recipe isn't vegetarian though because I use chicken base. But feel free to use vegetable stock instead.
Lentil soup reminds me of being in San Diego, at my friend's house, where I first tried lentil soup.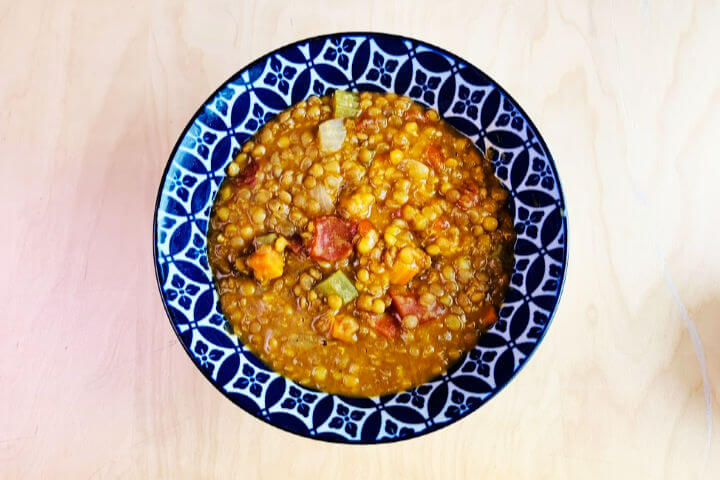 I honestly never made lentil soup because I thought it was too hard to cook dry lentils. And I would buy cooked lentils instead… that is until I tried cooking it in the Instant Pot!
Wow, it's SO easy to make now because I don't have to nurse anything over the stove. Yay!
What is Mirepoix?
Mirepoix is used as a base for this lentil soup. And boy, does it make the flavor bloom!
What is mirepoix? It's a mix of diced onion, celery, and carrots. It's in a 2:1:1 ratio.
You saute it in oil, to sweat out the vegetables. This crucial step adds so much flavor into soups! It works in corn chowder and chicken soup too!
In my video, I show my shortcuts to save time and also the process of how to sort lentils and why it's important to do so.
Instant Pot Lentil Recipe Video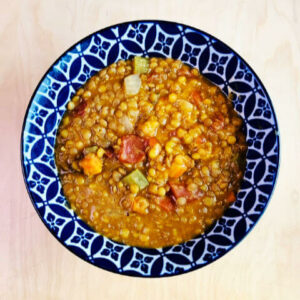 Instant Pot Lentil Soup
Make this hearty, comforting lentil soup in the Instant Pot.
Instructions
In a cooking tray, pour lentils and flatten into one layer. Sort lentils, row by row, removing anything that isn't a lentil. Look out for small pebbles. Then place lentils in a bowl and rinse them.

Remove the lid of the Instant Pot and press saute more mode. When the Instant Pot says HOT, pour in cooking oil.

When the oil is hot, add in carrots, celery, and onion. Saute until onions become translucent. You can optionally add in salt and pepper at this point or wait until later.

Add in 3 cubes of crushed garlic or 3 cloves of minced garlic. Stir until crushed garlic is melted or minced garlic is brown.

Add can of diced tomatoes and stir.

Pour in 6 cups of water, then the chicken base. Mix together.

Close the lid of the Instant Pot. Set to manual or pressure cook for 30 minutes.

When the Instant Pot beeps and finishes cooking, press the cancel button, to stop cooking. Do a quick release. Stir lentil soup well and serve.
Please LEAVE A STAR RATING and COMMENT! Help GET THIS RECIPE FOUND by more people.
This post contains affiliate links. When you make a qualifying purchase, I will receive a small commission at no extra cost to you.
Pin this for later: