Looking for a low-carb replacement for spaghetti? Try spaghetti squash.
Instant Pot spaghetti squash cooks faster than in the oven! This is one of my favorite meals when I don't want to be in a food coma.
Spaghetti squash has little taste on its own. But when it's paired with spaghetti sauce and parmesan cheese, it tastes pretty close to real spaghetti.
The texture won't be exactly like noodles but it will have a bit of a crunch.
When choosing a spaghetti squash, I highly recommend getting a 2 or 3 pound one. This is so it will fit into the Instant Pot.
Anything bigger and you will have to cut it down and cook it longer.
I have seen other blogs only mention one cooking time for spaghetti squash but the problem with that is it comes in different sizes. One size fits all does not work with spaghetti squash.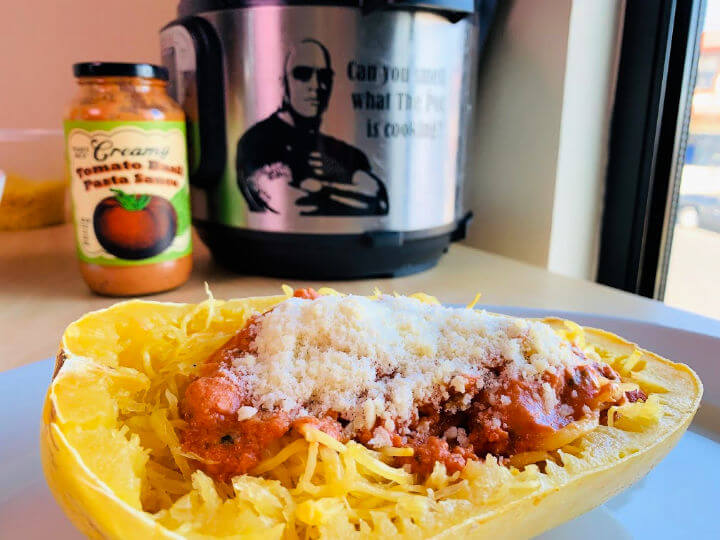 And as with everything else, it's going to be trial and error. I list recommended cooking times here but they are not guaranteed… So if your squash is too al dente, put it back into the Instant Pot and add more time.
In the video above, I show you what happens when spaghetti squash is overcooked. It clumps up leaving you with very short strands of "noodles."
So it's better to be conservative with the cooking time and add a few more minutes if it's not cooked to how you like it.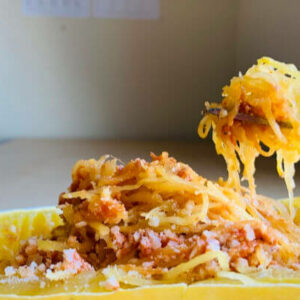 Instant Pot Spaghetti Squash
Make this satisfying and guilt-free spaghetti squash in your Instant Pot! It cooks faster in the Instant Pot than in the oven!
Instructions
Cut the spaghetti squash in half, lengthwise. Scoop out the seeds with a spoon. Discard the seeds.

Place trivet inside the Instant Pot. Add 1 cup of water.

Lay both halves of the spaghetti squash onto the trivet in the Instant Pot.

Close the lid and set to sealing.

Press manual or pressure cook button and adjust the cooking time. 7 minutes for a 2 pound spaghetti squash or 10 minutes for a 3 pound spaghetti squash.

When the pot has finished cooking, do a quick release. Remove spaghetti squash from the Instant Pot and place onto a serving dish.

Using a fork, scrape the sides of the spaghetti squash until it forms "noodles".

Spoon spaghetti sauce and parmesan cheese onto spaghetti squash and mix. The squash can be used as a serving bowl.
Please LEAVE A STAR RATING and COMMENT! Help GET THIS RECIPE FOUND by more people.
This post contains affiliate links. When you make a qualifying purchase, I will receive a small commission at no extra cost to you.