Do you love Thai food, especially curry? This Instant Pot Thai Chicken Curry is SO easy to make and tastes SO good that you'll feel like you're eating at a restaurant!
This Thai chicken curry dish can be made in either an Instant Pot or in a pan. Either way, you'll love how easy it all comes together.
Thai yellow curry is sweet, creamy, and spicy. And since I'm a wimp when it comes to spiciness, I add in coconut milk to tame it down.
Red and yellow curry are common in Thai curry dishes. Red curry tends to be spicier and bolder, whereas yellow curry is sweeter and more mellow in terms of spiciness.
Use either red or yellow curry. I like both and have tried both in this recipe.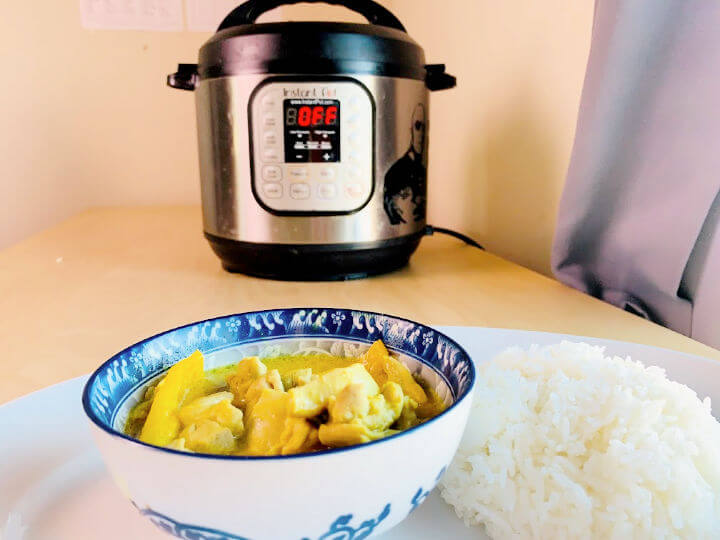 Trader Joe's makes a good Thai curry simmer sauce with red or yellow curry. If you can't go to Trader Joe's, there are other curry simmer sauces at the Asian supermarket or on Amazon.
You can also add tofu to add extra protein so you can make it feed more people. I usually do this so that it will feed my husband and I and then there are leftovers for lunch again the next day!
Tofu goes really well with curry. And potatoes are usually paired with yellow curry.
But I kept it simple by adding bell peppers. This is not traditional by any means! I just wanted to make something fast and easy.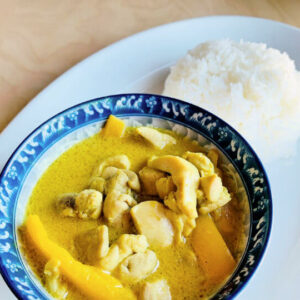 Instant Pot Thai Chicken Curry
Craving Thai food? Learn how to make Thai Chicken Curry in your Instant Pot or pan.
Instructions
Remove the Instant Pot lid. Press saute mode and adjust to MORE setting.

When the Instant Pot says HOT, then add cooking oil. Once the oil heats up, add the chicken thighs. Stir occasionally until cooked through.

Next, add the bell peppers, tofu (optional), Thai curry sauce, and coconut milk. Mix together and simmer until the bell peppers are soft.
Please LEAVE A STAR RATING and COMMENT! Help GET THIS RECIPE FOUND by more people.
This post contains affiliate links. When you make a qualifying purchase, I will receive a small commission at no extra cost to you.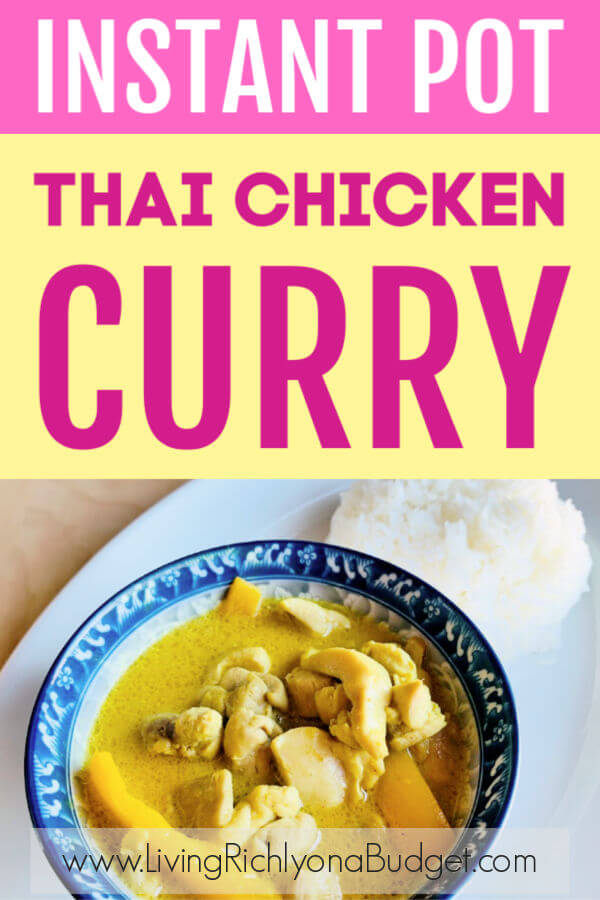 This post contains affiliate links.