Eating healthy and saving money are important to me. Plus, my daughter has food allergies so that makes it a priority for me to cook her food from scratch and opt out of boxed and frozen foods.
Because of that, I don't buy a lot of processed foods. I focus more on getting the freshest quality food possible.
Since I don't buy processed foods, most coupons from the Sunday paper are not useful to me. And I don't coupon as much for groceries. I do watch sales though.
1. Farmers Markets
My new favorite place to get organic produce is the farmers market. I always find the freshest, sweetest fruits here at better prices than the grocery store.
In the past few weeks, I discovered the sweetest, juiciest plums from this one farmer. It's a special breed that tastes noticeably different and better.
And my family loves them! That means everything gets eaten up.
The vegetables I get from the farmers market stay fresher longer. The broccoli crowns are bright green, not purple, and stay fresh for a week.
One farmer has $1 bags of organic produce! They're either overstocked or "seconds" (not-so-pretty) vegetables like potatoes, tomatoes, or green beans.
I always swing by to see what they have. I'd pay $3 – $4 for these organic veggies elsewhere.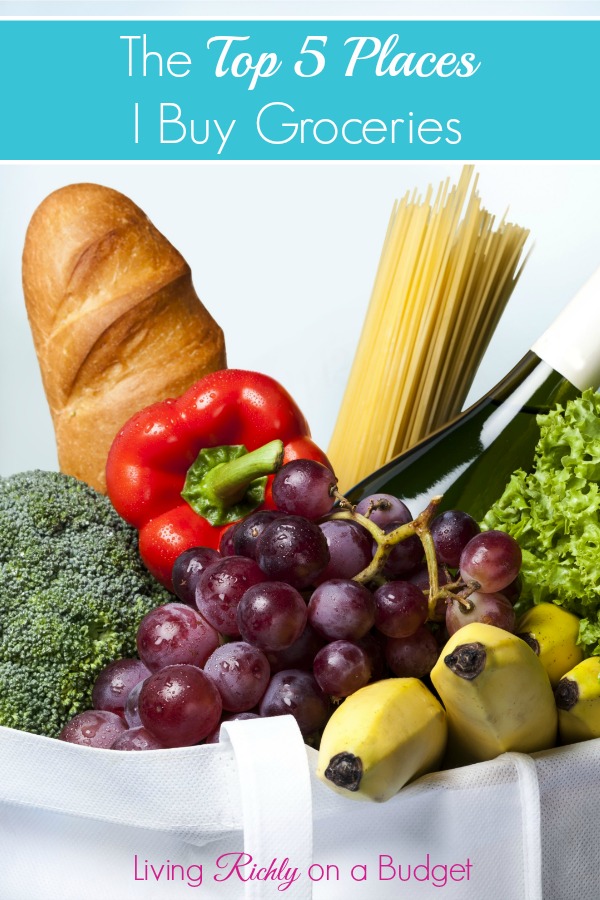 And there's this gourmet rotisserie chicken from a food truck, that is THE best rotisserie chicken ever! Their French fingerling potatoes bathed in rotisserie chicken drippings, is amazing. My daughter and husband will eat that up in one sitting.
If you're ever in San Francisco, you have to try Roli Roti Gourmet Rotisserie.
I do splurge on this a few times a month because a rotisserie chicken means that I don't have to cook, it lasts for several meals, and I use the leftover bones to make bone soup. Yum! Plus, it costs about the same as a rotisserie chicken from a gourmet grocery store.
Another reason, I spend more to get this rotisserie chicken is because my daughter and husband are allergic to the ingredients/preservatives in the Costco rotisserie chicken. To each their own.
2. Trader Joe's
Trader Joe's is known as the poor man's Whole Foods in some circles. It doesn't matter what it's called because they have competitive prices for comparable items found in natural food stores.
What I buy here: organic chicken (best price and is the freshest), cereal, apple juice, snacks, nuts, goat milk (again they have the best price), coconut oil, eggs, cheese, gluten-free items (bread, waffles, pancakes, brownie mix, cookies, almond flour, pasta), and dairy-free items (coconut milk ice cream, pancakes).
3. Costco
I try not to go into Costco because often I'll see something that I "need." Instead, I'll order these items and have them delivered by Google Shopping Express, which is a shopping delivery service in beta testing in our area. Shipping is free to several stores for the limited time.
What I buy here: toilet paper, paper towels, avocado oil (no more GMO oil for us), diapers, baby wipes, lemons, chicken apple sausage, Basmati rice, and eggs.
4. Vitacost
I love, love Vitacost! They have the best deals on gluten-free foods and supplements and they deliver within a few days.
Certain items are half off here! That's like buying something and getting one free without having to coupon.
And they have sales all the time, like Buy One Get One Half Off.
What I buy here: gluten-free items (pizza mix, pasta, brownie mix, soy sauce), supplements,and personal care items.
Get $10 off your first order. Must be redeemed within the first few months after you receive the coupon code.
5. Asian Grocery Store
I'm very thankful to live near several Asian grocery stores, like 5 minutes away. I feel more connected to my family and culture when I shop here.
What I buy here: Asian vegetables (bok choy and bittermelon), Chinese herbs, pork bones (for soup), rice noodles ($1 – $1.50 for 16 oz.), rice flour.