What's for dinner is always on our minds.
And if you've been cooking at home for awhile, you get into a rut of cooking the same things every single week.
So, how do you spice it up?
There are a ton of recipes online, in cookbooks, and in magazines. What's the best way to organize them all?
Sure, you can use Pinterest, but let's be honest. Most of us tend to pin recipes and then never go back later to look at them. Am I right?
Plus, being on Pinterest is an addiction and distraction from real meal planning. And everything you pin is meant to be seen by others.
In this digital age, you also need to convenience of being able to access things through your smartphone. And ideally, it would be nice to share your grocery list with your significant other or family members.
The solution I've found is Clipix.com, an free online clipboard where you can store and organize everything online and offline. Yes!
Here are some tips to get you started.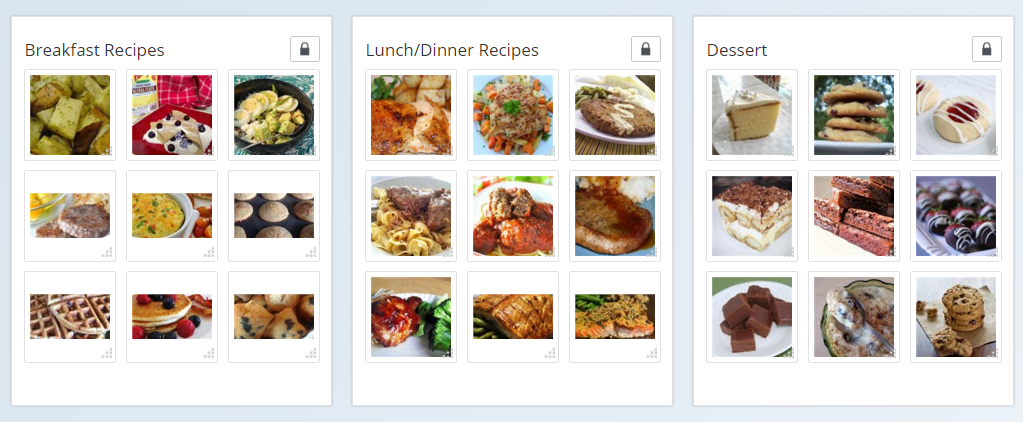 1. Collaborate on meal planning with your significant other or family members.
Clip and store your favorite recipes from online. The sort and organize them via clipboards.
Use Syncboards to share these recipes with others.
Here, I've used Breakfast, Lunch/Dinner, and Dessert clipboards. You can certainly group them by theme or types of dish too.
Then share your ideas with your significant other or anyone else you're planning to cook with. And keep your boards private from prying eyes.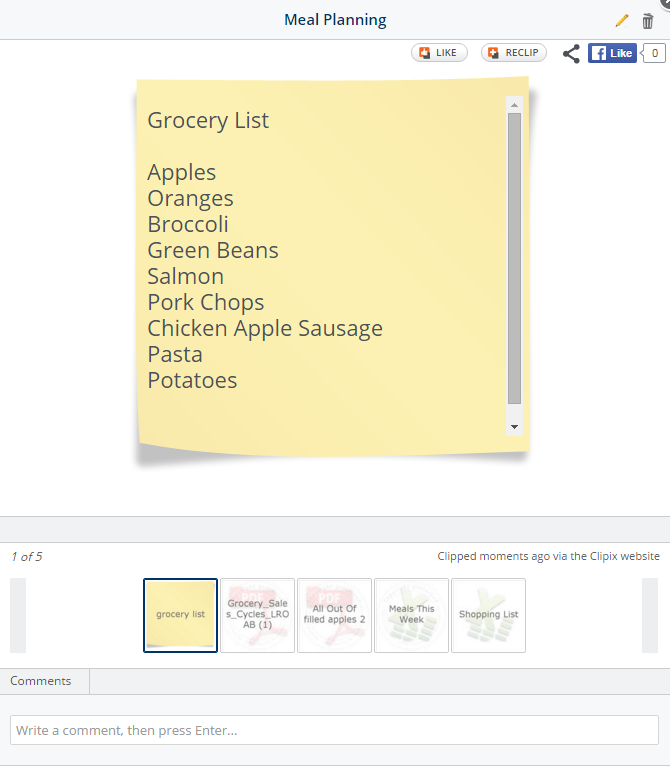 2. Create your shopping list and edit it on the go.
In Clipix.com, you can create sticky notes, which are editable on your computer and through your smartphone. Love this feature! So you can create your grocery list at work or home and then make changes on the go through your smartphone.
You can share this list with your husband or other family member and they can add items or make comments. Genius! A lot of problems are solved here, right???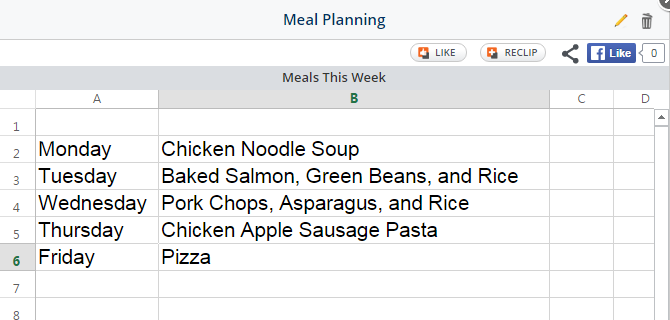 3. Access your meal plan on Word or Excel.
If you like to to create meal plans on Word or Excel, this is for you.
With Clipix.com, you can upload Word, Excel, PDF, images, and PowerPoint files. First, create your meal plan and shopping list in Word or Excel on your computer. Then easily access your meal plan from your smartphone via the Clipix app (available for Androids and iPhones) when you're on the go.
However, with this option, you can't edit on the go.
Tip: Use a larger font like 16 pt or more in order to view it easier on your smartphone.
4. Store favorite recipes via MS Word, Excel, PDF, or image.
Besides storing recipes online, you can also scan favorite recipes from magazines and organize them in Clipix.com. Having everything all in one place will make meal planning simpler and easier to stick with.
5. Price watch items.
Besides meal planning, Clipix.com can help you watch items online for price changes. I love this feature! So you can get price drop alerts on things online like kitchen appliances and accessories.
Create a clipboard of items you're watching the prices on. Then add your preferred price.
When the price of your watched item drops to your preferred price, Clipix.com will send you an email letting you know of the price change.
I tried this the first day, watching a tandem stroller. To my surprise, the next day, Clipix.com emailed me, notifying me that the price dropped by $25!
Start your meal plan and price drop alerts on Clipix.com.
This post is a collaboration between Clipix.com and Living Richly on a Budget.