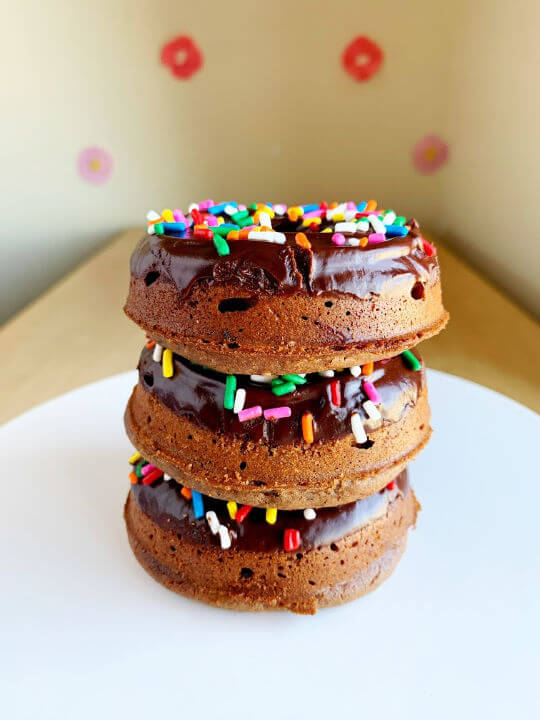 If you're fascinated with baking donuts at home, try these chocolate mochi donuts. They're crispy on the outside and soft and moist on the inside, kinda like a decadent, crunchy brownie.
These baked chocolate mochi donuts are dense, heavy in weight (feels like a pound but it's not), and are crispy on the outside. Once you bite into it, it's soft and chewy inside and has the right amount of sweetness.
But I have to warn you that baked donuts don't taste the same as fried donuts. They come out more like muffins baked into the shape of a donut. It's kind of deceiving, right?
So I didn't know what I was getting into when I set out to bake donuts at home. I got my donut pans and tried out different recipes.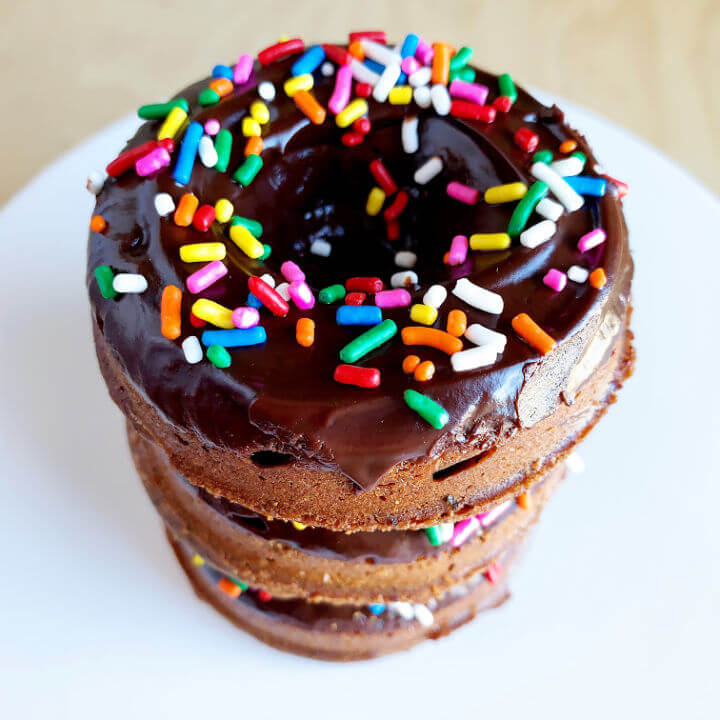 Let me tell you, it's hard to find a good baked donut recipe! My friends on Facebook said the same thing.
The first recipe I tried was a mochi donut recipe and I was… disappointed! It was soft and flimsy and tasted bleh. Plus, I wanted to make donuts without coconut milk, which is often in mochi donut recipes.
So the second attempt were these chocolate mochi donuts from Snixy Kitchen. And she got it right!
These are chocolate mochi donuts with chocolate frosting, so they are like a double chocolate donut… make that triple chocolate as it has cocoa powder and melted chocolate in the dough batter than it's topped with a melted chocolate glaze!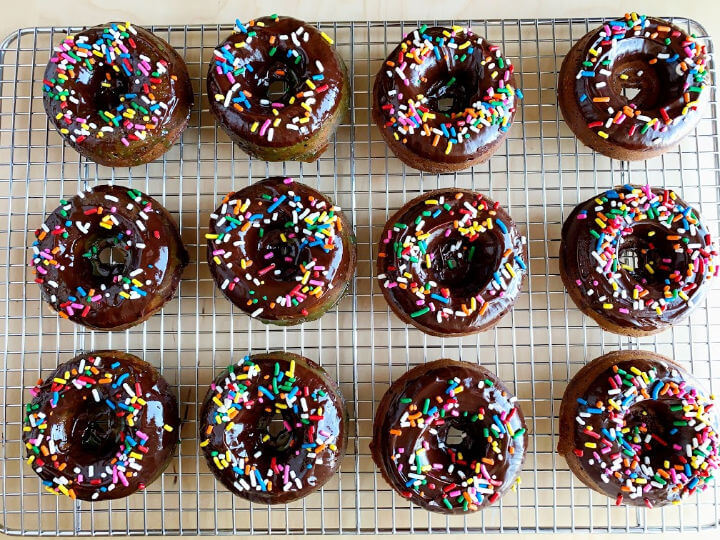 Instead of coconut milk, I used half whipping cream and half milk to mimic the creaminess of coconut milk.
I also changed the chocolate glaze to a melted chocolate glaze, that's not super sweet but still rich and decadent, thanks to bittersweet chocolate and melted butter. Most glazes are mostly powdered sugar and that's too sweet for me.
It was love at first bite! For real! Like I bit into it and was screaming,"Yes!" in my head.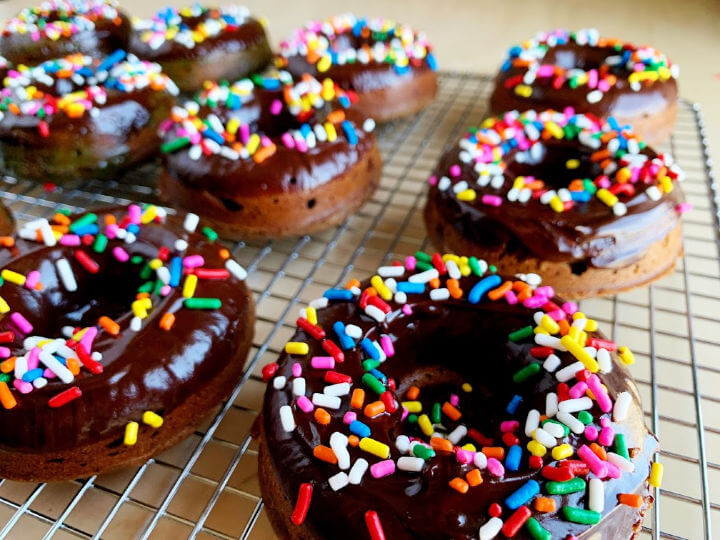 And if you want to test out how good a donut recipe is, you give it to your family. I have my husband and my daughter (who will eat almost anything), my 3 year old son (who's kinda picky), and my in-laws. My father-in-law is particular on what he likes, so he's the barometer for me.
Well, every person, besides my son, ate at least 2 donuts! And my father-in-law raved about it! All 12 donuts were gone in less than an hour.
Then my friend, Emily, tried it and said it was perfect!
What are Mochi Donuts?
Mochi donuts are not like Japansee Pon de Ring donuts, as they use different ingredients. Mochi donuts are made of sweet rice flour and are dense and heavy. Pon de Ring donuts use tapioca and wheat flour and light and fluffy.
The perfect baked mochi donut is crunchy on the outside and soft and chewy inside. And they're naturally gluten-free.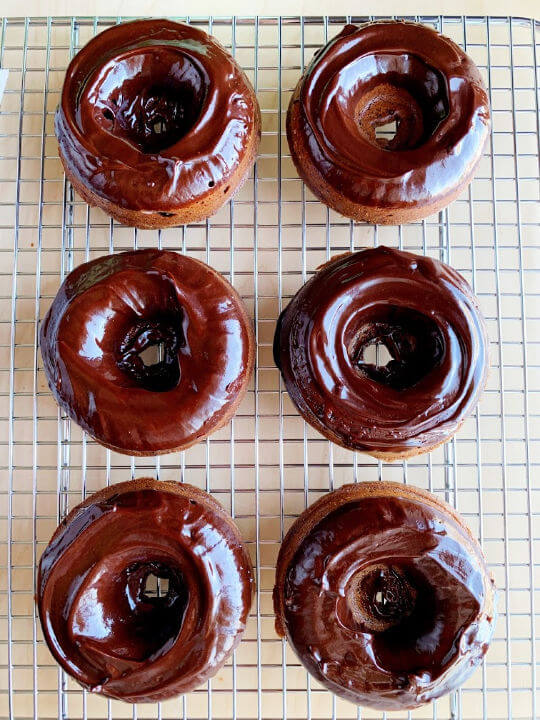 Donut or Doughnut?
I've seen it spelled both ways. Surprisingly, doughnut is the proper spelling and donut is the American shortcut way to spell it.
Are these donuts baked or fried?
These mochi donuts are baked in the oven, with donut pans. Baking them is less messy than frying but it also means that they won't turn out exactly like donuts. The donut pans just make them easier to make because you don't have to shape them by hand like traditional donuts.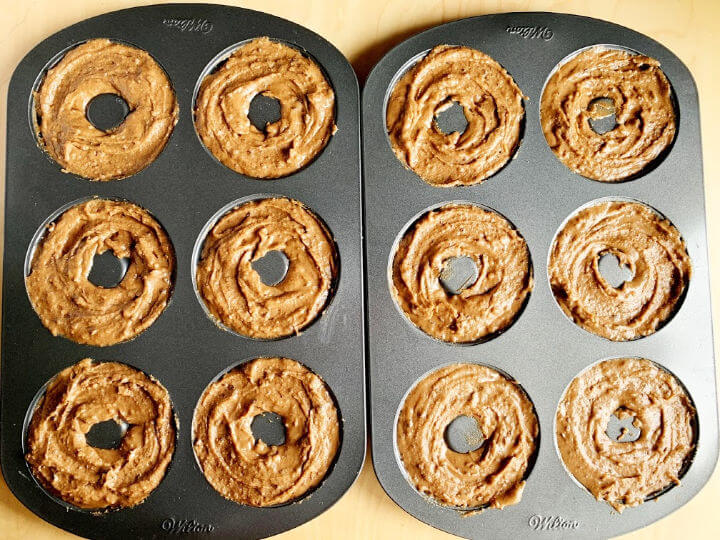 Mochi Doughnut Recipe Ingredients
Mochi doughnuts are made with mochiko sweet rice flour, not to be confused with white rice flour or brown rice flour. Mochiko rice flour is a Japanese sweet rice flour, commonly sold in a small white box by the brand Koda Farms.
The texture comes out sticky and chewy. So make sure to get the right kind of flour. You can find mochiko sweet rice flour at Asian grocery stores or on Amazon.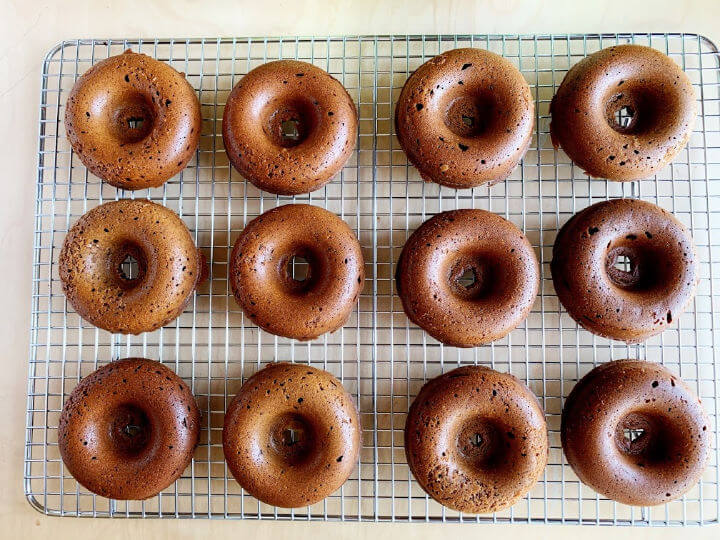 Can I make them dairy-free?
Yes! Check out the original recipe on Snixy Kitchen's site. She uses coconut milk. There's also butter in this recipe so you would have to sub out the butter for a vegan butter?
I haven't tried it yet so let me know how it turns out. Also, keep in mind that using different ingredients may change the baking time.
Can I make these as cupcakes?
Yes, but I don't have the cooking time for it yet. You can test it out yourself in the meantime.
Where do I buy donut pans?
You can find donut pans at your local craft supply store, like Joann's, Michael's, or on Amazon.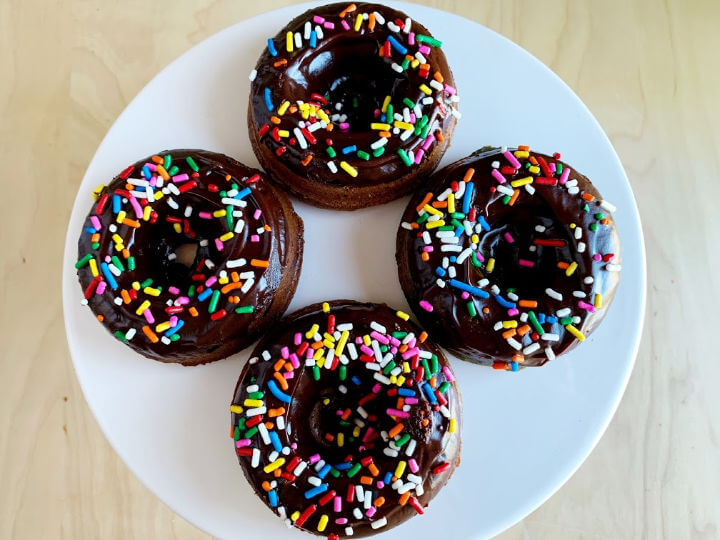 Do I need a stand mixer?
No, you can mix by hand but a stand mixer makes it a bit more convenient. I have a pink Kitchenaid stand mixer and I almost sold it because I hadn't used it in 5 years. But here I am now, putting it to good use.
Want more desserts? Check out s'mores in the oven.
This post contains affiliate links, where I earn a small portion of your purchase on qualifying products.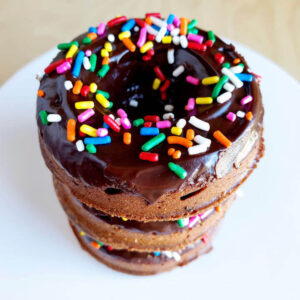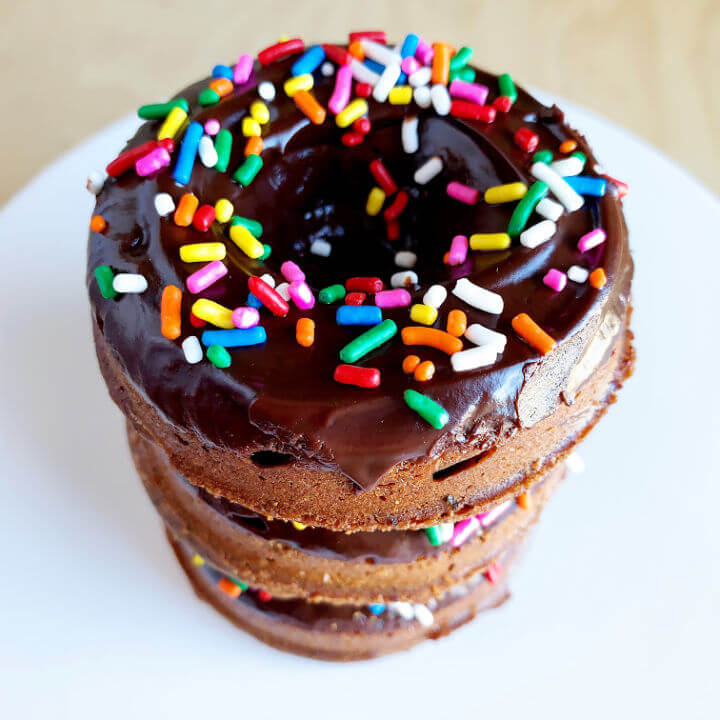 Chocolate Mochi Donuts
Instructions
Chocolate Mochi Donuts
Preheat oven to 350°F and make sure the oven rack is in the middle of the oven.

Optional: Grease donut pans with butter. My donuts come out easily of the pan with or without greasing.

In a large bowl, whisk all dry ingredients together – sweet rice flour, brown sugar, cocoa powder, baking powder, and salt. Break up any lumps.

In another large bowl or the bowl of your stand mixer, with the whisk attachment, mix the melted butter, heavy whipping cream, milk, eggs, and vanilla extract. When the mixture is combined, slowly add the melted chocolate. (With the melted chocolate, don't let it cool too much as it will begin to harden. It's fine to add it when it's hot or warm.)

While mixing, slowly add the dry ingredients into the wet ingredients. Mix until combined.

Spoon in batter into donut pans, being careful to keep the middle of the donut mold clean. Use your finger or spoon to swirl the top of each donut mold to make it even. (You can also pipe the batter into donut pans instead.) Optional: To try to avoid air bubbles, shake and hit donut pans against the counter. FYI: there might still be air bubbles but the frosting will hide them.

Bake 30 – 32 minutes. Press donuts with a finger to see if they spring back. When donuts are cooled, they should be crispy and hard on the outside but moist and soft inside. (Everyone's oven is different, so be conservative with baking times because if you bake them too long, they will get too hard. Also, if you sub ingredients that will change the baking time.)

Once out of the oven, I remove them right away to avoid them cooking any longer. Use a butter knife to wedge out donuts or flip them onto on a wire rack or plate to cool.
Melted Chocolate Glaze
In a microwave-safe bowl, place chocolate chips and butter in the microwave, 20 seconds at a time, until melted.. Mixing in between. When melted, mix in agave nectar or honey and water. The texture should be thick and malleable.

Dip each donut halfway into the chocolate glaze. Decorate with sprinkles, if you'd like. Let the glaze set before serving.
Please LEAVE A STAR RATING and COMMENT! Help GET THIS RECIPE FOUND by more people.
This post contains affiliate links. When you make a qualifying purchase, I will receive a small commission at no extra cost to you.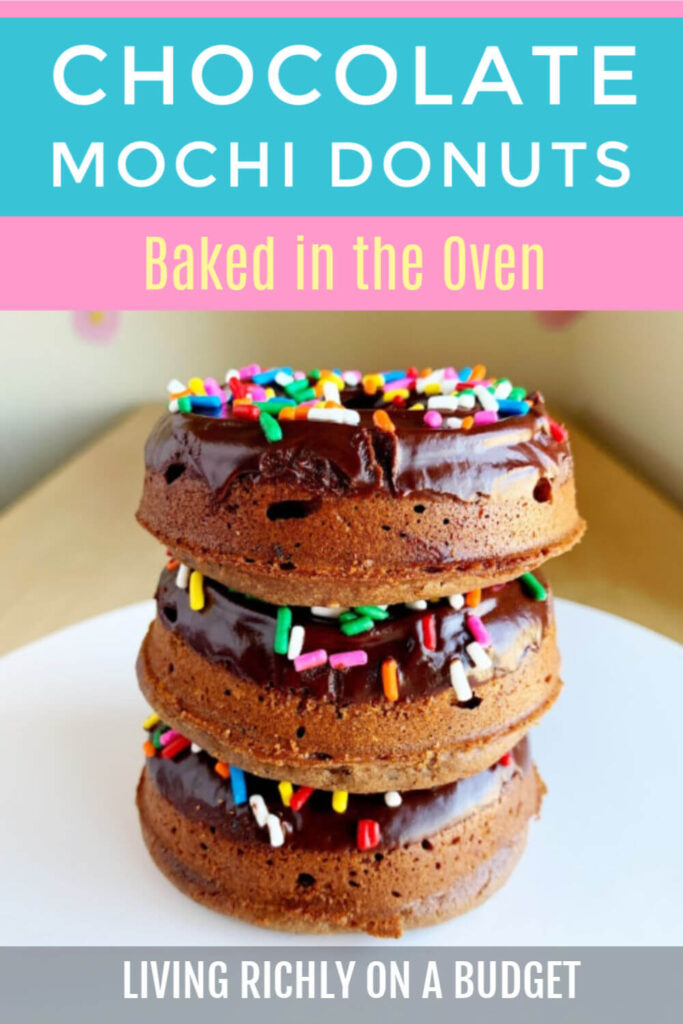 More:
The Original Sushi Bake Recipe