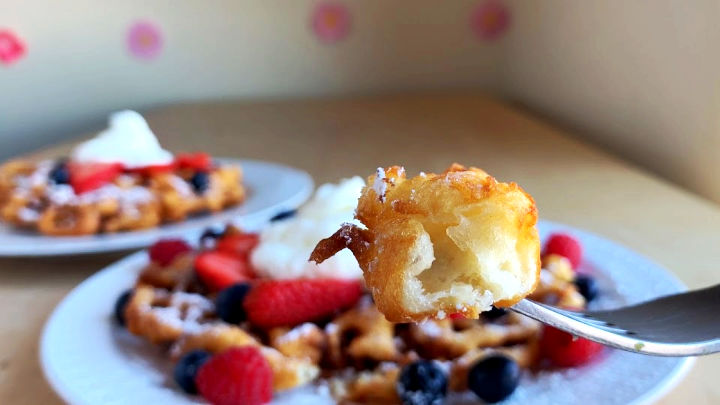 Using common baking ingredients, make this easy funnel cake recipe at home and impress your friends and family! Yes, homemade funnel cake tastes the same as county fair funnel cake!!!
I used to think that I had to go to the county fair to get funnel cake. There's a popular funnel cake vendor at our local county fair called Fanny's Fabulous Funnel Cakes.
Of course, their name caught my attention because my name is also Fanny and it's an uncommon name. They make amazing funnel cakes with toppings like strawberry compote and whipped cream and Bavarian cream.
Then I thought, why can't this Fanny make funnel cakes too? And I discovered out how easy it is to make at home!!!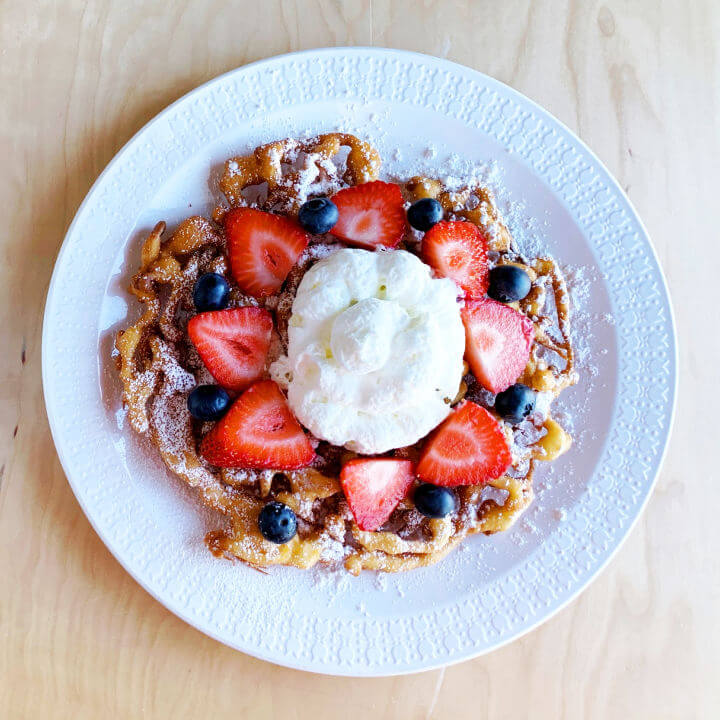 What does funnel cake taste like?
Funnel cake tastes like a crispy donut. It's lightly sweetened, deep fried batter in a squiggly shape.
It tastes good with powdered sugar alone or with whipped cream and fruit.
Why do they call it funnel cake?
Funnel cake is made by pouring batter from a funnel, silly! J/K. I had no idea that's why it was called funnel cake either until I made this recipe.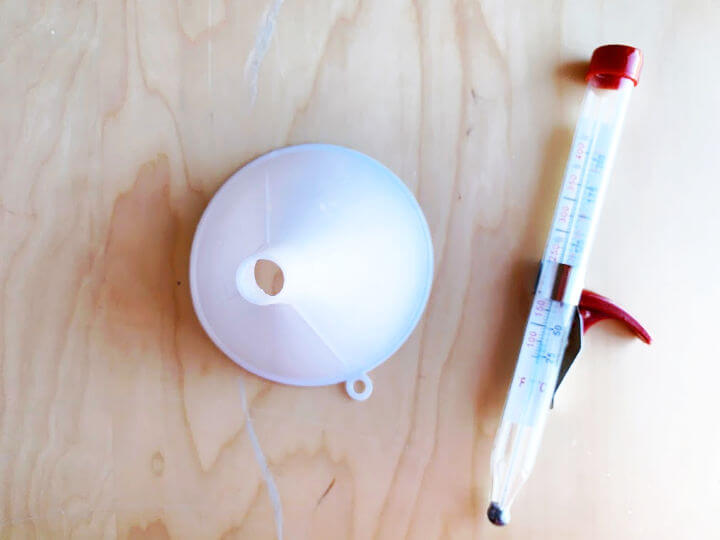 What tools do I need?
Candy thermometer that can show temperature of 375 degrees.
Funnel – I bought this from Amazon. The largest one in the set works well.
What kind of funnel do I need?
Use a large funnel with a 1/2 inch opening.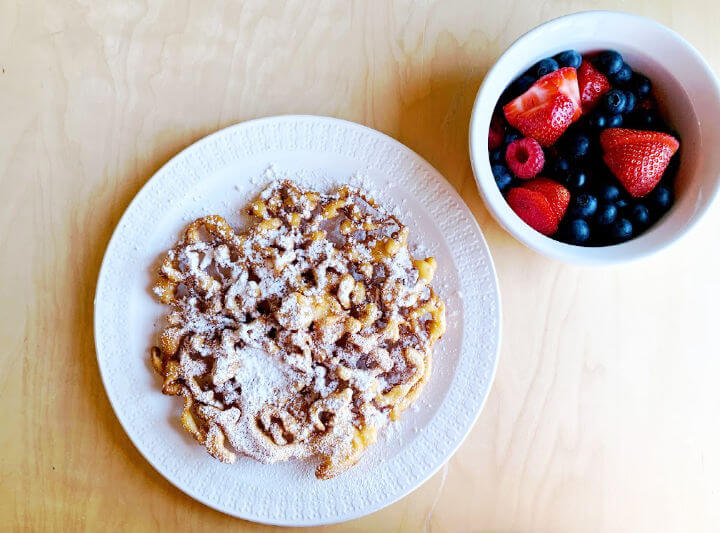 How do you make funnel cakes without a funnel?
Funnels can be purchased on Amazon or grocery stores for under $5. If you don't have a funnel or don't want to buy one, you can use a measuring cup. But the funnel makes it have a more uniform shape.
Is funnel cake made from pancake batter?
Yes, funnel cake can be made from pancake batter and uses the same ingredients. But I'm not using a pancake batter for this recipe.
I tried different recipes until I found this one that has the perfect consistency, to pour through a funnel quickly.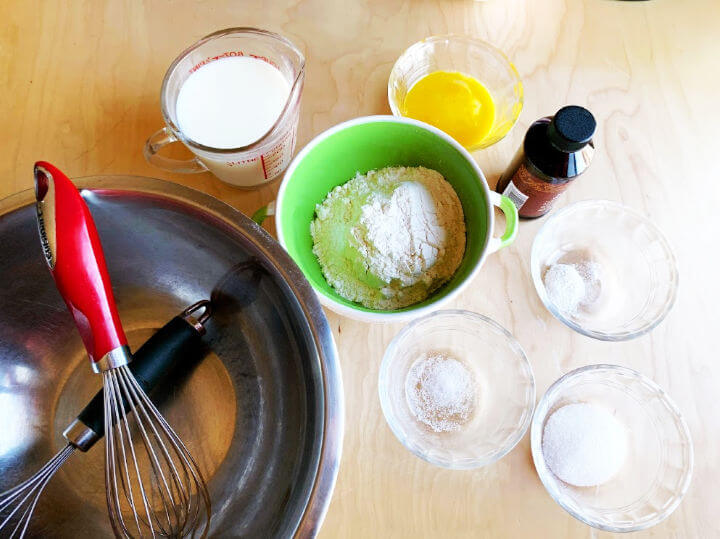 Funnel Cake Main Ingredients
Here's how to make funnel cake from scratch.
Flour
Sugar
Baking Powder
Sugar
Egg
Milk
Vanilla Extract
Funnel Cake Toppings
Powdered Sugar
Fresh Strawberries and Whipped Cream
Fresh Berries and Whipped Cream
Strawberry Compote and Whipped Cream
Bavarian Cream
What oil is best for funnel cake?
Use a neutral tasting oil like canola and also one that can handle high heat. Don't use coconut or olive oil!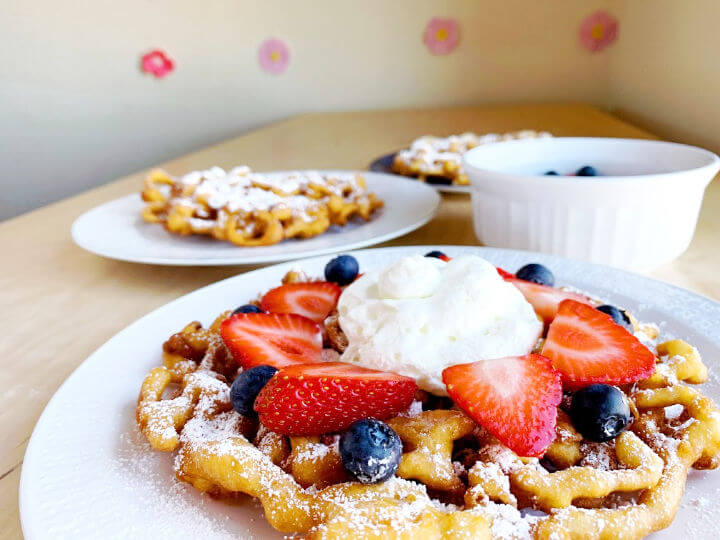 How do you make funnel cake crispy?
Make sure that you cook the funnel cake until it's a golden brown. So you have to cook it long enough until it browns on both sides.
If it's light brown, then it will be a soggy texture.
How do you pour the batter to get the funnel cake shape?
Use a small pan because the funnel cake will take the shape of the pan. I used an 8 inch cast iron skillet and that size made a fairly large funnel cake.
Pour the batter in a circular eight motion, overlapping as you go, until you fill in the gaps in the pan.
FYI: sometimes it will come out looking like an amoeba, if too much batter gathers in one spot, but with practice you will get the county fair "look."
Why is my funnel cake falling apart?
When I first made funnel cake, it fell apart, like the batter broke apart as I was pouring it into the hot oil. That was because the batter was too thick and so it poured out of the funnel too slow.
If this happens to you, add milk, a little at a time until it can pour out of the funnel fast, like in my video. If the batter is too watery, then it pour out too stringy and will clump together like a big blob!
How to Make Funnel Cake Recipe Video
This post contains affiliate links. When you make a qualifying purchase, I receive a small commission.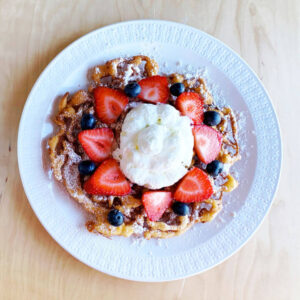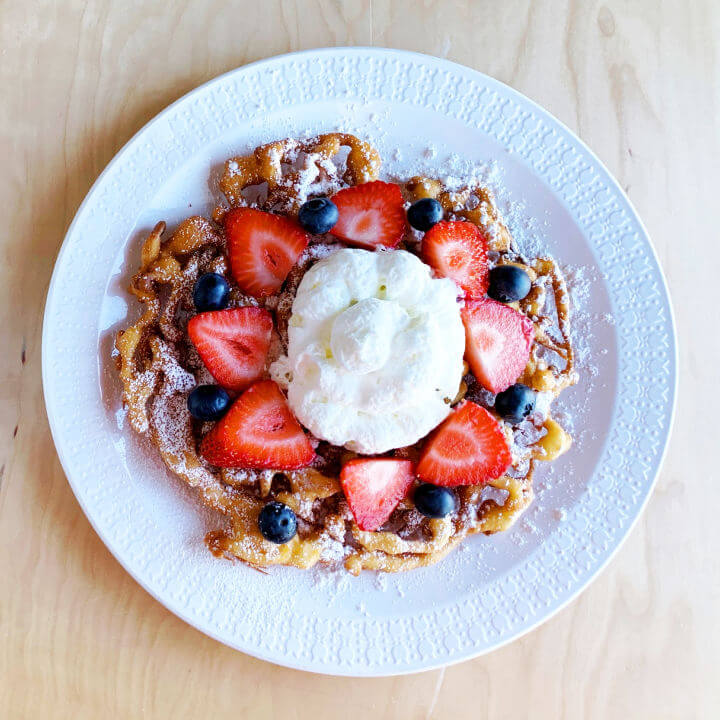 Easy Funnel Cake Recipe
Instructions
In a mixing bowl, add flour, baking powder, sugar, and salt. Whisk together and set aside.

In another mixing bowl, whisk together egg, milk, and vanilla extract.

Add dry ingredients slowly into wet ingredients. Stir until well combined.

Place a pan over the stove on medium heat. Pour in oil until about an inch deep. Attach the candy thermometer on the side of the pan, making sure that the tip doesn't touch the bottom of the pan.

Pour batter into a measuring cup up to the 2/3 mark. When the oil is almost at 375 degrees, pour the batter in the measuring cup into a funnel, using one finger to plug the bottom of the funnel.

Once the oil reaches 375 degrees, pour batter from funnel into the hot oil in a circular eight motion. Make sure to fill the area of the pan and close any gaps. Use your finger to close the funnel when done.

Cook for about 1 -2 minutes or until golden brown. Then use tongs to flip the funnel cake. When the funnel cake is golden brown, it will make it crunchy.

Cook other side for 1 -2 minutes or until golden brown. Then remove from pan and onto a plate with paper towels to drain excess oil.

The batter makes 3 funnel cakes. Repeat until all funnel cakes are done.

Dust the top of each funnel cake with powdered sugar. Top with whipped cream and fresh berries (optional).
Notes
When heating the oil, leave the thermometer in the pan during cooking. When it reaches 375 degrees, you might have to lower the temperature if the oil heats up too fast and keeps getting hotter and past 400 degrees. You'll have to figure out what setting on your stove works for you to keep a constant 375 degrees.
If the batter pours too slowly, then it may be too thick. Add more milk, a little at a time, to thin it out. It should pour out of the funnel quickly.
If you don't have a funnel, use a measuring cup.
Make sure the funnel cake is a golden brown so that it will be crunchy.
Please LEAVE A STAR RATING and COMMENT! Help GET THIS RECIPE FOUND by more people.
This post contains affiliate links. When you make a qualifying purchase, I will receive a small commission at no extra cost to you.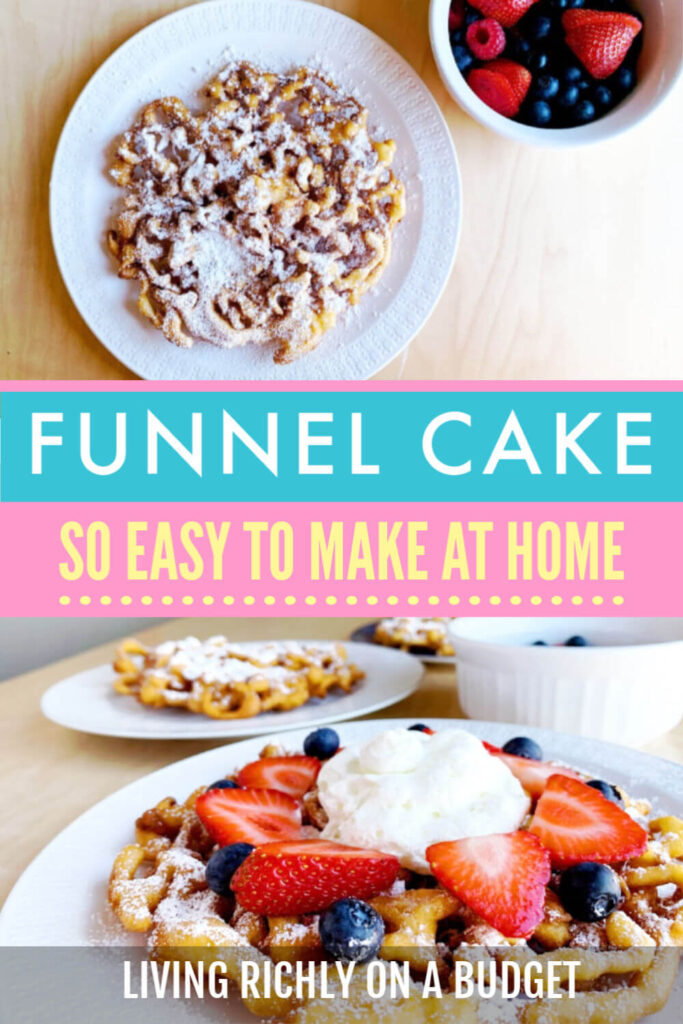 More:
The Original Sushi Bake Recipe